Vantage's Hendrick: Reinsurance opportunities "not quite where they need to be"
Vantage CEO Greg Hendrick has told The Insurer TV that reinsurance opportunities are still not at the level the start-up hoped they would be but recent catastrophe events should put further pressure on pricing.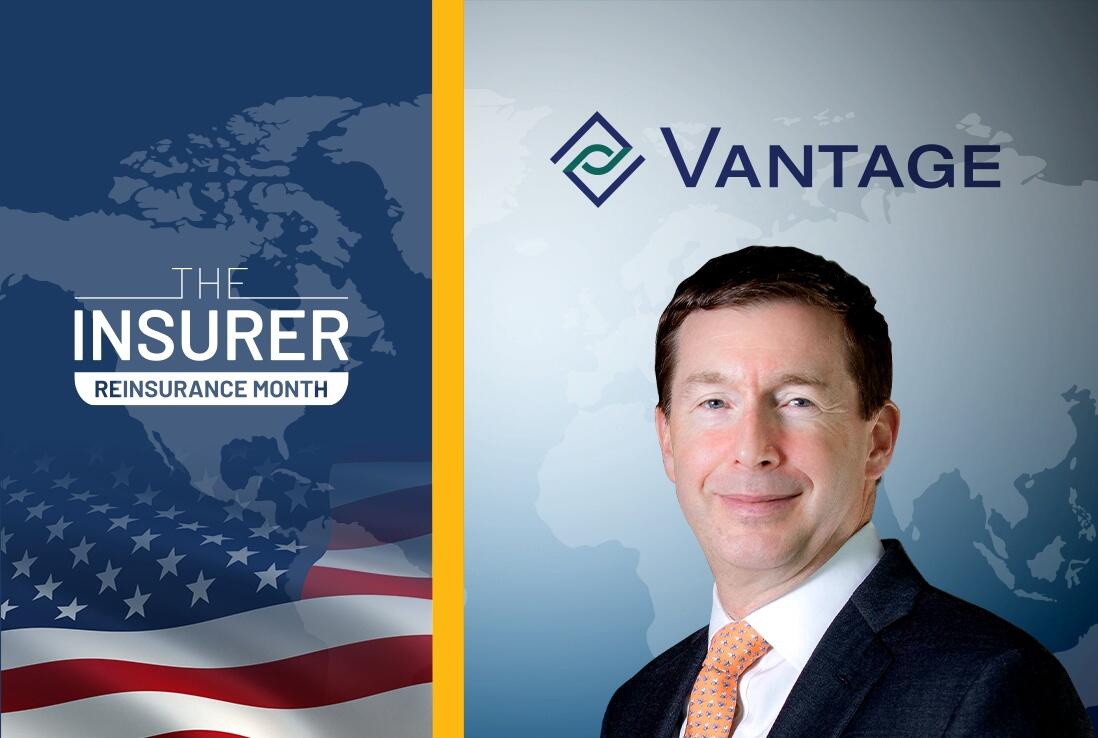 Hendrick said Vantage has written "right on or just above our plan" this year across property catastrophe and what it describes as specialty reinsurance, encompassing lines including marine, aviation, crop, satellite and property per risk.
Vantage launched in December 2020 and Hendrick had told The Insurer in January this year that the 1.1 2021 reinsurance renewals had met but did not exceed the start-up's expectations. 
And in the latest interview for #ReinsuranceMonth, Hendrick said: "The remainder of the year met our expectations but was not what we hoped we would get in terms of a correction and getting returns up to the levels we think they need to be at for us to really fully deploy."
He added: "In reinsurance we feel the opportunities are adequate but not quite where they need to be for the returns."
Hendrick said "the recent activity puts further pressure on the pricing particularly around the property catastrophe space".
This year has seen events such as the Texas freeze, wildfires and Hurricane Ida. "Ida parts one and two are two obviously related but different events altogether," Hendrick said. 
The recent frequency of low to mid-sized cat events should cause a rethink about pricing, Hendrick suggested. 

"We see some robust discussion coming about where do the pricing levels set themselves to attract capacity going forward into those middle and lower layers of property catastrophe," Hendrick said. "We are expecting some more rate."
On the retro side, Vantage's ILS capabilities are led by Chris McKeown, who was previously vice chairman of ILS fund manager New Ocean Capital Management, which he had founded in 2013.
Hendrick commented that "the retro market didn't move as much as we wanted it to but it certainly moved enough to interest us". Vantage is targeting business "just above" where most tend to buy. 
"I don't see us a fund manager – I think that space is pretty well full and dominated by some very large and successful players – but I do see us building bespoke vehicles that investors that are interested in the cat risk that want to take a particular slug of it will want to come and work with Vantage," he said.
More capital available to Vantage 
Vantage was launched with $1bn of equity capital invested by private equity firms The Carlyle Group and Hellman & Friedman, together with management, with the potential to increase their investment as growth opportunities arise.
"There is more capital available from them as we continue to demonstrate the opportunities and meet the expectations that we all have collectively," Hendrick commented. 
"So we see the possibility of having more capital being put to work during next year. We'll have to see how the market plays out, obviously that is all going to happen over the next few months in terms of reinsurance."

Vantage has been slower to build its insurance book because of the time it takes to get regulatory approvals for acquisitions. Hendrick noted that Vantage sees "very strong rate opportunities" in insurance, particularly in long-tail lines. 
The company has continued to announce hires and new entries. Hendrick noted as examples the hires of Megan Kempe to focus on emerging risks and Jason Lamonica as head of construction, with both moving across from Axa XL, the company Hendrick led before joining Vantage. 
"You will see us continue to grow, pricing willing," Hendrick said. "The 2022 game plan will be to continue to play well in the property cat and specialty markets and continue to build out those other capabilities."
Hendrick during the interview also discussed his recent participation in a White House discussion on cyber security and his thoughts on how the cyber market will evolve.