Green hydrogen offers insurers growth potential
Munich Re's Stefan Riedel explains how insurers can play a key role in the transformation of the energy market through hydrogen, given the rising demand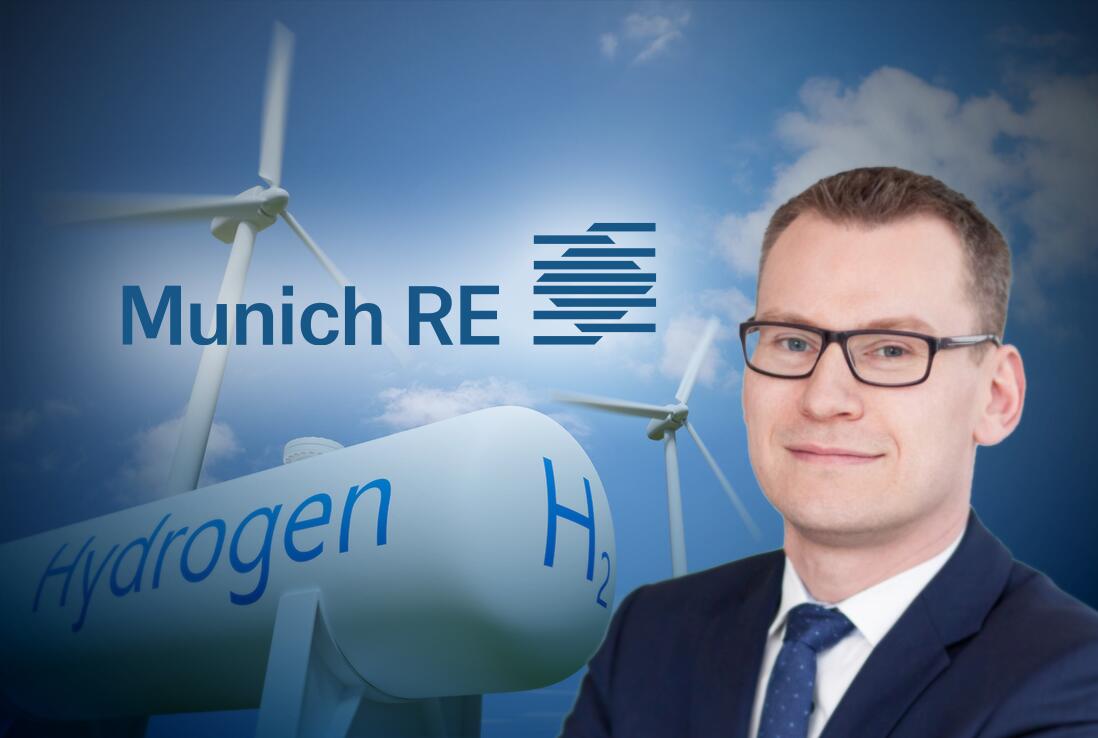 As a replacement for fossil fuels, green hydrogen produced with electricity from renewable sources is critical to the decarbonisation of particularly energy-intensive branches of industry, including industrial chemicals, the steel industry and iron production.
In addition, hydrogen is the starting point for the production of e-fuels used in transport solutions that are difficult to electrify, especially in aviation and shipping. Hydrogen thus holds great potential for the net-zero economy.
The risk landscape of hydrogen is largely familiar territory for insurers: experience and technical expertise enable risk transfer, even in the case of large systems, facilities and infrastructure projects.
Worldwide, the production of green hydrogen promises a faster shift away from fossil sources, greater energy independence and the reduction of CO2 emissions.
One has to appreciate the scale of the situation. If the net-zero target for 2050 is to be met, studies assume that between 4 percent and 11 percent of total energy demand will need to be covered by some 100–400 mega tonnes of green hydrogen – which is roughly equivalent to the energy content of 2.5–10 billion barrels of oil.
In other words, there is a chasm between present reality and future ambition.
If the low-emission production of the necessary quantities of hydrogen is to be scaled up as quickly as possible, efficient systems, facilities, infrastructures and value chains must be set up and production capacities substantially ramped up.
Long-term investments, especially for high volumes, require certainty when it comes to the reliability of planning, operation and purchase.
The Hydrogen Council estimates that $150bn will need to be invested in green-hydrogen and blue-hydrogen systems/facilities that are now being planned, built, or operated.
The council furthermore expects this figure to increase to $500bn by 2030. Overall, investment and planning for the construction of large-scale production facilities is proceeding well, but investment and planning continues to undershoot targets regarding the transport, distribution and utilisation of green hydrogen.
To overcome the "chicken or the egg" problem, all three sectors – production, transport, and utilisation – must be addressed as one.
Production that is restricted to green hydrogen will require a massive expansion of capacities for the production of green electricity and the requisite electrolysis facilities, and the distribution of hydrogen as fuel calls for sufficient investments in transport infrastructures. Special-duty vessels will ship liquid hydrogen over long distances.
Medium-distance transport requires the construction of new pipeline infrastructure, and both upgrading and repurposing of existing natural-gas pipelines.
Another critical success factor is the willingness of purchasers to enter into long-term purchase agreements, as this is the only way to ensure the economic viability of production and distribution – in other words, the financing of hydrogen projects.
Determining the shortfall in sustainable energy entails more than mere calculations. Closing this gap systematically is essential for industrial production. Indeed, manufacturers have committed to decarbonisation targets and want to achieve low-emission production, but the energy market has yet to offer them enough affordable, net-zero alternatives.
The energy shortage caused by the war in Ukraine underlines just how essential speed and scaling are in the transition to sustainable energy.
Both inflation and the scarcity of energy produced using natural gas and oil have recently given some impetus to policy decisions, especially as regards green hydrogen.
Many countries are proposing programmes as well as billions in subsidies and tax breaks for new systems and facilities.
Examples include the European Green Deal in the EU, the Inflation Reduction Act in the United States, the 2022 Fall Economic Statement in Canada and the H2Global Foundation in Germany.
Excessive regulatory bureaucracy has been identified as an obstacle, although the lack of constructive governmental guidelines in many countries has likewise been criticised.
The insurance industry generally regards the momentum from recent political and financial developments as an encouraging catalyst for change.
Insurers support and facilitate transformation
How can insurers foster the development of green hydrogen as a pivotal net-zero player? By assuming risks, the insurance industry can promote trust in the technology.
Moreover, insurers provide risk expertise in assessing, quantifying and insuring hydrogen projects in markets for conventional and renewable energy alike.
Last but not least, the insurance industry can supply underwriting capacity so as to support the establishment of this nascent energy segment.
Munich Re is doing all this while also actively reducing the carbon emissions in its insurance business. This includes targeted support for insureds with respect to the transformation and expansion of renewable energies in Munich Re's portfolio.
Ideally, fossil energy sources are reduced and these capacities then superseded by net-zero technologies.
In the three areas of production, transport and utilisation of green hydrogen, Munich Re sees sound preconditions for covering the following financial risks:
Hazards: Insurers are familiar with conventional hydrogen technology from the insurance of commercial electrolysers or from the storage and processing of gaseous hydrogen. Insurers are also familiar with the risks associated with the production of highly flammable hydrogen from the insurance of fossil fuel plants. Although the hazards of handling hydrogen are significant and should not be underestimated, they are nevertheless manageable in risk management terms.
Transport and storage: The necessary transport and storage of large quantities of hydrogen (or ammonia) must be subjected to meticulous risk assessments, which then must serve as the basis for safety measures and requirements.
Coverage products: The focus here is on classic cover for physical losses as a result of an explosion, fire, or the like – and any consequent business interruption. These are similar in standards to those from the fossil fuel world. Coverage components are adapted to a specific risk situation regarding hydrogen.
Renewable energy sector: Insurers have experience with renewable energy sources and understand the interplay of renewable energies for the production of hydrogen and the use of hydrogen storage systems for any green energy produced as a surplus beyond immediate demand. The prudent insurance of green hydrogen requires expertise in all related forms of energy.
Development orientation: The transition towards net-zero energy use is an evolution that insurers have been contributing to for decades as regards solar and wind energy. This is particularly true for green hydrogen: if the large-scale production of green hydrogen is to be cost-effective, the efficiency of electrolysis must first be improved by developing new electrolysers. The engineers in Munich Re's energy teams will continue to collaborate with clients and operators to acquire even more specific loss expertise and incorporate it into risk models and project advancement. The share of renewable energy facilities will increase significantly both in terms of investment and in insurers' portfolios.
Acceptance: Supplementary guarantee covers are a plus when it comes to the acceptance of hydrogen production. Munich Re uses such covers for investors, manufacturers and clients to absorb imponderables such as performance deficits, efficiency shortfalls, or problems in supplying consumers. In the event of underperformance, the insurer can cushion excessive financial burdens. Munich Re has been offering similar innovative risk-transfer solutions since 2009 for the production and storage of renewable energies, including wind and solar.
Munich Re is confident that significant business potential can be tapped as companies that convert to net-zero processes demand insurance cover.
According to unanimous expert assessment, the production of green hydrogen using electricity from renewable energy sources will be a crucial basis in making energy-intensive industrial processes climate-friendly.
Insurers can be pivotal players in helping to make such projects economically viable for investors and operators, in turn boosting the supply of net-zero energy.
Insurance covers can directly supply capital and propel a rapidly growing market into the future. In short, insurers are supremely qualified to provide risk transfer as part of the energy transition.
They will ensure that insurance solutions are further tailored to the specific risks and needs of the hydrogen economy.