Getting in front of growth opportunities
Transverse Insurance Group is one of several recent entrants to the program fronting space and has been actively signing up new programs since its launch last year. It is now working on a European platform as it looks to target a region that has few viable options for MGAs and reinsurers seeking fronting paper. The ReInsurer talks to CEO Erik Matson and president and chief investment officer Dave Paulsson.
Can you give us an update on the business in your second year of operation?
Erik Matson
We're a dedicated program player and we're independent. We have most States now lined up, have a full A- rated group with E&S and admitted capabilities and class seven financial size. At the right time we'll go to class eight. We're under leveraged and have plenty of headroom to grow, so we're in a great financial position and are incredibly well-funded.
We have licenses across all different types of lines of business. We've been building out our team too both with active hiring and with colleagues seeking additional accreditation from the actuarial society in areas like enterprise risk management and risk.
We also have a strong bench of external advisors and consultants we can call upon, and that's helped us develop what we believe is a world-class enterprise risk management framework. So we have an intellectual base to our risk approach and risk retention.
There are some players retain more risk than us but I think we're in very good stead.
We have a healthy set of relationships within and across channels as well. We're bullish, we're very bullish.
What kind of opportunities are you seeing in the current market environment?
Dave Paulsson
We are seeing a wide spectrum of opportunities. That includes well-established players looking to enhance their offerings in some way by bringing us into an existing partnership, where an MGA is limited to the number of filings it can have with one carrier and is looking to broaden its offering. The first few programs we put on the books fit that mold. Those are really solid operators, with 10 years of history on average, looking for an extra filing from a quality operator to expand their capabilities. Another area we are seeing opportunities is where people are either losing or concerned about losing support from their carrier.
There's always some of that in the market, but Covid-19 added to it, and that has created a shopping behaviour from some MGAs, which is good for us. And then we also see interesting start-up opportunities, whether it's a crack MGA team or underwriting teams that want to go out on their own or something from the InsureTech landscape.
In terms of business lines its really across the board. For us the focus is on making sure we establish a nice diverse but sizable spread of premium as quickly as possible, ranging from homeowners to commercial auto as well as some niche areas.
We're seeing a lot of everything, but with everyone remote working it could take longer than usual. Our near-term pipeline is all systems go though.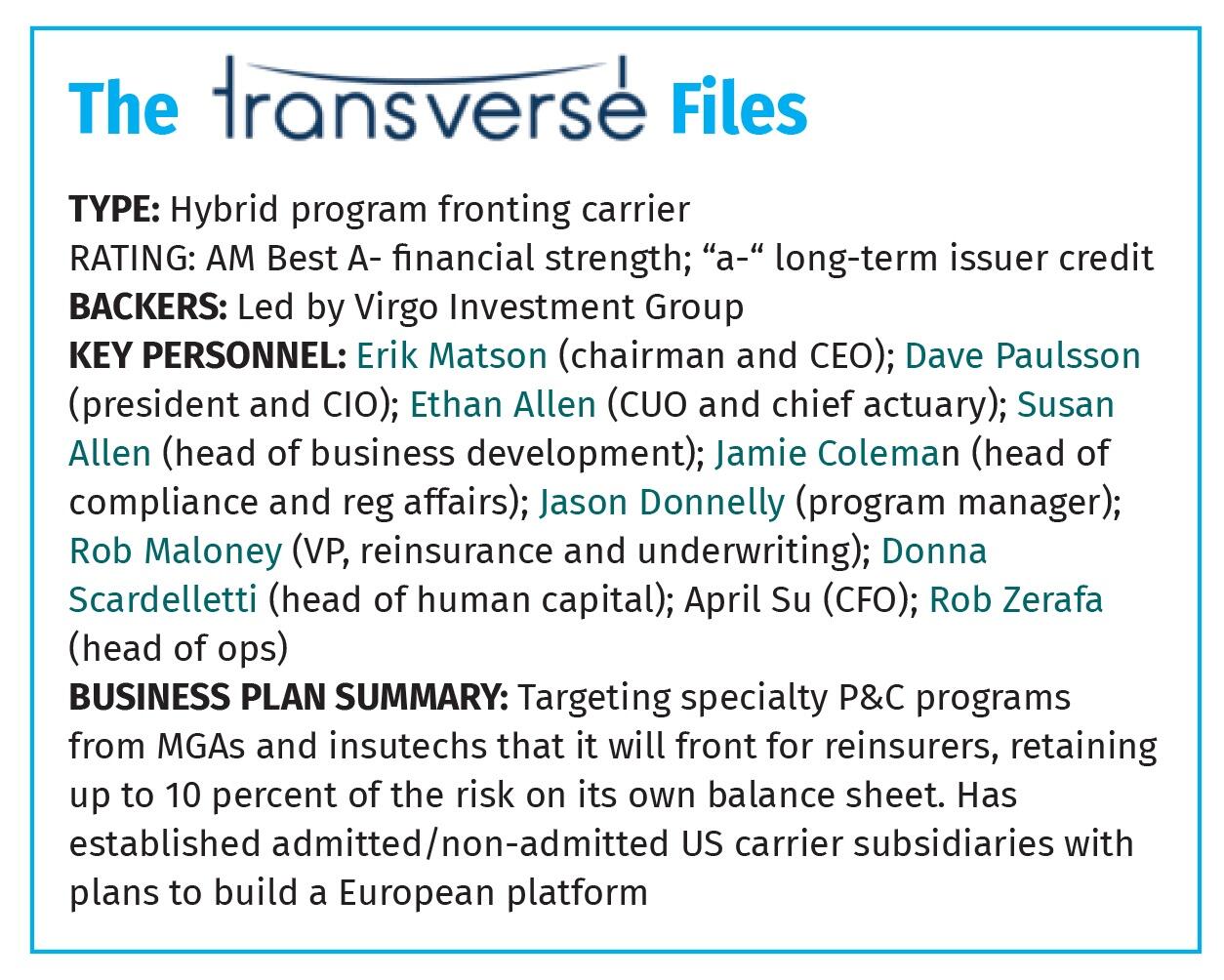 And how big is the pipeline?
Erik Matson
Our pipeline is certainly comparable to the larger competitors in the space. We sometimes get up to five or six submissions a day, which is pretty incredible. I think we've already established a reputation for being forthright and transparent as we work diligently with MGAs and the broker community.
We're seeing great opportunities in personal lines, casualty, commercial auto, non-standard auto, and there's a lot of activity around professional lines and financial lines, including areas like D&O, EPLI and even fiduciary. Those areas are seeing significant rate increases now and for someone like us with zero legacy and plenty of dry powder we can look at those.
With the rate hardening we have the ability to be selective and to take a pragmatic approach, but we're also getting approached by brokers from across the spectrum with some pretty innovative opportunities in the specialty space.
Dave Paulsson
We're seeing a broad range of programs, and one of the more interesting ones we've gone live with is Foresight in the insuretech world.
It focuses on workers compensation and we were impressed enough with the quality of the team, their track record and the data they have built it on that we made the move to support them with our paper and invest in their Series A funding. We remain focused on traditional MGAs but will support insurtech opportunities when they make sense.
Tell us about your reinsurance relationships, do you have a set panel?
Erik Matson
Where we're partnering with established MGAs on existing deals they typically have their own panel they've been working with for some time.
And a lot of times those are the names you'd expect, with big players such as Swiss Re, Munich Re, or Everest Re. On opportunities where we're looking to fill in a panel though we're very fortunate to have brought on board Rob Maloney, who runs reinsurance and underwriting and had a long career with Munich Re. He has long-established relationships with reinsurers and has been building new ones.
If you compare us with competitors who might only have seven or eight of the big reinsurer names supporting the, we've had the luxury of working with those same players, but we've also diversified and broadened our relationships including with collateralized reinsurers.
We've also had situations where we've been approached by a reinsurer where a program they're supporting has lost its paper and they want to stay on it and work with us.
They approach us together with the M&A. That speaks to the sound relationships we have with reinsurers.