Gallagher Re's James Kent: Market is behaving "logically" as it gears up for 1.1
Gallagher Re CEO James Kent has forecast the reinsurance market will remain "logical" as 1 January renewal discussions take place against a backdrop of challenging industry headwinds.
In an interview with The Insurer TV to mark the beginning of #ReinsuranceMonth, Kent acknowledged that some reinsurers had reduced appetite for property cat business but said this was not the case across the entire market.
"There was definite hardening in property cat and we would expect property cat in particular to be a more constrained part of the business, but to talk about reinsurance as a whole being a hard market, no, we wouldn't say that and we don't see that," he said.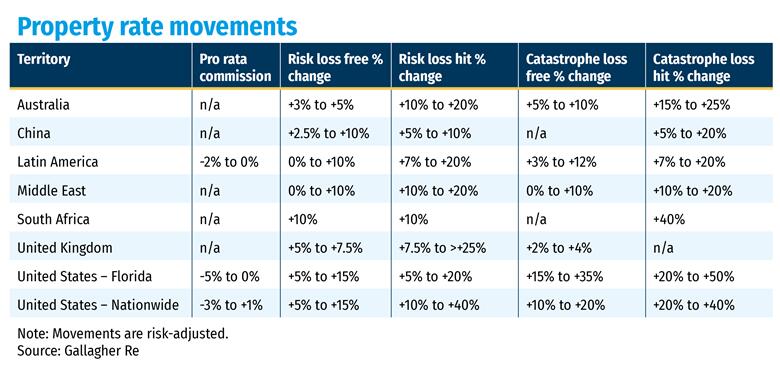 Kent said property cat renewals would likely mirror some of the dynamics seen at mid-year, with peak zone business under the most pressure. Market commentators have already warned of a potential capacity crunch.
"Some of that is very much dependent on how the rest of the year performs," said Kent. "Activity through the first half of 2022 has been down on prior years, but one of the big focuses has been on the smaller losses, the unmodelled losses, and while it's not a completely clean first half of the year, those losses have diminished compared to more recent years.
"But of course, we're only in the middle of the Atlantic hurricane season and a lot depends on what happens there."
While acknowledging something of a capacity crunch, appetite for property cat is not diminishing right across the piece, Kent said.
"There are a number of reinsurers that we're working with that are very clear that they have a stable or perhaps increased property cat appetite. But it does depend on who the client is, what the attachment point is and the clarity of data," he said.
"So while some reinsurers have unquestionably pulled back and particularly pulled back from low-attaching cat programs where secondary perils have become an issue, or they've pulled back completely in terms of volatility, that's not true for every reinsurer, so we do expect some reinsurers to actually increase their property cat writings in 2023," Kent explained.
As a result of this dynamic, appetite in areas outside of property cat is increasing, including longer-tail lines and specialty lines, specifically cyber. Looking at marine and aviation, Kent said capacity in these lines has remained "relatively constant" despite the events in Ukraine.
Touching on how the conflict has impacted the reinsurance market, as another unforeseen and unmodelled event following on the back of Covid-19, Kent said the industry "is more resolutely focused on systemic events than perhaps ever before".
"However, what is interesting is that in terms of aviation, we haven't seen a pullback, or much of a pullback, in terms of capacity for reinsurance," he said.
"And while one or two of the larger reinsurers have perhaps deployed less capacity, some of the newer markets have stepped up and filled those holes, so at this point talking to our experts on the aviation reinsurance side, they don't see a capacity issue. What they do see is a reaction in pricing and pricing has gone up."
Retro to move early
A dearth of retro capacity has also been a factor in some challenging renewal periods in 2022 and according to Kent, there does not appear to "be an obvious influx of retro at this point".
But unlike 1 January this year, when retro placements were made very late on, Kent is anticipating an early retro renewal.
"Generally, we see a pretty consistent market, but there has been a move away from the low-attaching frequency aggregate type of coverage that perhaps was there around two or three years previously," he said. "As a consequence of not an obvious influx of retro capacity at this point, we expect to see a continuation of a relatively strong occurrence retro market, but again, at a level where reinsurers feel comfortable that they are away from the smaller, unexpected losses."
He added: "What we are anticipating is a relatively early renewal. When you are focused more on the occurrence market, and you do know that there is a defined amount of capacity available, then we would expect the market to move relatively early."
According to Kent, as a consequence of that aggregate and low-attaching market moving away, the market is seeing some more of the index-type covers, such as county-weighted and state-weighted products.
"We've had a good amount of success through 2022 with those covers," he said.
Watch the wide-ranging 16-minute interview with Gallagher Re CEO James Kent to hear more on:
How reinsurers will respond at 1.1 to issues and losses emerging from the Russia-Ukraine conflict
How Gallagher Re is advising clients on submissions and differentiating themselves while navigating a complex market
How inflation is impacting market dynamics
Reinsurance market dynamics ahead of 1.1 and key themes at this year's RVS in Monte Carlo