UK BI litigation enters final act with Stonegate and ExCeL appeals to dominate
It is now almost three years since the Supreme Court handed down its largely policyholder-friendly judgment in the Financial Conduct Authority (FCA) test case, but for many insurers, their reinsurers and policyholders, uncertainty remains over Covid-19 business interruption (BI) exposures.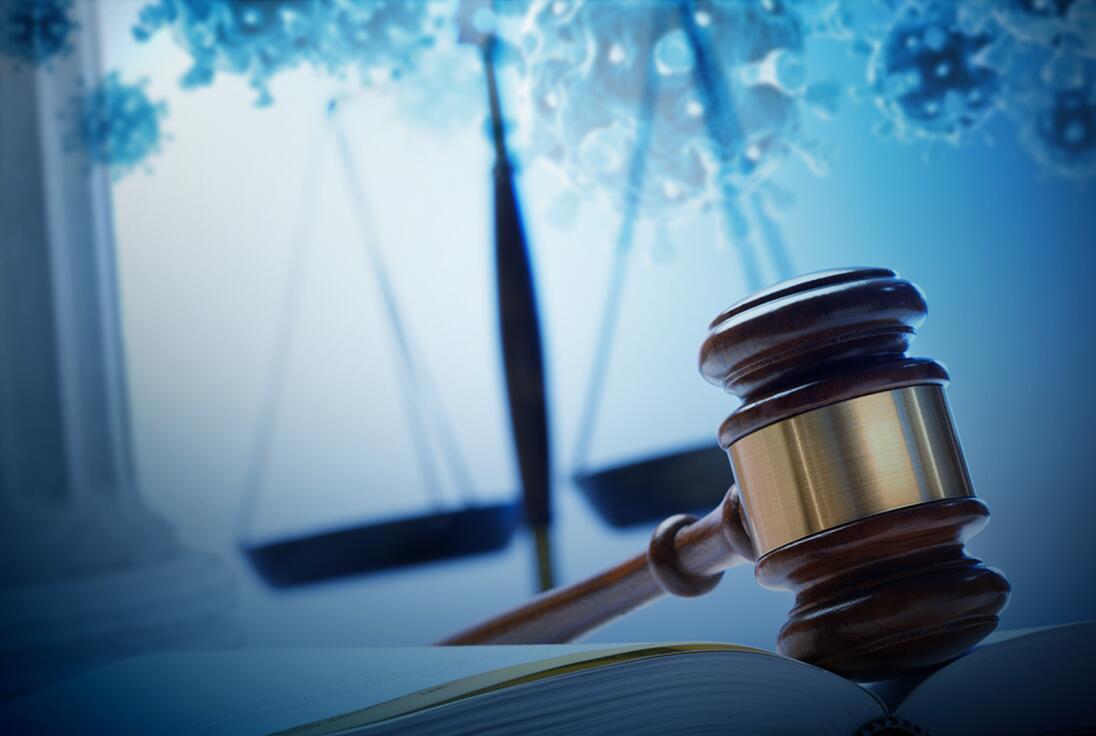 The UK watchdog ran a test case in July 2020 with a group of eight sample insurers – Arch, Argenta, Ecclesiastical, Hiscox, MS Amlin, QBE, RSA and Zurich – in a bid to resolve the most common pandemic-related BI claims disputes between policyholders (typically SMEs) and insurers.
The Supreme Court later upheld the findings of the High Court, ruling largely in favour of policyholders in January 2021. And while the test case was successful in clarifying various issues common to many Covid-19 BI claims, there remain a number of areas of uncertainty created by the variety of policy wordings used and the lack of legal clarity around their application. This is demonstrated by the queue of high-profile disputes still under scrutiny by the courts.
Legal sources have highlighted a plethora of unresolved issues – namely non-damage denial of access (NDDA) extensions, issues of aggregation, causation, furlough and policy triggers – noting that a series of "very significant" and high-value claims (and appeals) are scheduled to be heard in the fourth quarter of 2023, with others waiting in the wings.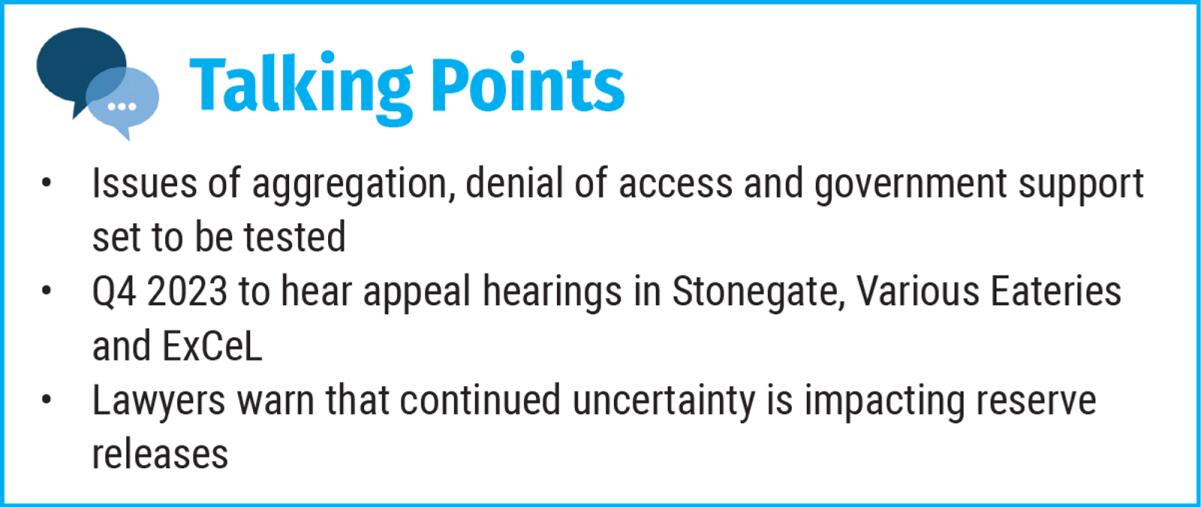 Q4 2023 appeals
The Insurer is aware of more than 26 live BI cases currently making their way through the UK court system, but Peter Hardy, partner at Reed Smith, says it is the developments in the claims brought by hospitality groups Stonegate and Various Eateries – earmarked for appeal towards the end of 2023 – that the (re)insurance sector should be most fixated upon.
Hardy noted that the "key issues" of aggregation, additional increased costs of working and the correct treatment of government financial support will be examined by the Court of Appeal.
The multi-million pound suit brought by Stonegate against MS Amlin, Zurich and Liberty Mutual, and Various Eateries' dispute against Allianz were heard last summer and concerned a Marsh Resilience wording – a policy which came under scrutiny during the FCA test case.
The actions were heard alongside the £150mn claim brought by baker Greggs against Zurich as part of a coordinated group action. Zurich reached a confidential settlement with Greggs earlier this year.
While insurers welcomed the rulings, the High Court found in favour of both insurers and their claimant policyholders in various aspects of all three cases and Justice Butcher handed the parties permission to appeal earlier this year.
"The court will hear a full range of arguments on these key issues and it is not at all unlikely that there will be a level of analysis and commentary that will provide an opportunity to open up old debate and previous analysis," Hardy explained.
ExCeL and Kaizen appeals to test "at the premises" wordings
The UK is also set to play host to the appeal of the 16 June finding in a test case analysing so-called "at the premises" (ATP) wordings. The test case included the £16mn claim brought by London International Exhibition Centre Plc – the owner of London's ExCeL centre – against the UK arms of Allianz, Aviva, Chubb, CNA, RSA and Zurich.
Policyholders for the remaining cases included Hairlab, Muscleworks and Bodylines, Mayfair, Kaizen, Why Not Bar and Lounge and PizzaExpress. Insurers named in these cases included Axa, Ageas, HDI Global, Zenith Insurance, QBE Europe, Liberty Mutual and XL Insurance.
In his pro-policyholder judgment, Justice Jacobs found the Supreme Court's 2021 ruling on disease clauses also applied to ATP cover, and that claims should be paid out under such clauses based on government guidance rather than having to prove there had been a localised outbreak.
The insurers on ExCeL have been given permission to appeal the ruling, with only RSA declining to pursue the appeal. The defendant insurers on the remaining claims have until 11 September to file their notices of appeal.
"As the appeals are concerning the issue of causation and policy construction, this remains one of the most landmark cases since the FCA test case," said Iryna O'Reilly, head of BI at Barings Law, the claimant law firm representing a number of test case participants including Kaizen.
Although these cases are going to determine some of the most complex legal issues surrounding the BI cases, O'Reilly noted that not all policy wordings will be captured.
"It is therefore inevitable that further litigation is likely to arise from other policy wordings in an attempt to obtain clarity from the courts on their policy constructions," O'Reilly added.

Corbin & King ruling to be placed under the microscope
The lower court ruling in Corbin King v Axa is to be tested in an October 2023 test case concerning eight separate claims brought against Liberty Mutual, its subsidiaries and a number of other insurers including Allianz.
The test case will be led by Gatwick Investment Ltd and will include the Hollywood Bowl Group, PizzaExpress, Fuller Smith & Turner, Starboard Hotels and International Entertainment Holdings.
It comes after the High Court ruled that Corbin & King, the owner of upmarket London restaurants The Wolseley and The Delaunay, was entitled to a payout for losses incurred at each of its premises following government-mandated closures in March, September and November 2020.
The judgment was significant as it provided clarity on the proper application of NDDA wordings and policy limits in cases where there are multiple insureds and numerous premises affected by lockdown regulations.
But some insurers consider that they are not bound by ruling, arguing Corbin & King will not be binding until there is guidance from a higher court, or that the wording is sufficiently distinguishable from others in the market.
"The NDDA cases are significant because they affect many policyholders, and the cases are likely to go to the Court of Appeal to provide the market with the certainty of a higher court guidance in relation to the Corbin & King issues," explained Joanna Grant, partner at Fenchurch Law.
Finally, there are a number of cases where wording-specific issues will be resolved. These include the Burger & Lobster case, concerning matters including the meaning of "policing authority" in the context of Covid-19 lockdowns; and the Oaxaca and Flat Iron cases brought against QIC, which will consider whether the words "immediate vicinity" impact on the type of coverage provided by insurers in NDDA wordings.
Reserving challenges
Jonathan Sacher, partner and co-head of the insurance practice at Bryan Cave Leighton Paisner, noted that the Q4 hearings could have a "significant impact" on the amount paid to policyholders under BI clauses depending on how the Court of Appeal rules.
"Further, depending on the terms of the settlements already entered into between insurers and policyholders, it might also mean that policyholders try to re-open claims that insurers had closed in order to try and claim further sums," he explained.
There is already some delay in releasing reserves, which is of concern to some insurers, Sacher said – but more so to reinsurers, particularly in the ILS world.
"There are some mainstream UK insurers who are maintaining significant reserves pending the outcome of Stonegate and other cases, which has meant that they are unable to properly account to reinsurers who are keen to make an assessment of their exposure now, some three years on."