Top 10 Reinsurance Broker Rankings
As the dust settles following several years of ground-breaking M&A deals, our annual Top 10 Reinsurance Broker Rankings – based on 2022 revenue estimates – features a more stable line-up, with Gallagher Re and Howden Tiger cementing their positions as the third and fourth biggest reinsurance brokers.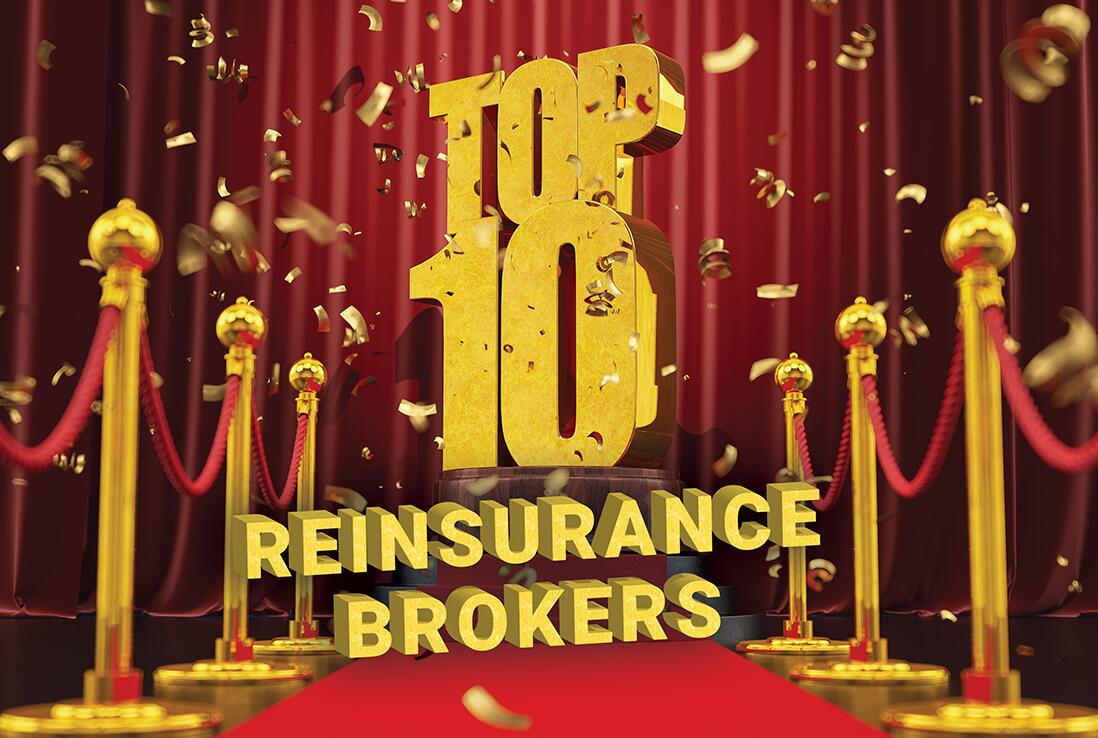 But as the group of smaller challenger brokers continue to ramp up their operations, a cohort of challengers to the challenger brokers is now emerging, with a number of start-ups launched in recent months that could over time begin to impact the lower ranking players in the Top 10.
It also comes amid organic growth tailwinds for reinsurance intermediaries that are only expected to strengthen in 2023 owing to a generational hard market in property cat, a resurgent cat bond market and continued strong demand from buyers.
After years of a very predictable picture, Marsh McLennan's $5.6bn acquisition of JLT, announced in 2018 and closed in the spring of 2019, was the starting shot for a period of M&A activity which would have a significant impact on the makeup of the global reinsurance brokerage sector.
Aon's subsequent pursuit of Willis Towers Watson, which began in 2020 and continued in 2021, had looked set to create a new undisputed leader in the reinsurance segment, opening a big gap on Guy Carpenter in second place.
But competition regulators forced the divestment of Willis Re as part of the proposed transaction, opening the door for the positioning of Arthur J Gallagher as the third largest reinsurance broker through Gallagher Re.
Despite the Aon-WTW deal being nixed by US antitrust regulators, Gallagher's $3.25bn acquisition of Willis Re went ahead.
And then last year came the announcement of the proposed $1.6bn combination of Howden RE and TigerRisk.
Completed in January this year, the new Howden Tiger entity entered the rankings as the industry's fourth-largest global reinsurance intermediary.
As the 2022 revenue figures compiled in our latest survey show, the hive of activity among the next tier of intermediaries continues, with all firms delivering double-digit growth as they see the benefits of rampant hiring through the recent sector consolidation.
However, our Top 10 Reinsurance Broker Rankings now adopts a more defined character with companies at the top of the pyramid cementing their positions, suggesting a break – at least temporarily – from the significant movements of the last few years.
Our survey shows both the "new" big three brokers and the challenger firms are well-positioned for further growth, aided by the tailwinds of a hardening reinsurance market and the consequent increase of broker commissions.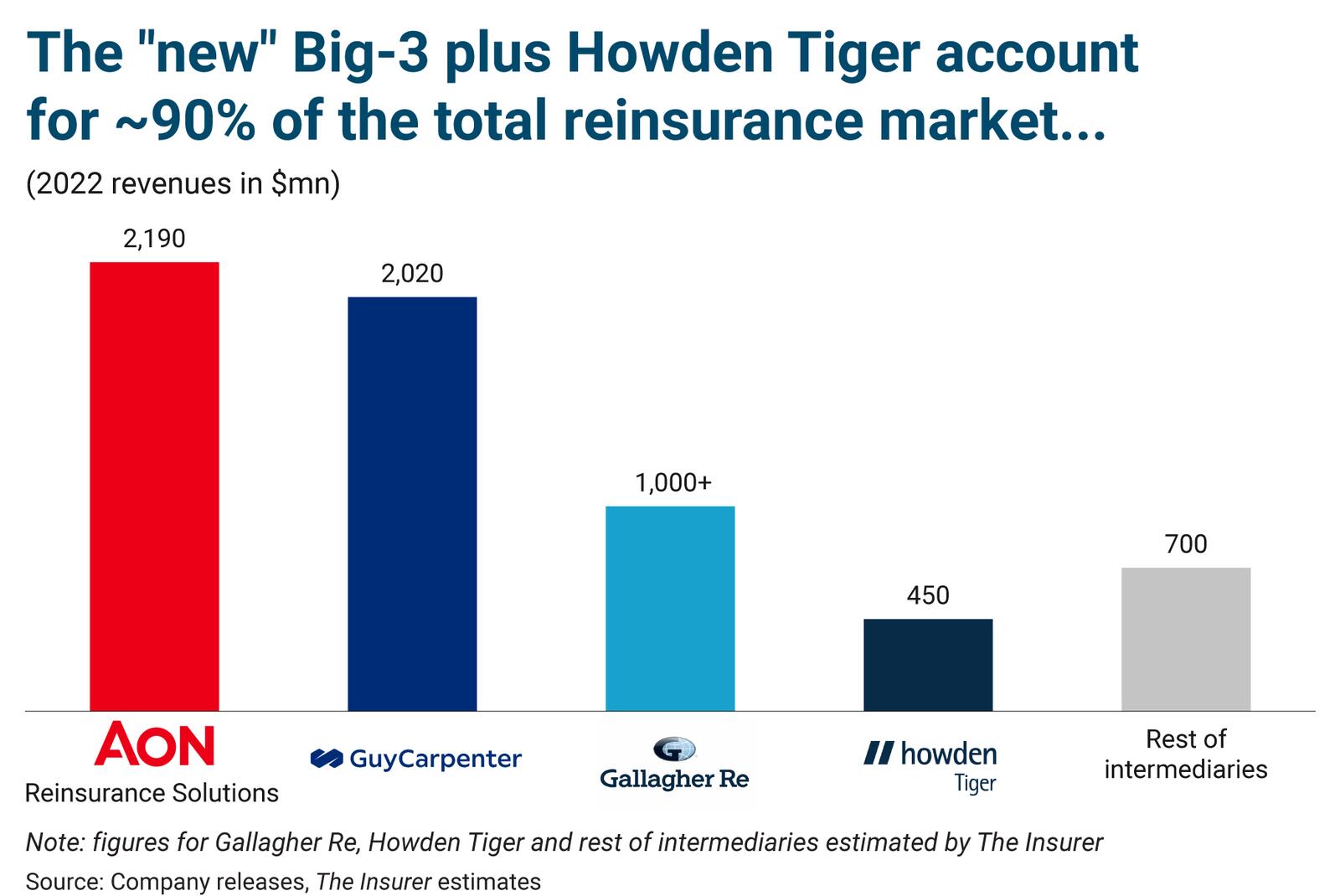 Fair comparisons
So how does the final line-up look for 2022 and what does it tell us about the direction of travel for the sector in 2023?
First a few caveats.
For the purposes of our updated Top 10 Reinsurance Broker Rankings – now in its fifth year – we have chosen to present all Willis Re and Gallagher Re pre-2020 pro forma revenues separately in order to offer a clearer representation of the relative significance of both companies before their merger in 2021.
We have applied the same criteria to the new Howden Tiger entity, breaking down revenues separately between TigerRisk and Howden RE – which previously occupied fourth and fifth place respectively.
While the big three revenues are all based on official disclosures or well-sourced information for the year to 31 December 2022, Howden Tiger is among two of our top 10 operating with financial years that span 2022 and 2023.
Howden Tiger's parent reports with a 30 September year-end. The revenue numbers we have included for the separate and combined firms are consequently ahead of the reporting cycle for the majority of the other brokers in the rankings, not making for a like-for-like comparison.
Meanwhile, Lockton Re's parent reports with a 30 April year-end, which also puts its revenue numbers ahead of the rest of the reporters.
The gap between Howden Tiger and Lockton Re in our rankings is not likely to be fully accounted for by the differentiating accounting dates, however.
Yet, a like-for-like comparison between Lockton Re in fifth and BMS Re in sixth could see a meaningful narrowing of the gap given the weighting of reinsurance revenues to the first quarter of the year.
There are a couple of additional considerations regarding the historical data for some of the top players.
We have used the $745mn 2020 pro forma revenue number for the acquired Willis Re business referenced by Gallagher in its investor presentation when the deal was announced in 2021.
Our 2019 and 2018 numbers for Willis Re were both estimates, with the 2019 estimate including $350mn of facultative business not included in the sale to Gallagher, while the 2018 number did not include facultative but did include Miller.
As for Guy Carpenter, although Marsh McLennan's acquisition of JLT only closed at the start of the second quarter of 2019, we have used reinstated 10-K revenue figures provided by Guy Carpenter's parent that factor in JLT Re turnover as if the firm had been acquired at 1 January 2018 for full prior-year comparisons.
A view from the top
As shown by the results of our survey, Aon's Reinsurance Solutions continues to lead the rankings for the fifth consecutive year, widening the gap slightly over second-placed Guy Carpenter.
The unit grew overall revenues by 10 percent in 2022 and reported 8 percent organic growth driven by strong net new business generation in treaty, as well as solid growth in facultative placements and its Strategy and Technology Group.
Rival Guy Carpenter grew revenues by 8 percent in the year but reported organic growth of 9 percent – 1 point higher than Aon's reinsurance business.
Guy Carpenter's advantage over Aon in terms of organic growth was driven by an impressive first quarter record of 11 percent, well ahead of the 7 percent of its main competitor.
However, it is worth considering that – contrary to Aon – Guy Carpenter's organic growth figures include fiduciary income, something which has had a net positive effect over the last year because of higher interest rates.
Meanwhile Gallagher Re is estimated to have generated $1,050mn in revenues for the year – approximately half the revenues of the two sector leaders – and a 9 percent improvement from the previous year.
It is followed by Howden Tiger in fourth position, consolidating the fourth and fifth places occupied by TigerRisk and Howden RE in the previous run of the survey.
Sources have estimated that pro forma revenues for the year ended 30 September 2023 are likely to top $450mn (including the Bowood business), a figure that would represent a 28.6 percent increase compared to the sum of the two merged companies.
The firm's growth momentum is understood to have been driven by UK specialty treaty as well as casualty treaty globally.
Consortia business, international facultative and US treaty were also described by sources to be contributing factors, with newly launched global MGA program arm SabRE another standout performer.
Hard market tailwinds
Another key theme of this year's survey is the opportunity afforded to intermediaries by the hard market and its impact on the top line.
As cat/all-risk reinsurance rates continue to rise, premium volumes coming through proportional or quota share treaties expand, which feeds into increasing commission revenue for reinsurance brokers.
The tighter treaty market, in turn, drives strong demand for facultative reinsurance.
This is a particular positive for Aon and Guy Carpenter with their large in-house facultative practices (Gallagher Re less so because WTW retained client facultative), as well as their competitors including Howden Tiger.
Perhaps unsurprisingly, it is the challenger firms that have delivered some of the fastest growth in this environment, building rapidly off a smaller base.
All but one of the intermediaries positioned below Gallagher Re in our rankings delivered revenue growth of 20 percent or more in 2022.
Fifth-placed Lockton Re is one of the growth stories of 2022, with revenues estimated at around $210mn, 35 percent higher than in the previous year.
The unit has been building out since being rebooted under a new management team led by Tim Gardner – who joined from Guy Carpenter four years ago – and now has over 350 staff members, with new key offices in Miami, Zurich and Stamford.
BMS Re is the other growth story of the year, and is understood to have recorded the highest top-line expansion across the top 10 reinsurance brokers at just over 40 percent.
As a result, BMS Re's revenues are estimated to have reached $158.6mn in 2022, leapfrogging Acrisure Re in our latest survey.
Although he would not comment on specific numbers, BMS Re CEO Pete Chandler told this publication: "It was truly a year where our historical investments in talent and analytics, combined with our focused specialist strategies, aligned seamlessly with the firming market conditions to produce a strong outcome in 2022."
It is thought that the firm saw strong growth across its US, Latin American and Spanish operations, driven by new business, while its UK platform also grew rapidly driven by its special risks team, the impact of new business, hiring and strong demand.
Despite being overtaken by BMS Re in our latest survey, Acrisure Re is also understood to have maintained strong momentum in 2022.
The firm is thought to have grown by 20 percent, reaching $150mn in revenues, with most of the expansion coming from North America as well as from London wholesale business.
Acrisure Re's capital advisory and solutions business, which was launched in 2021, is also understood to have had an impact in 2022 revenue figures.
UIB and Holborn
UIB maintained its relative position in the rankings – occupying eight place – as it generated what the firm describes as "group reinsurance revenues" of $80mn in 2022.
Meanwhile, New York-based Holborn clinched ninth place, reporting 16.7 percent revenue growth in 2022.
The firm posted revenues of $58.8mn with good traction in new business, particularly in the regional and super-regional insurance space.
The company has also added a number of cyber-based treaties and developed a successful umbrella program for small to mid-sized insurers.
It recorded new and existing business growth momentum in the farm and ranch sector as well as securing a major reinsurance program for a leading US crop insurer.
Holborn's revenue figure was reported on a net brokerage basis and exclusive of income from consulting, interest or other income, in contrast with some of the other firms in our survey.
As we have reported in previous years, there are significant differences in the way companies report reinsurance revenues, with some participants contending that certain figures provided to this publication do not correlate with the definition of "pure cedant-based reinsurance" that others are reporting.
Inver Re enters with other start-ups set to follow
The consolidation of TigerRisk and Howden RE in this year's rankings has meant an uplift for all positions below fourth place as well as opening the door for a new entrant in our top 10.
Based on our research, this place corresponds to Ardonagh Group-owned Inver Re.
Revenues for the reinsurance broker, which was launched in late 2021 following the acquisition of Corant Global by Ardonagh, were understood to have hovered around $40mn in 2022, putting it in 10th place behind Holborn.
Inver Re was unveiled by the UK consolidator in June 2021 with a bold aim to become a top-five global market player in reinsurance. However, it has suffered from a recent wave of senior departures at Ardonagh, which has included Inver Re CEO Steve Hearn who stepped down in July having joined Ardonagh as part of the acquisition of Corant Global.
This year has also seen the departure of parametric specialist Kurt Cripps, only seven months after joining Inver Re to lead its new global parametric practice.
He has re-emerged at start-up Augment, the Altamont-backed reinsurance intermediary that will be led by Andrew Matson and has ambitious plans of its own.
And Augment is one of a trio of recent launches that will also have designs on disrupting some of the smaller players in the sector.
Most recently they include the addition of BRP's Jeff Irving-led platform Juniper Re. Earlier this year Alliant launched a new broking platform called Alliant Re after recruiting a 26-strong team from Aon's casualty facultative operations.