Industry cat loss bill for 2023 rises to ~$74bn
Insured losses for the year to date have now risen to around $74bn, according to analysis by The Insurer.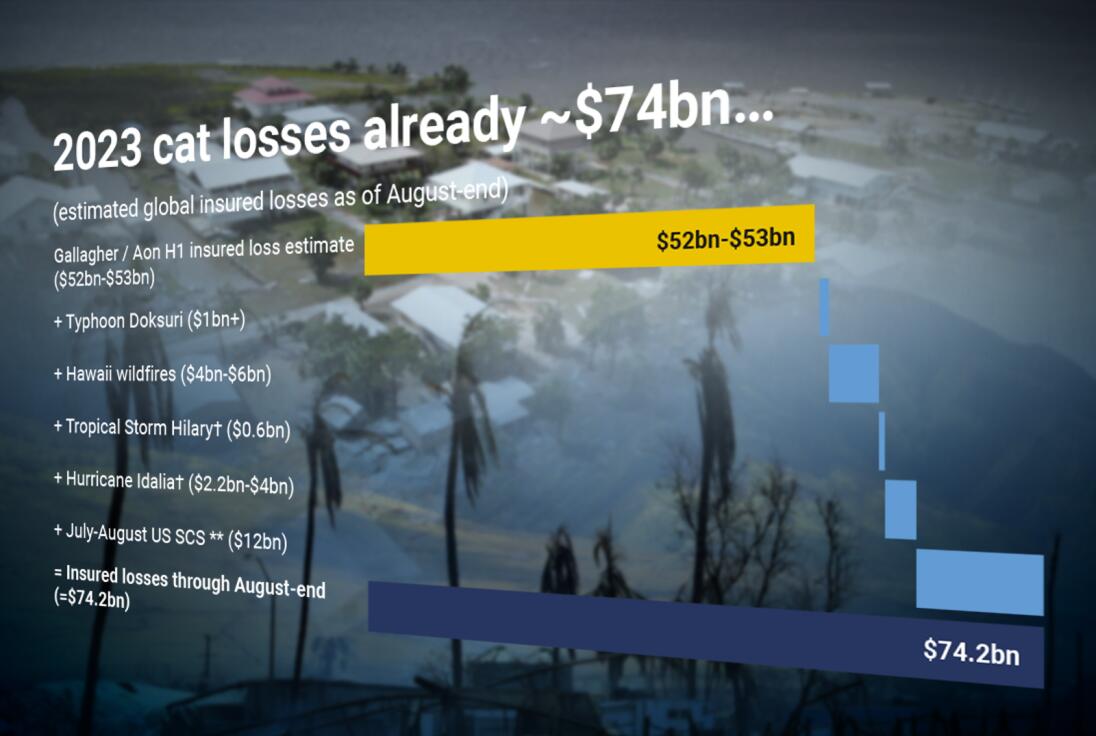 Following an estimated $50bn of losses during the first half of the year, the third quarter to date has seen the industry's loss bill rise by approximately 50 percent on the back of both Q3 loss events and deterioration on H1 claims.
Claims related to US severe convective storms (SCS) – the biggest driver of H1 loss activity – account for around half of the Q3 losses incurred to date.
Steve Bowen, chief science officer at Gallagher Re, told The Insurer that insured US SCS losses had risen to around $46bn by the end of August, compared with a tally of $34bn at the end of June.
Bowen said this $12bn increase was due to both additional events and a deterioration in claims related to H1 events.
"We've seen some of the most expensive events increase by 20-50 percent from initial estimates," Bowen said. "While loss development is quite standard, the expectation is that complementary factors such as inflation and still-elevated construction and labour costs are adding further pressure on these revisions."
Bowen said the average cost of a US SCS outbreak this year now sits at $1.11bn – only the second year on record to average more than $1bn per outbreak.
The third quarter has also seen losses from Hurricane Idalia – estimated at between $2.2bn and $5bn by the major modelling firms – as well as an expected $4bn to $6bn loss from the Hawaii wildfires.
Losses related to flooding from Typhoon Doksuri in China are expected to add another $1bn+ to the industry loss bill, while losses from Tropical Storm Hilary are expected to cost the industry around $600mn, according to Karen Clark & Company.
As with first-half events, the bulk of losses from Q3 cat activity to date is expected to be retained by primary carriers, with limited reinsurance impacts following widespread moves to increase attachment points and reduce exposure to more attritional losses over the past 18 months.