Howden Tiger: Cedants see 10 pt hike in retained nat cat losses in 2023
Cedants have seen an average 10 percentage point increase in their share of nat cat losses in 2023, according to a report by Howden Tiger.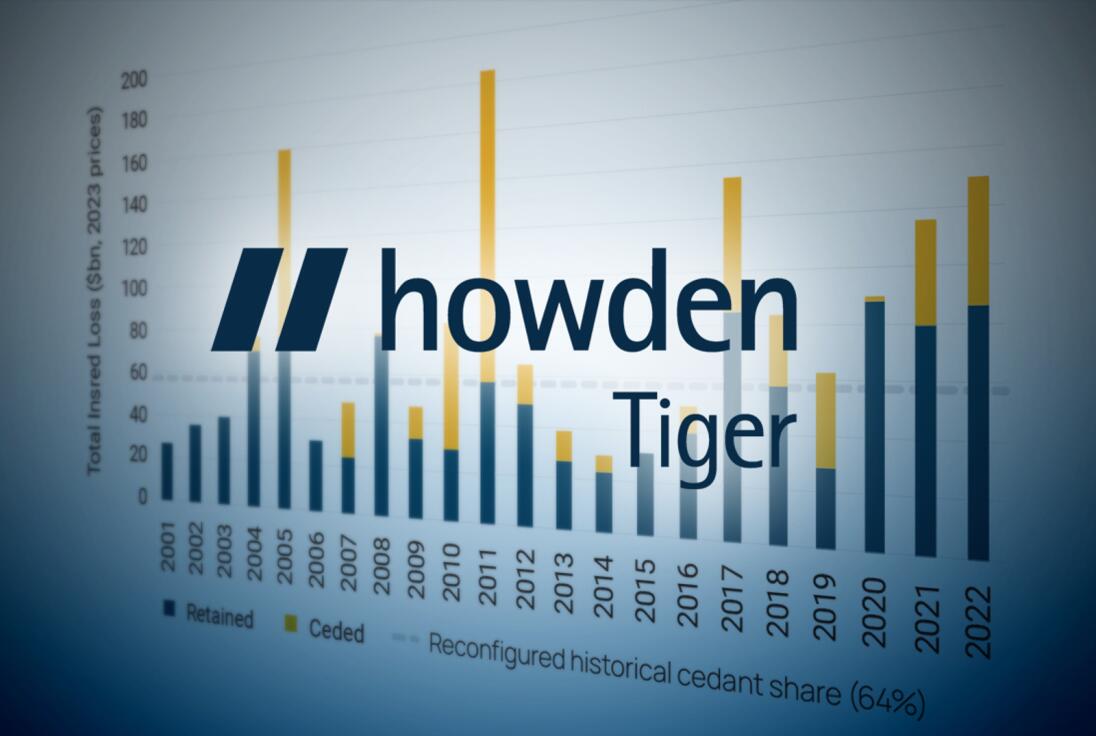 The broker said cedants had retained around 54 percent of nat cat losses over the 2001 to 2022 period, with 2023 retention levels indicating cedants would have absorbed 64 percent of the same nat cat losses on a historical basis.
Howden Tiger said the 10 point rise represents a significant uptick, as well as a near-term normalisation of higher retentions.
The broker added that risk has been amplified by double-digit inflation levels. Howden Tiger said the compounded impact of 2021 and 2022 inflation in the US would increase the size of an initial gross loss estimate by around 15 percent over the period.
It added that the loss impact from climate-related events has been increasing since 2017 following a period of benign activity.
The broker said shifts in the El Niño Southern Oscillation (ENSO) cycle could help explain swings in loss activity. La Niña events have historically been linked to elevated frequencies of hurricanes in the North Atlantic, for example.
As a result, Howden Tiger said reinsurers may see a material boost to profitability during the transition away from a multi-year La Niña, although it acknowledged that this year may be an outlier due to unusually high sea surface temperatures.
The broker said the biggest benefit would be felt among those that write the most property reinsurance business, suggesting European and Bermudian reinsurers could see a benefit of between 5 and 7.5 points to their net combined ratios.
Modelled European combined ratios have improved to 92 percent, 7 points below their five-year average.
Howden Tiger said the current market gave reinsurers a rare chance to earn their cost of capital.
"A 7 percent improvement in combined ratios, alongside higher interest rates, might see reinsurer returns on invested capital returning to mid-teens levels," the broker said.
"The current environment appears an attractive point in the cycle for reinsurance capacity to enter the market, although capital formation has so far been slower than in previous cycles."
ENSO expected to reduce hurricane frequency and severity
ENSO cycles can profoundly impact the frequency and severity of North Atlantic hurricanes as well as Southern Hemisphere cyclones and inland floods.
According to a recent report from the US National Centers for Environmental Prediction, the cycle transitioned to El Niño in the second quarter of 2023, replacing the previous 24 months of La Niña, which ended in March.
El Niño events typically result in a southward shift of the jet stream, leading to cooler temperatures, especially in the southeastern US, as well as wetter conditions on the Gulf Coast.
The report indicates that although the current season is complicated by the opposing force of significantly above-average sea surface temperatures – of which Hurricane Idalia is testament – official ENSO forecast probabilities place the chance of El Niño conditions persisting in the northern hemisphere throughout the winter of 2023-24 at over 60 percent.
Historically, El Niño has curbed hurricane frequency in the Atlantic as high westerly winds disrupt storm activity.
According to the American Meteorological Society, between 1900 and 2017, landfalling hurricanes in the continental US were 1.75 times more frequent in a La Niña season compared to an El Niño.
But as El Niño suppresses hurricane activity in the Atlantic, it also increases it in the Pacific – the opposite of what happens under La Niña.
"The switch to El Niño will likely alter weather patterns in the southern Pacific if the pattern of previous years repeats. Instead of flooding, Australia will tend to face an increased risk of drought, heatwaves and bushfires," the report said.
Howden Tiger suggested that while ENSO variability is unlikely to change materially over the course of the 21st century, the frequency of extreme ENSO events is projected to increase with global warming.