Green shoots emerge as embattled insurtech sector recovers from brutal 2022
A shift to a more selective investor base with insurance expertise is enabling a recovery – albeit a patchy one – in the insurtech sector this year following the brutal repricing of 2022.
The Insurer public insurtech composite up 42.1% YTD, after losing 57.7% in 2022
Root (+156.6%) and Goosehead (+112.4%) see most significant YTD rises after recording the biggest falls in 2022
EverQuote sheds 58.3% having been the most resilient stock last year
Q2 total insurtech funding falls 34% (with respect to Q1) to lowest level in five years, according to Gallagher Re
Early-stage funding down by 48%, the highest decline since Q3 2017
But insurtech sector seems to be entering a new healthier phase as (re)insurers gain prominence as investors (relative to venture capital) and focus is placed on sustainable business outcomes (as opposed to high cash burn growth models)
The Insurer's insurtech composite – which captures the share price movement of eight key stocks representative of the sector – has expanded by 42.1 percent in the year to date, outperforming the S&P 500 and the tech-heavy Nasdaq Composite, which rose 16.9 percent and 31.5 percent, respectively.
The insurtech composite fared even better when compared against the industry-focused S&P 500 Insurance index, which is up just 1.1 percent to date this year after struggling to recover from the March financial turmoil.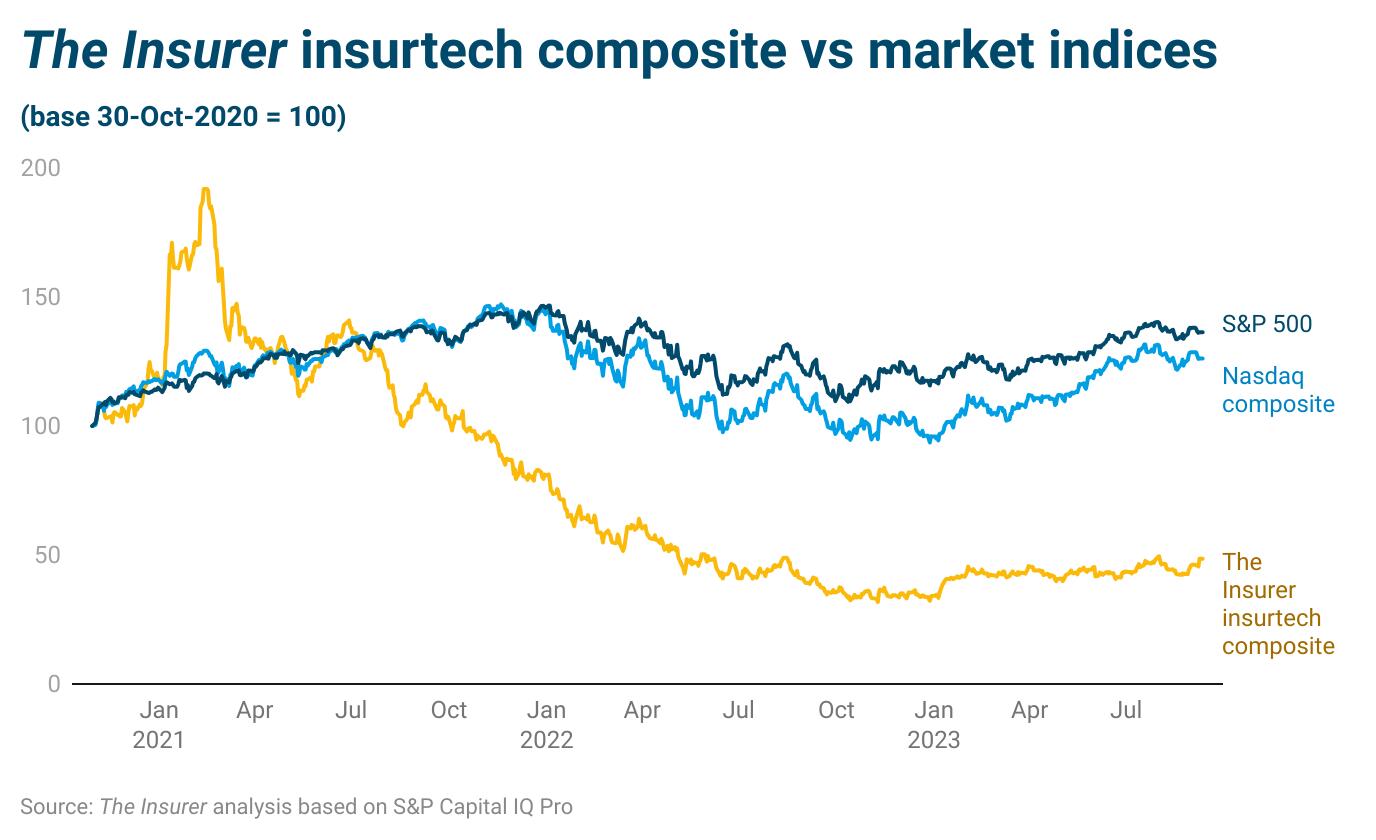 Moreover, the HSCM Public InsurTech Index – which encompasses 14 additional companies beyond those considered in The Insurer's insurtech composite – delivered gains of 26.9 percent, further confirming the sector's strong performance throughout this year.
A significant portion of this surge occurred in January, as the sector experienced a natural recovery following a period of stagnation during the final quarter of 2022.
In fact, The Insurer's insurtech composite declined by 57.7 percent last year so the current increase of 42.1 percent over the year to date only brings the index to less than two-thirds of its value at the beginning of 2022.
A mixed bag
Our composite of publicly listed insurtech companies also shows a very mixed share price performance over 2023, with movements driven largely by company-specific developments rather than broad trends.
Three companies out of the eight included in The Insurer's composite explain the bulk of the uplift in 2023.
Root stood at the top, with its shares rising 156.6 percent since the start of the year.
The auto-focused insurtech, which went public at the end of October 2020 with a total market valuation of $6.7bn, reached a low point in mid-March this year when its valuation fell below the $50mn mark.
The shares recovered gradually after that before a further boost on 21 June, when the insurtech received an acquisition offer from Embedded Insurance at a more than 3x premium to its closing stock price of $6.02 on the previous day.
Root turned down the offer but continued to trade at a new higher level of just below $10 apiece, then rising to around $11.50 in the last two weeks, equivalent to a market capitalisation of around $165mn.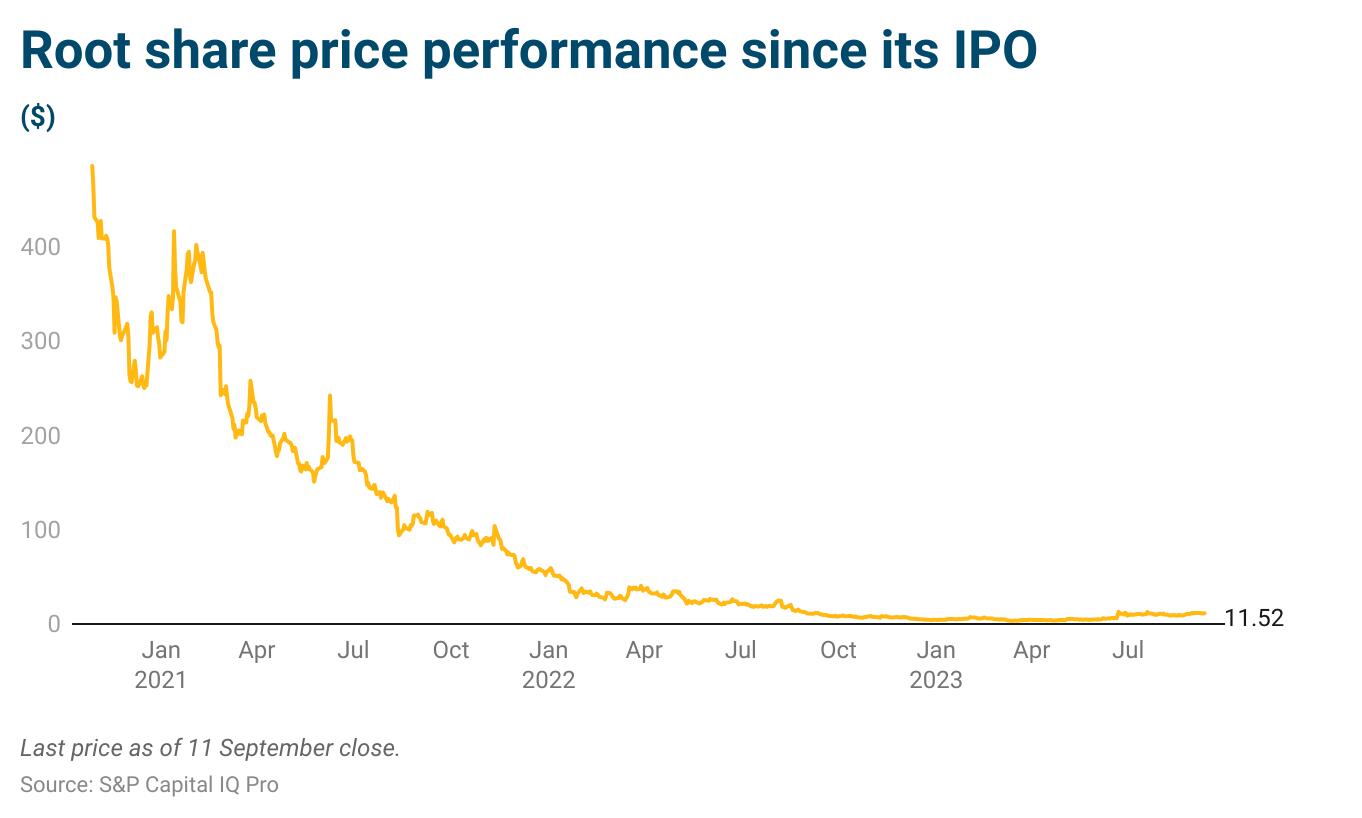 Personal lines intermediary Goosehead Insurance also drove the expansion in the composite in the year to date, with its shares soaring by 112.4 percent.
But like Root, Goosehead was one of the major fallers of 2022, shedding 73.6 percent in the year.
The company to record the third-largest gain so far in 2023 was Duck Creek Technologies.
However, the recovery for the Boston-headquartered company – which went public in August 2020 – was reflective of the premium paid for its shares as it entered into an agreement to be acquired by Vista Equity Partners at the start of January, in an all-cash deal valued at $2.6bn.
On its last trading day before being delisted from Nasdaq at the end of March, Duck Creek's shares had risen by 57.5 percent since the last day of 2022.
Meanwhile, auto insurtech EverQuote and Hippo were the two most significant fallers among the composite in the year to date.
EverQuote – which went public in mid-2018 – was trading at $6.15 on 11 September, down 58.3 percent from the last trading day of 2022.
Significant gains in December 2022 meant the stock finished only 5.9 percent down for the year, setting itself apart from all other public peers.
Meanwhile, home insurer Hippo had a good start to the year, rising over 40 percent towards mid-May.
However, shares in the company fell after it released second quarter results on 8 August that showed a jump in its gross loss ratio, leading to a fall of 27.6 percent on a year-to-date basis.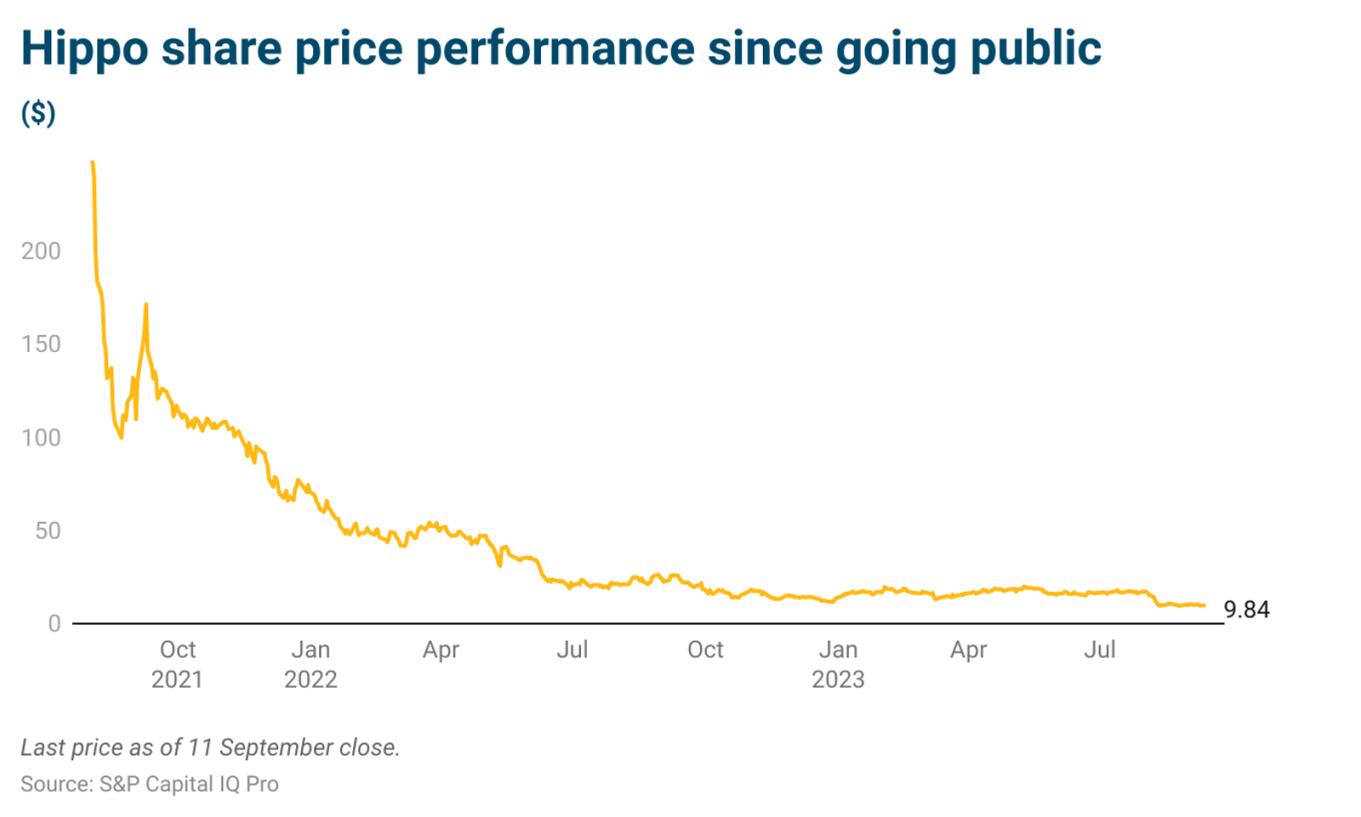 Insurtech funding at three-year low
Public insurtech underperformance in 2022 reflected broader trends across the tech sector, with the Nasdaq Composite falling 33.1 percent in the year.
This included recession fears, heightened geopolitical risks and higher interest rates as a result of central banks' response to inflationary pressures. The failure of several crypto-related businesses and the liquidation of a number of SPACs in late 2022 further complicated the backdrop.
These macro trends have continued in 2023 and are also reflecting beyond the public listed companies.
According to Gallagher Re's latest Global InsurTech Report, quarterly funding for the sector was down 34 percent in the second quarter of 2023, with respect to Q1, dropping below the $1bn mark for the first time in five years.
Meanwhile, early-stage funding fell by 48.1 percent in the second quarter, the largest drop for early-stage funding since the 60 percent drop in Q3 2017.
However, the broker's global head of insurtech Andrew Johnston suggested the sector was entering a secondary phase "focused on beneficial deliverables, rather than digital usurpation and quick cash", and where "those presenting clear commercial outcomes for themselves and their clients will benefit from investors' more realistic sense of what can be achieved".
The report also noted that corporate venture capitalists – VCs associated with (re)insurers – now represent a larger proportion of total insurtech investors than ever.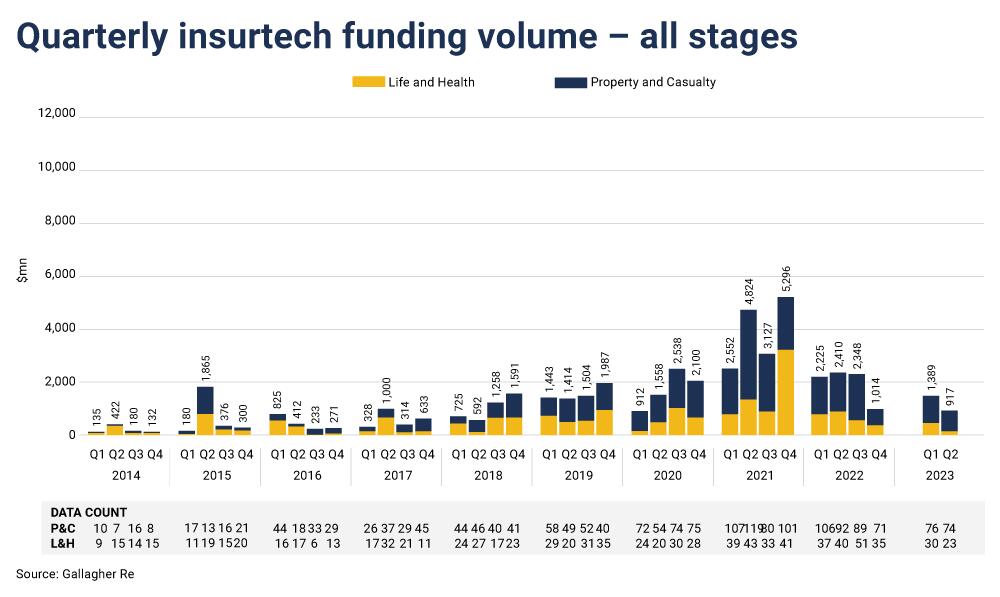 The Insurer insurtech composite includes only property casualty-focused companies. Its eight current constituents are Lemonade, Root, Hippo, Duck Creek, Guidewire, Goosehead, MediaAlpha and EverQuote. The composite is built as a chained index weighted on a daily basis by each of the constituents' market cap. It also adjusts for the successive addition or removals of constituents.