Fronting market surges to $13bn as "asset-light" structures proliferate
Fronting companies wrote more than $13bn GWP last year – up from $9.5bn in 2021 and more than double the level of 2020 – highlighting the increasingly important role that they, MGAs and reciprocal exchanges occupy in the industry ecosystem.
Fronting companies wrote $13.1bn in premiums in 2022, up from $9.5bn in 2021 and $5.8bn two years before
US MGAs underwrote in excess of $85bn in premium in 2022, with $33bn corresponding to non-insurer affiliated MGAs
According to new research released by reinsurance broker Howden Tiger and investment management firm Conning, these "asset-light" platforms are "forging a new frontier" within the global (re)insurance market.
The report – Travelling Light – also estimates premiums underwritten by non-insurer affiliated US MGAs have more than doubled since 2018, rising to $33bn in 2022. Overall, US MGAs underwrote in excess of $85bn in premium in 2022, Conning calculates, which suggests the global MGA market is now significantly in excess of $100bn.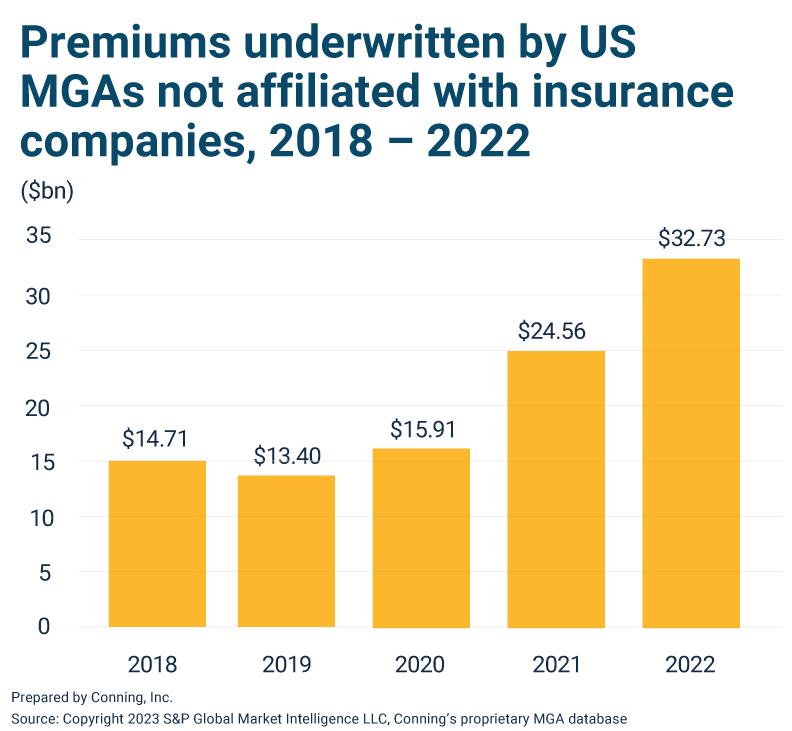 William Pitt, director of insurance research at Conning, commented: "Asset-light entities are delivering for brokers and insureds, developing new products for some of the most challenging exposures in today's market, including cyber risks and property perils impacted by climate change."
He added: "At a time when data analytics are increasingly pivotal, these agile entities can often move faster than traditional carriers, identifying and developing attractive niche markets and offering speedier submission turnarounds".
David Flandro, head of industry analysis and strategic advisory at Howden Tiger, added: "The numbers are revealing … It is evident that asset-light structures are forging a new frontier, creating new approaches for the industry."
The authors added: "In volatile conditions fed by discontinuous change – large-scale, abrupt change requiring a shift in assumptions – an insurance market dominated by large and relatively inflexible insurance companies is in danger of underperforming, both for insurance buyers and for investors."
The trend was also acknowledged by Elliot Richardon, vice chair of Howden Tiger, who pointed out last week that fronted premium sourced through MGAs surpassed Lloyd's premium sourced through coverholders in 2021 for the first time. Richardson – who was speaking at The Insurer's Pre-Monte Carlo Forum in London – predicted the trend will continue.