Early Lloyd's 2024 pre-emptions send positive signal of market opportunities
Pre-emption requests to date for the 2024 underwriting year are sending a bullish signal of the growth opportunity at Lloyd's, with early business plan forecasts indicating that several syndicates are targeting double-digit increases to their stamp capacity.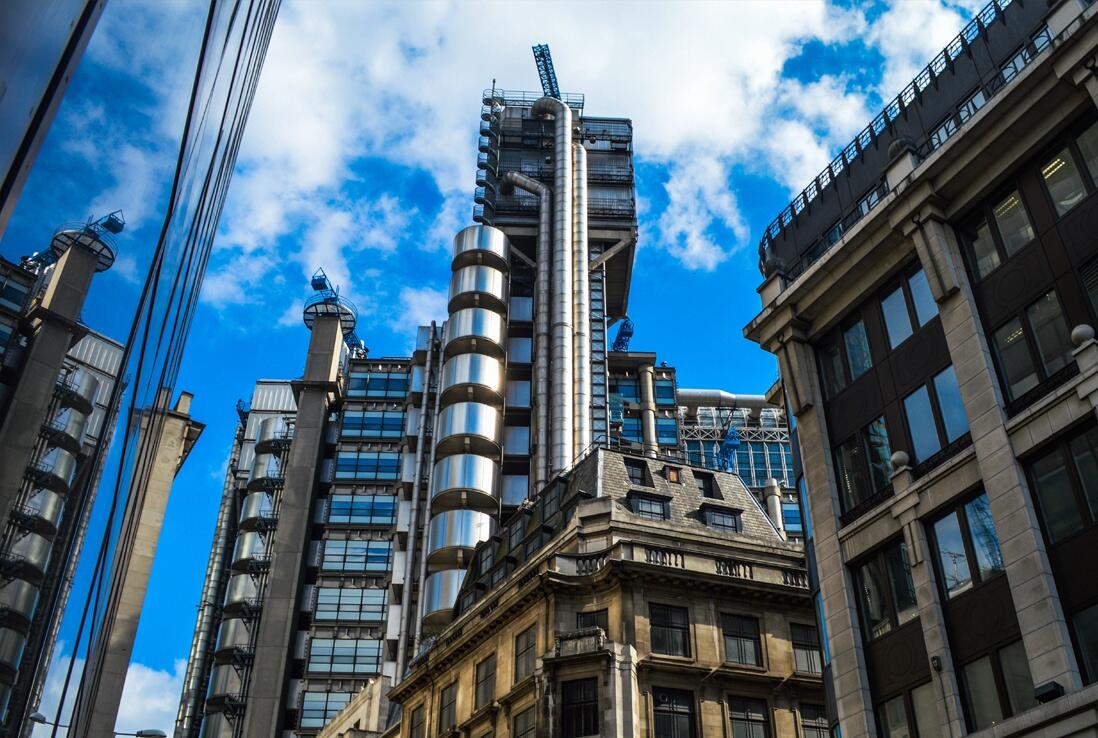 The Insurer has previously revealed details of several syndicates that were early in signalling their intent to grow their stamp capacity in 2024.
Stamp capacity is a metric unique to Lloyd's which measures the maximum amount of premium income, net of acquisition costs, a syndicate can write in an underwriting year.
In a recent commentary, Argenta Private Capital noted that while managing agents remain in the early stages of the business planning process, initial requests for increases are "indicative of a market approaching the most profitable part of the cycle".
"A number of managing agents are planning to increase the capacity of their syndicate by pre-emption for the 2024 year of account. Rate increases have continued in many lines of business, and underwriters anticipate that this will continue, especially in short-tail lines," said Argenta.
"While inflation has moderated a little, especially in the key US economy, it will continue to exert upward pressure on policy limits and hence premiums charged for a while."
With indications that managing agents will seek to take advantage of hard market conditions, Hampden Risk Partners Syndicate 2689 is currently understood to be targeting the largest increase to date with a pre-emption of 44.2 percent.
If approved, this would take the Asta-managed syndicate's stamp capacity to £75mn for 2024, from £53mn this year.
Among other third-party-managed syndicates, Asta-managed medical start-up Syndicate 1902 is understood to be targeting an 18 percent stamp increase to £62.2mn for 2024 from £52.7mn in 2023.
Launched by Medical & Commercial International as a syndicate-in-a-box, Syndicate 1902 commenced underwriting from 1 January 2022 under a former QBE underwriting team led by Philip Trafford.
Also targeting a sizeable double-digit stamp increase is Managing Agency Partners (MAP), with a pre-emption of 36.8 percent for its flagship Syndicate 2791.
The move is expected to take Syndicate 2791's capacity to ~£650mn in 2024. If approved, this would follow another double-digit increase (~19 percent) which saw the syndicate's stamp rise to £475mn at the beginning of this year.
MAP Special Purpose Arrangement 6103 is also targeting a double-digit increase of 26 percent to £96mn from £76mn this year.
Last week Lloyd's largest insurer Beazley revised its preliminary pre-emption of 18.6 percent to 9.8 percent for its flagship third-party capital-backed Syndicate 623.
The new proposed increase would take Syndicate 623's stamp capacity to £901.46mn in 2024 from £821mn this year (itself a ~40 percent increase from the prior underwriting year).
Syndicate 623 runs parallel to the larger Syndicate 2623 and is a key holding for individual Names, who are restricted on the syndicates they are able to back, as most Lloyd's carriers now rely solely on corporate capital.
The reduction followed commentary from Beazley CEO Adrian Cox outlining how the firm's new E&S carrier will seek to capitalise on the growth of its North American platform.
Syndicate 623 currently writes 18 percent of the business on Beazley's wholesale platform at Lloyd's, while E&S business is currently written onshore in the US.
With around £1.6bn of business currently written at Lloyd's potentially affected, Beazley has agreed a compensation package for Syndicate 623's third-party investors, including a contingent profit uplift based on any profit difference between the new E&S vehicle and the underwriting profits of Syndicate 623.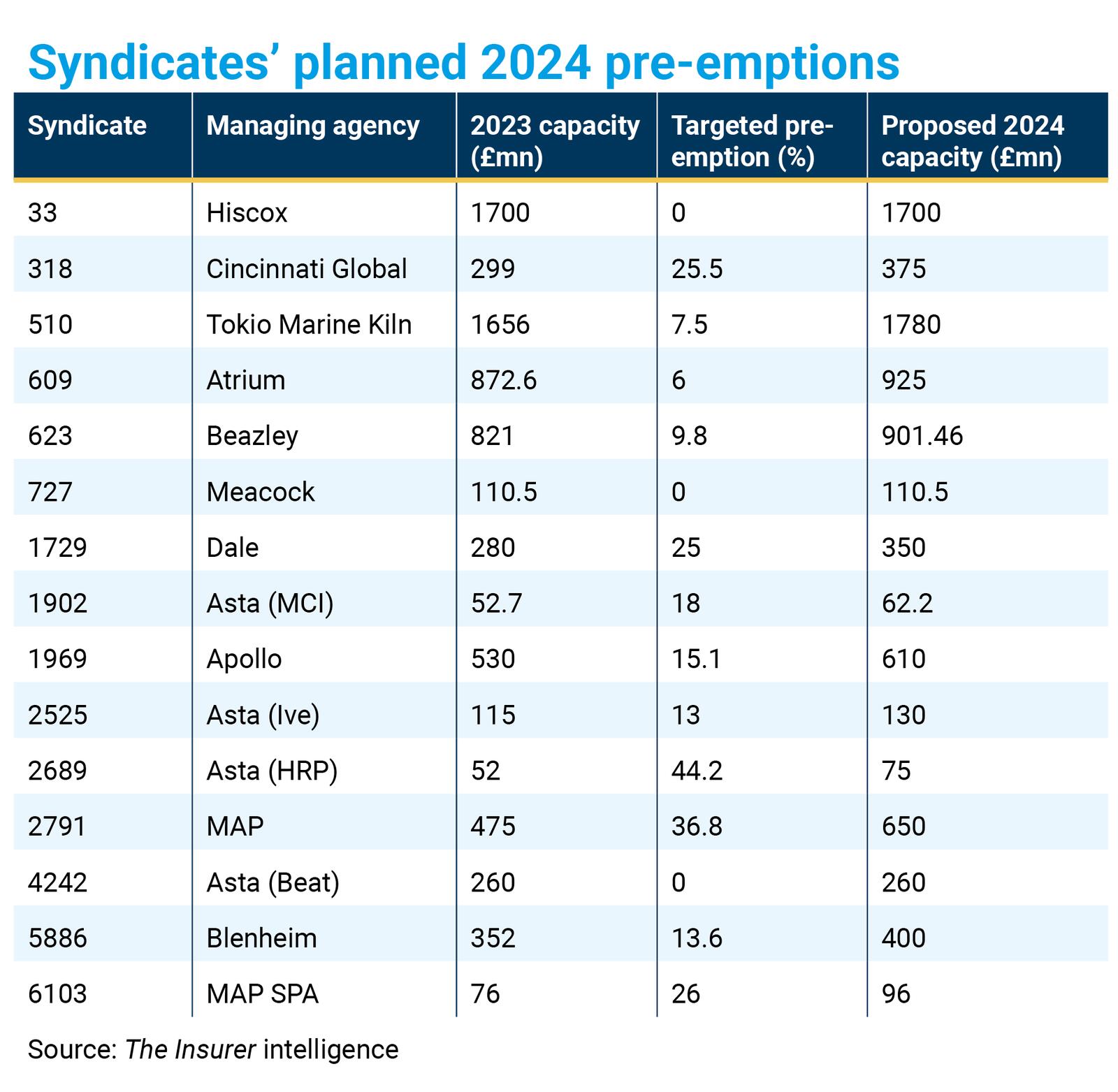 Bucking the trend
Yet not all early pre-emption requests are targeting double-digit increases, with some opting to seek only modest increases or keep their stamp flat for 2024.
This is understood to partially reflect the strengthening of the sterling, which has alleviated some of the need for syndicates to increase capacity.
Hiscox Syndicate 33 – one of the larger syndicates at Lloyd's – will keep its stamp flat at £1.7bn for the third consecutive year in 2024.
The carrier last moved the stamp substantially for the 2020 underwriting year, when it increased from £1.4bn to £1.68bn.
Also understood to be remaining flat for 2024 is SA Meacock Syndicate 727 at £110.5mn, in the first full underwriting year under new joint active underwriters James Meacock and Matthew Bartlett.
Asta-managed Beat Syndicate 4242 is also set to remain flat at £260mn. Last year, the third-party capital syndicate was approved to grow its stamp by 15.6 percent from its 2021 capacity of £225mn.
Another syndicate that is understood to be remaining flat on a capacity basis is Argenta 2121 on £800mn.
Posted last week, Lloyd's results for the first half of 2023 saw underwriting profit more than double to £2.5bn from £1.2bn in H1 2022.
Lloyd's grew its reinsurance GWP to £11.2bn during H1, a 21 percent year-on-year increase, with average price rises in excess of 10 percent across the portfolio. GWP across all classes rose 22 percent to £29.3bn.
Of this, growth from existing syndicates accounted for 6.5 percent, while new syndicates represented 2.2 percent, with CEO John Neal recognising "genuine syndicate start-up activity" in the first six months of the year.
Lloyd's reported an H1 combined ratio of 85.2 percent, with underwriting profit rising to £2.5bn.
Lloyd's Q3 market message is set to be delivered later in the month by chief of markets Patrick Tiernan, and will provide further colour on syndicates' business planning process, as well as a potential indication of market capacity size in 2024…