Climate activists target reinsurers at Monte Carlo Rendez-Vous
Climate activists have disrupted the annual reinsurance meeting in Monte Carlo, urging the sector to stop (re)insuring deforestation and oil exploration in the Democratic Republic of the Congo (DRC).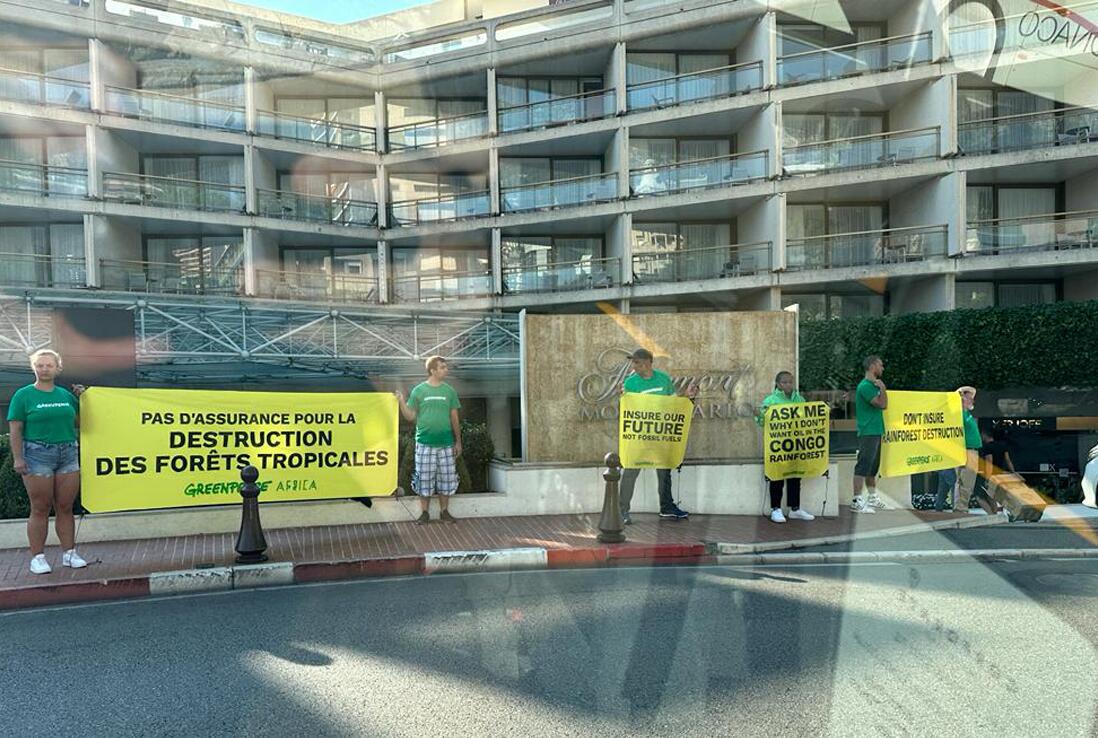 Protesters from Greenpeace, Insure Our Future and Urgewald blocked the entrance to the Fairmont Hotel in Monte Carlo this morning, in the latest action calling on the sector to stop underwriting coal, oil and gas production and instead support the transition to renewable energy.
Delegates arriving at the venue this morning were confronted with a small number of protesters holding banners reading "Insure our future not fossil fuels", and "Don't insure rainforest destruction".
Greenpeace last week published a report which highlighted that oil fields in the DRC are becoming "uninsurable" as reinsurers including Munich Re, Hannover Re, Swiss Re and Scor have withdrawn their reinsurance capacity.
"If leading insurance and reinsurance companies follow their commitments and their general ESG policies, oil companies will struggle to find coverage for their environmentally and socially destructive business plans, or it will be significantly more expensive," the climate groups said in a joint statement.
"Any insurance and reinsurance company opting for short-term profit at the expense of the world's climate, its biodiversity and communities inhabiting the rainforest, including in war zones, would be accomplice in crime with the companies bidding for oil," said Lindsay Keenan, European coordinator of the Insure Our Future campaign.
"While leading global (re)insurers' exclusions on insuring new oil and gas projects point the sector in the right direction, even these do not yet fully align with the Paris Agreement and basic human rights standards. All (re)insurance companies need to significantly and urgently upgrade their policies."
The report showed that (re)insurance companies have either explicitly excluded oil exploration and extraction in the DRC from their coverage, or that it falls within their general restrictions.
Among them are seven of the 20 biggest fossil fuel non-life insurance companies globally: Allianz, Axa, Chubb, Generali, Munich Re, Talanx Primary Insurance Group and Zurich.