Allianz Covid BI reinsurance arbitration dispute delayed until 2024
Europe's largest insurer Allianz is now set for a 2024 arbitration showdown with certain markets, including Lloyd's, on its 2020 SuperCat reinsurance facility relating to its Covid-19 business interruption (BI) losses, following a drawn-out discovery and negotiating process this year, The Insurer can reveal.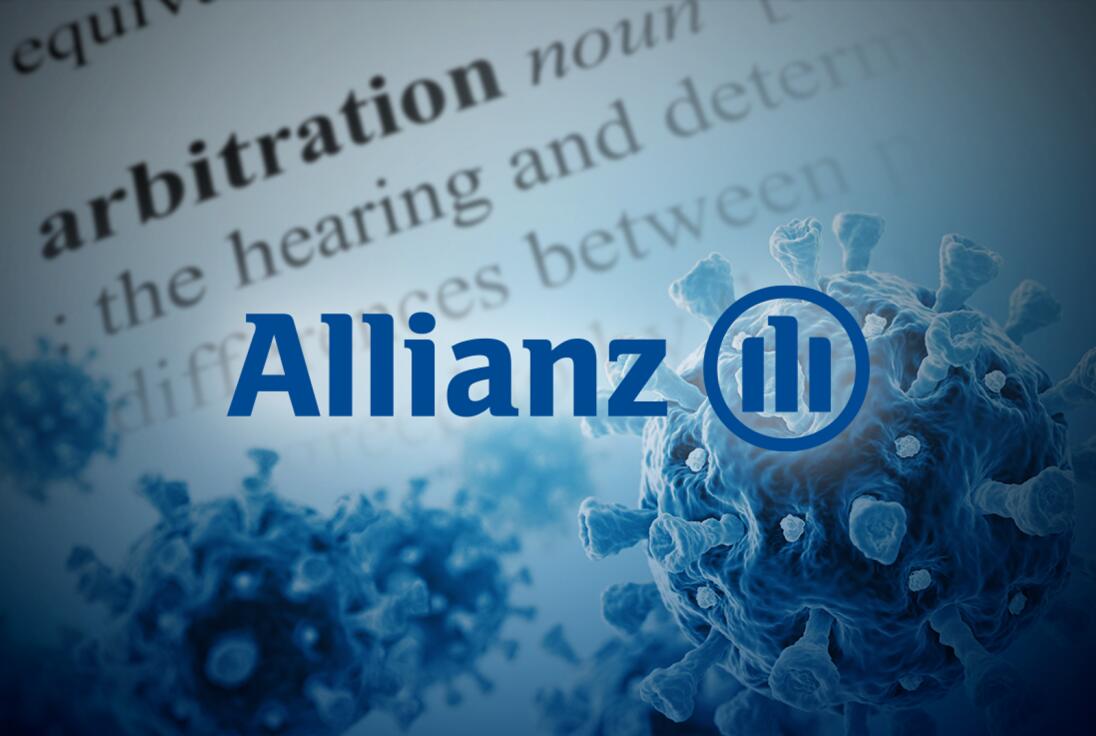 Allianz London arbitration pushed back from Q4 2023 to likely mid-2024
Early-stage discovery process expected to conclude in Q4
Lord Jonathan Mance selected to chair arbitration
2020 SuperCat covers Western Europe, Australia with €1.6bn ($1.72bn) of coverage (xs €300mn)
Allianz moderates position on recoveries and agrees multiple commercial settlements with reinsurers individually
The London market arbitration proceedings – which were initially expected to take place in Q4 2023 – follow claims submitted on various of Allianz's 2020 reinsurance programs including its circa €1.6bn ($1.72bn) SuperCat program (xs €300mn).
The pandemic's widespread impact on businesses led to an influx of claims seeking compensation for financial losses incurred during the crisis. However, differences in interpretation and assessment of these claims have resulted in protracted discussions between Allianz and its reinsurers.
According to sources, the discovery process is expected to conclude in October, paving the way for a preliminary issues hearing likely in March 2024. A full arbitration process would then follow in May to June 2024.
Allianz disclosed in late 2020 that it expected a €1.1bn net Covid-19 hit in P&C and ~€200mn in life and health, with CFO and board member Giulio Terzariol telling analysts that while it had seen some reinsurance recoveries for its pandemic losses these were "not material" with recoveries expected to be a "long process".
"Eventually, we could clearly think of recoveries which cost a few hundred million. But, I'm pretty confident that reinsurance companies are going to have a different idea. We'll have a business conversation between business partners, and then we will see what the outcome is going to be," he explained.
It is understood that while most reinsurers, thought to include Munich Re, Swiss Re, RenaissanceRe and Sompo, have made commercial settlements reflecting strategic relationships with Allianz, other carriers – including Beazley and at least one other Lloyd's market – have yet to settle either because of uncertainty over liability or quantum.
The disputes centre on Allianz's interpretation of its reinsurance contracts. The insurance heavyweight is understood to have initially taken a broad interpretation of issues such as geographies, hours clauses and contingent loss. It is also understood to be aggregating all losses into the 2020 year, arguing that the pandemic and any subsequent losses can be traced back to the lockdowns of that year.
Sources say private negotiations have resulted in Allianz moderating its position with outstanding reinsurers over issues such as contingent claims.
Reinsurers' arguments are likely to remain focused on how to define a covered event, favouring a narrow approach to the interpretation of event or catastrophe. Reinsurers have also put forward the argument that they did not contemplate widespread loss without physical damage, and therefore Covid losses cannot be aggregated.
Lord Jonathan Mance, a distinguished legal figure and former deputy president of the UK's Supreme Court, has been selected to chair the arbitration proceedings, according to sources.
Lord Mance – the son of former Lloyd's chairman Sir Henry Stenhouse Mance – is no stranger to pandemic-related (re)insurance disputes, and in 2021 found in favour of insurer China Taiping Insurance (UK) in its UK arbitration with a group of 183 policyholders, including restaurants, cafes and public houses.
The London market reinsurers are represented by law firm CMS, which is thought to have appointed as arbitrator Colin Edelman KC. Edelman is well known to the London/UK insurance market having successfully represented the Financial Conduct Authority in its landmark BI test case against the industry in 2020 and 2021.
On the other side of the dispute, Allianz is being advised by Holman Fenwick Willan, which has a global (re)insurance practice led by Christopher Foster, and also by its internal head of group complex claims, Andreas Stahl. Stahl – formerly general counsel at Hannover Re – is a German qualified lawyer with over 15 years of London market experience in (re)insurance claims, coverage and dispute resolution.
The outcome of this arbitration will be keenly watched because of the potential bearing it may have on other Covid BI reinsurance disputes which remain unsettled.
Allianz disclosed a €1.3bn hit from Covid-related losses at the full-year 2020, largely stemming from a negative impact of €1.1bn in its P&C unit, with the majority of reserves for incurred but not reported claims. The carrier has not provided an updated estimate of its Covid-19 losses, but guided at full-year 2022 that it continues to work with its reinsurers over potential recoveries.
Although Allianz has not published data on its 2020 reinsurance towers, its covers are thought to be similar to 2021, which renewed at 1.1 with the BI reinsurance issue unresolved. The carrier bought four separate towers offering €6.7bn in group protection.
The first is a European wind-only tower providing €2.6bn of total cover, with Allianz retaining €600mn in the first event. It also had a West and Southern Europe (including Aus) tower offering group protection of €2.6bn xs €300mn and a separate US tower covering $1bn in losses.
A final tower provides Allianz with rest of world coverage of up to €600mn xs €100mn. The group also benefited from additional aggregate cover of €300mn xs €1.3bn.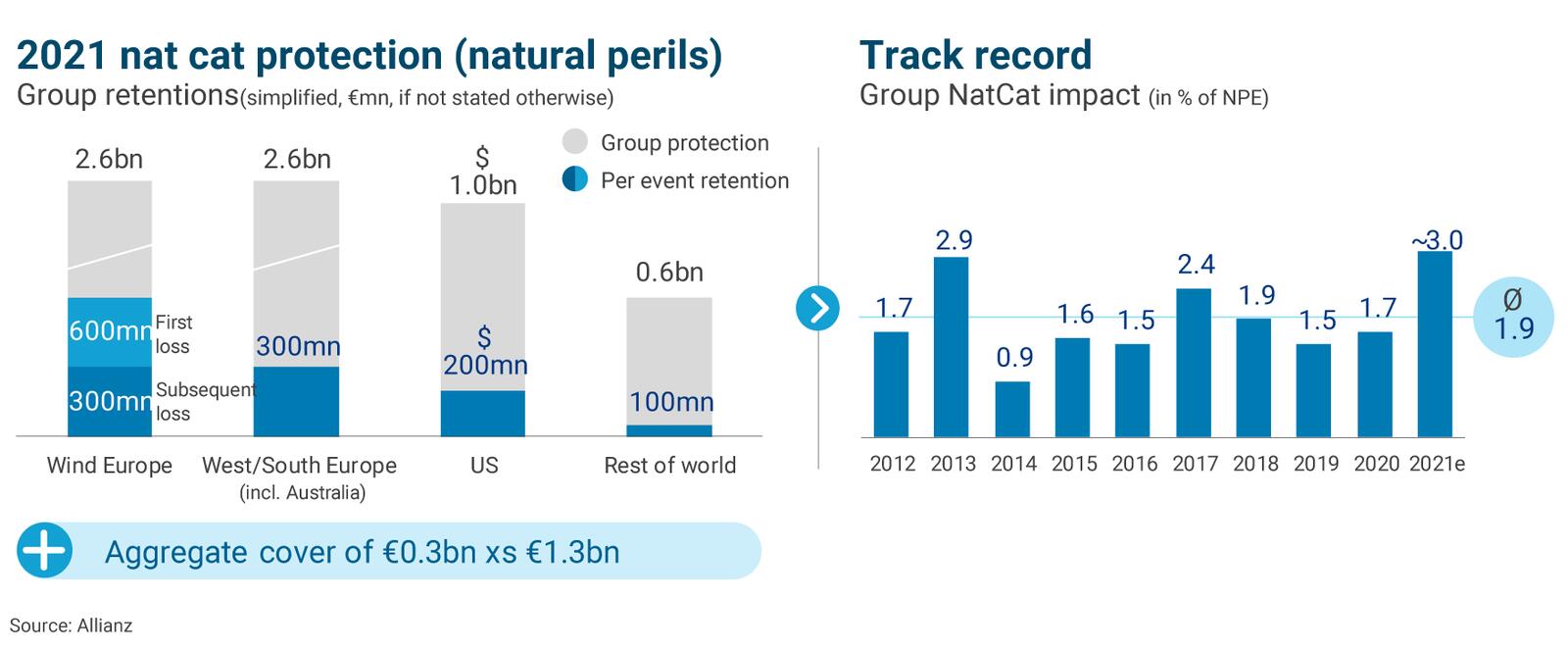 News of the arbitration comes after The Insurer reported in June that Allianz is attempting to fast-track the progress of its outstanding UK Covid BI legal disputes.
As previously reported, Allianz Insurance PLC is a named defendant in at least six UK BI disputes currently moving through court or waiting on appeal. These disputes in London's Commercial Court have a combined value in excess of £75mn.
Appeals include a £16.4mn claim from Various Eateries and a £16mn claim from International Entertainment Holdings.
Live cases in High Court include the multi-million pound legal suit from a co-ordinated policyholder action group marshalled by blue-chip London law firm Mischon de Reya. Claimants include Burger & Lobster, Newcastle Rugby and Fairview Hotels.
Allianz is also fighting the multi-million pound claim brought against the firm (and five other insurers) by a number of Premier League football clubs, and the £22.7mn+ claim brought by a group of UK racecourses.
Tensions between reinsurers and their cedants over BI losses emerged early on in the pandemic, prompting Guy Carpenter to provide its clients with a framework for defending their positions on the aggregation of their losses under property cat XoL treaties in June 2021.
The intermediary highlighted six primary objections that reinsurers are making to the aggregation of Covid losses, adding cedants have "strong responses to each".
Guy Carpenter stated that cedants can use at least three definitions of an "event" or "catastrophe" to aggregate Covid losses, and can also invoke "honourable engagement" principles to support their positions.
Speaking at The Insurer's Pre-Monte Carlo Forum, Bryan Cave Leighton Paisner's Jonathan Sacher stressed that "significant uncertainty" remains over the market's exposure to BI losses. In a reinsurance claims context, most disputes are resolved by arbitration or commercial settlements and as a result there is "very little" precedent to determine outcomes and guide disputes, he said.
"That's either because there is a lack of disputes or a preference for arbitration," he said. "It's a combination of both but I'd say predominantly the latter.
"Covid-19 gave us a good insight as to why the courts remain a good place to settle disputes. While these have been dominated on the primary side, these cases track to the reinsurance market," Sacher said, adding: "Uncertainty will prevail and what this means for reinsurers is further uncertainty."
Allianz declined to comment.