Prospective: The 30-minute Monte Carlo
This month's edition of Prospective, The Insurer TV's flagship analysis programme, is dedicated to #ReinsuranceMonth.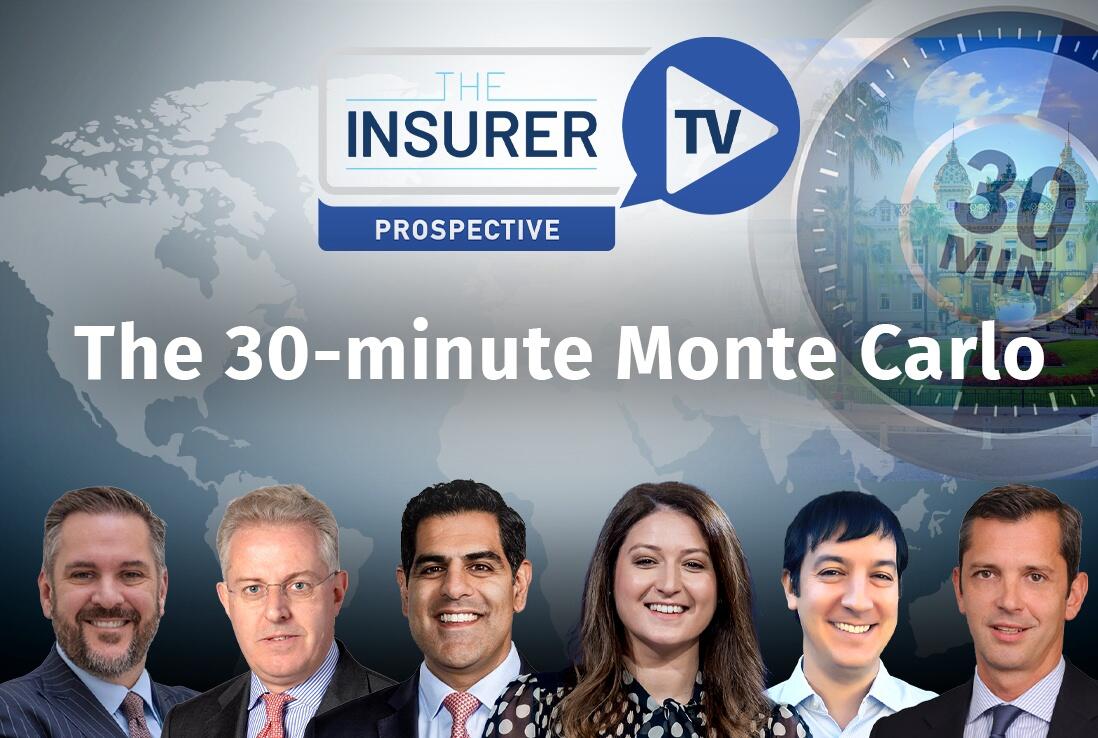 In a special instalment of the programme we set out what would have been the dominant topics of discussion had the industry decamped to the Côte d'Azur for the annual Rendez-Vous de Septembre.
The event has long been recognised as a key date on the industry calendar, providing an invaluable opportunity to meet with clients and friends, to hear from the market's thought leaders and to take the pulse on what are likely to be the key issues affecting the renewals next year.
In its absence The Insurer created #ReinsuranceMonth and it is only fitting that Prospective dedicates this month's edition to the themes dominating the reinsurance world.
While The Insurer TV cannot replicate the conviviality of meeting colleagues and friends in person, what we can do is provide a masterclass briefing on what are the key dynamics and issues impacting – or about to impact – the P&C reinsurance landscape.
During the programme, we hear from industry leaders on the following key areas:
Pricing trends and drivers
Retro market
Inflation
ILS resurgence
ESG
Modelling climate change
Covid-19
Reinsurer/cedant dynamics
Pricing trends and drivers have always been at the forefront of conversations in Monte Carlo. While still too early to say where things will land, rate momentum is expected to continue, but at what pace remains to be seen with the market's strong capitalisation continuing to challenge reinsurers in achieving rate adequacy.
Guy Carpenter's James Boyce outlines how trapped collateral will bring complexity to retro renewals at 1.1, where dynamics are shifting due to structural changes in coverage from aggregate to per occurrence. We also hear several reasons for the reduction in retro appetite, including the deployment of alternative hedging strategies.
Inflation has re-emerged as a major challenge for the industry and Axis Re's Steve Arora and Swiss Re's Gianfranco Lot assert the need to learn lessons from previous examples of under-reserving. Many of these inflationary impacts will be most severely felt in the US.
We also examine the ILS market, which continues to show its ability to replenish and grow, now boasting an estimated $91bn of assets under management. Leadenhall Capital's Luca Albertini reveals that continued new capital is unlikely to dilute rate rises but for portfolios with aggregate cover, Hurricane Ida and 2021 loss events will likely have significantly eroded deductibles.
As ESG becomes increasingly important to the (re)insurance industry, The Insurer's Carlos Pallordet takes a deeper dive into the pledges seen so far around fossil fuel underwriting.
Pallordet highlights the likelihood of an acceleration in the trend to formalise carbon underwriting policies across major global carriers over the next 12-18 months.
Covid-19 also remains a key topic and with losses currently estimated at $44.9bn – much of which is still IBNR – conversations between reinsurers and cedants will likely continue to seek a resolution around recoveries.
Finally, we ask our participants what kind of renewal they expect it to be? While long-term relationships between cedants and reinsurers are expected to prevail, recent entrants with a long history in the market are competing aggressively.
Tune into this month's episode of Prospective for all this and more as we provide a 30-minute snapshot of the topics that would have dominated Monte Carlo this year.
You will hear from…
Luca AlbertiniCEO and founding partner, Leadenhall Capital Partners LLP
Steve AroraCEO, Axis Reinsurance
James BoyceCEO, global specialties, Guy Carpenter
Gianfranco LotHead globals reinsurance, Swiss Re
Carlos PallordetHead of product and data, The Insurer
Sophie RobertsContent editor, The Insurer