WSIA: Surplus lines stamping offices' premium up 22% to $51bn in 2021
US surplus lines stamping offices have reported $51bn in surplus lines premium in 2021, up 22.3 percent compared with the previous year, according to figures released by the Wholesale & Specialty Insurance Association (WSIA).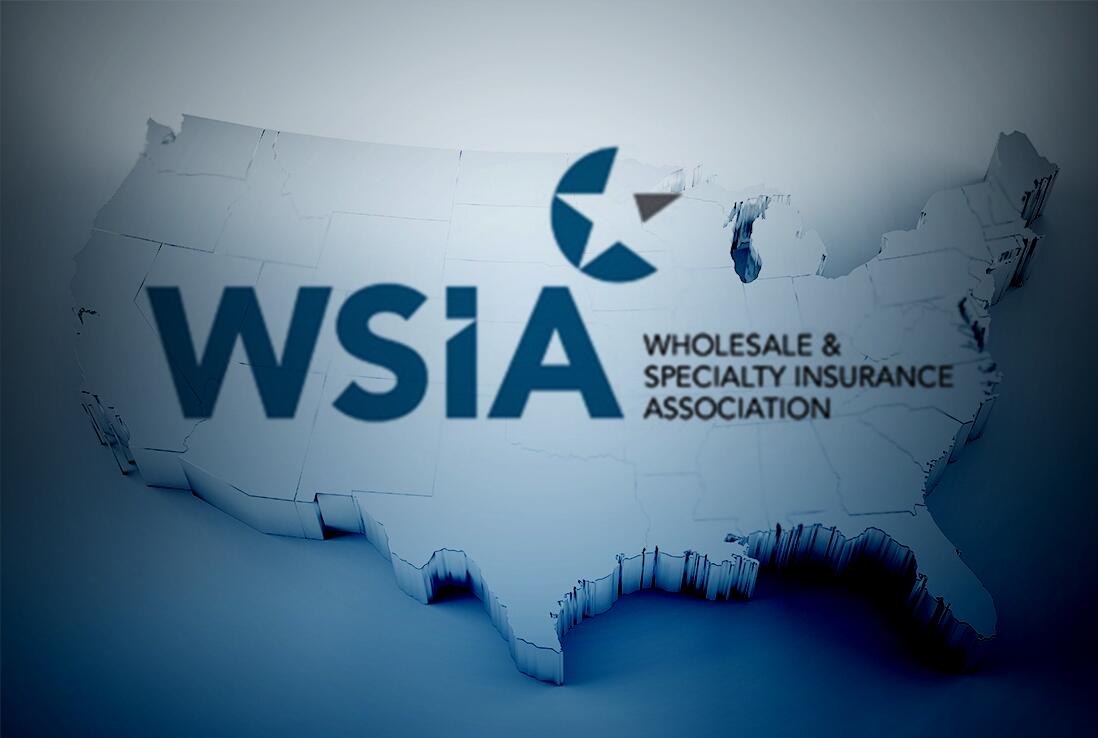 The surplus lines premium last year was up from $41.71bn in 2020, which itself was up 14.9 percent from the $36.28bn in 2019.
WSIA noted that stamping office states accounted for 63 percent of all US surplus lines premium volume in 2020, meaning the data provides a strong indicator of the overall surplus lines market.
The 5.3mn transactions in 2021 was up almost 6.6 percent over 2020 totals in the states with surplus lines stamping offices. This marked a rebound in this figure, following items falling by 1.3 percent in 2020 to 4.9mn.
The levels of premium and transactions in 2021 were both records since the stamping offices began reporting aggregated data on an annual and semi-annual basis.
WSIA said the stamping office data indicates that the surplus lines industry continues to thrive as the economy recovers and inflation continues upward. The association aggregates and summarises the data on behalf of the stamping offices.
Dan Maher, executive director of the Excess Line Association of New York, said the data confirms what many industry leaders have been saying for the last two years.
"Premiums on renewals have increased substantially and at the same time the admitted market has retrenched in several areas, which is causing business to shift to the E&S market," Maher said. "The shift is across numerous lines of business from property with cat loss exposures to liability risks such as excess, umbrella, D&O and cyber where social inflation and new exposures are of serious concern."
Maher added: "I see a lot of new capacity in the E&S market which should moderate or stabilize pricing as that capacity is deployed in 2022."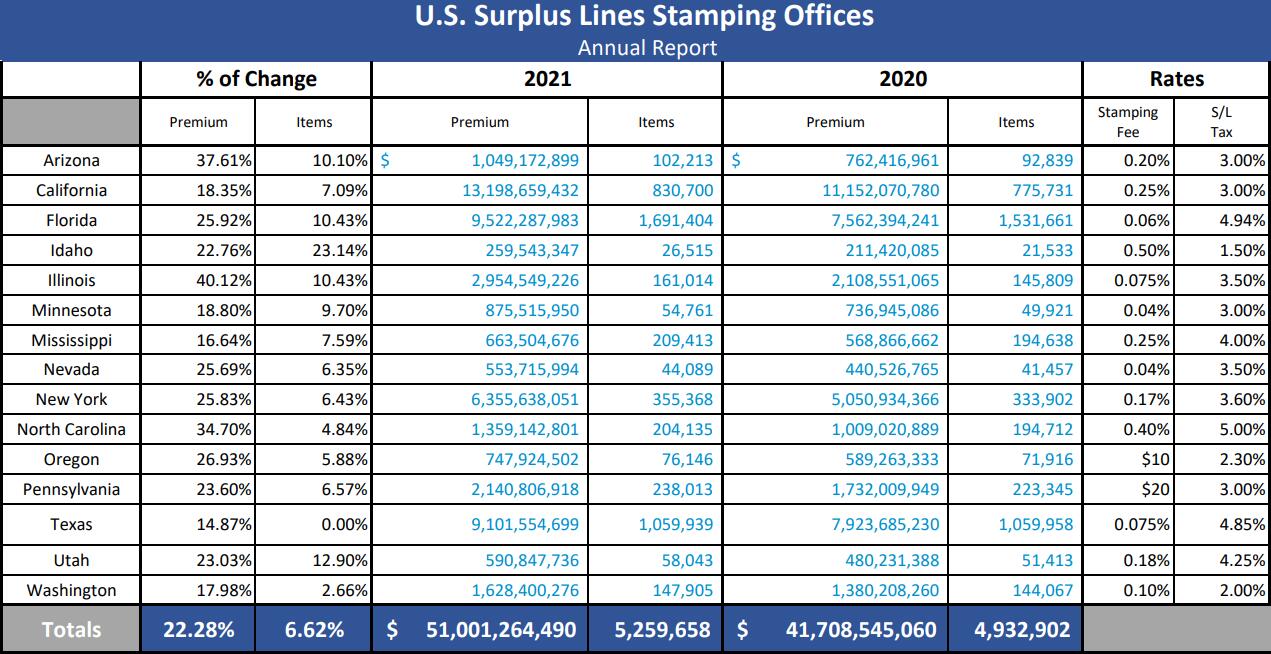 California the largest market; Illinois the fastest growing
Each state reported double digit premium increases, with Illinois leading the way at 40.1 percent. It was followed by Arizona (up 37.6 percent) and North Carolina (up 34.7 percent).
In Illinois, general and excess liability categories – which include commercial general liability, cyber, pollution, product liability and employment practices liability – led the way with a 60 percent increase in premium over the previous year, while property including all risk increased 23 percent.
California, which is the US's largest surplus lines insurance market, reported premium increases of 18.4 percent to $13.20bn and a 7.1 percent increase in transactions to 11.2mn. The next biggest states by premium size were Florida (up 25.9 percent to $9.52bn), Texas (up 14.5 percent to $9.10bn) and New York (up 25.8 percent to $6.36bn).
David Kodama, executive vice president of the Surplus Line Association of California, noted significant increases in item count and average premium for various coverages in his state, including cyber, property and commercial auto.
"This growth coincides with reported increased activity in data breaches, ransomware attacks, wildfires, increased auto loss severity and emerging social and cost inflation," Kodama said.
Every state except Texas increased its total transactions last year compared with 2020.
Western states such as Idaho and Utah led the way with transaction increases of 23 percent and 13 percent respectively. WSIA said this was likely due to their substantial increases in population growth.