Swiss Re CUO: 1.1 will go from "hard to even harder"
Swiss Re's chief underwriting officer Thierry Léger has landed at Monte Carlo predicting further rate rises at 1 January as the industry enters a phase of "heightened volatility".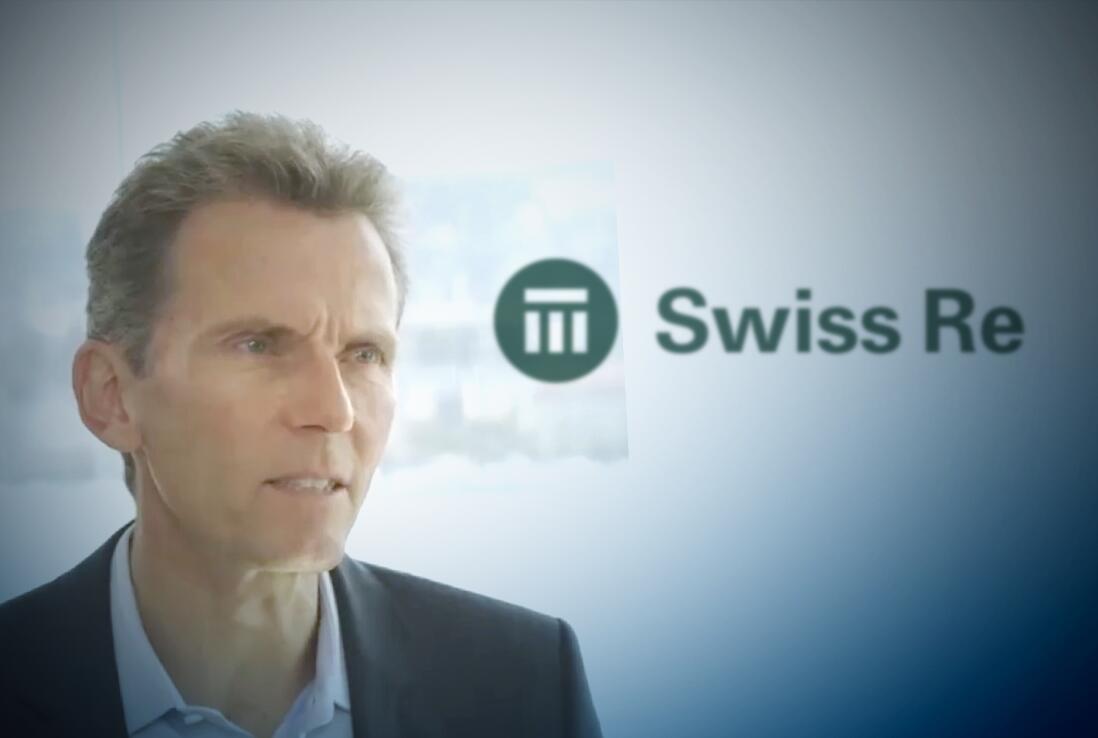 Speaking exclusively to The Insurer TV, Léger said the positive rate momentum witnessed this year will continue and "there are very many good reasons for that".
Until this year, property/cat reinsurance rates typically struggled to match the uplift seen in both specialty and retro classes since 2018-19, prompting descriptions of a "U-shaped" hard market.
But the 1 January 2022 renewal saw the market shake off its slumber and XoL property treaty underwriters have enjoyed success in maintaining that momentum throughout the year.
This is especially true in cat, where a squeeze on capacity, climate change impact concerns, the preponderance of "unmodelled" loss events in 2021-22 and the inflationary economic gloom have created a rating rethink.
As a consequence, the Guy Carpenter US Property Catastrophe Rate-on-Line Index increased almost 15 percent for January 2022 through July 2022 renewals – the most significant shift since 2006.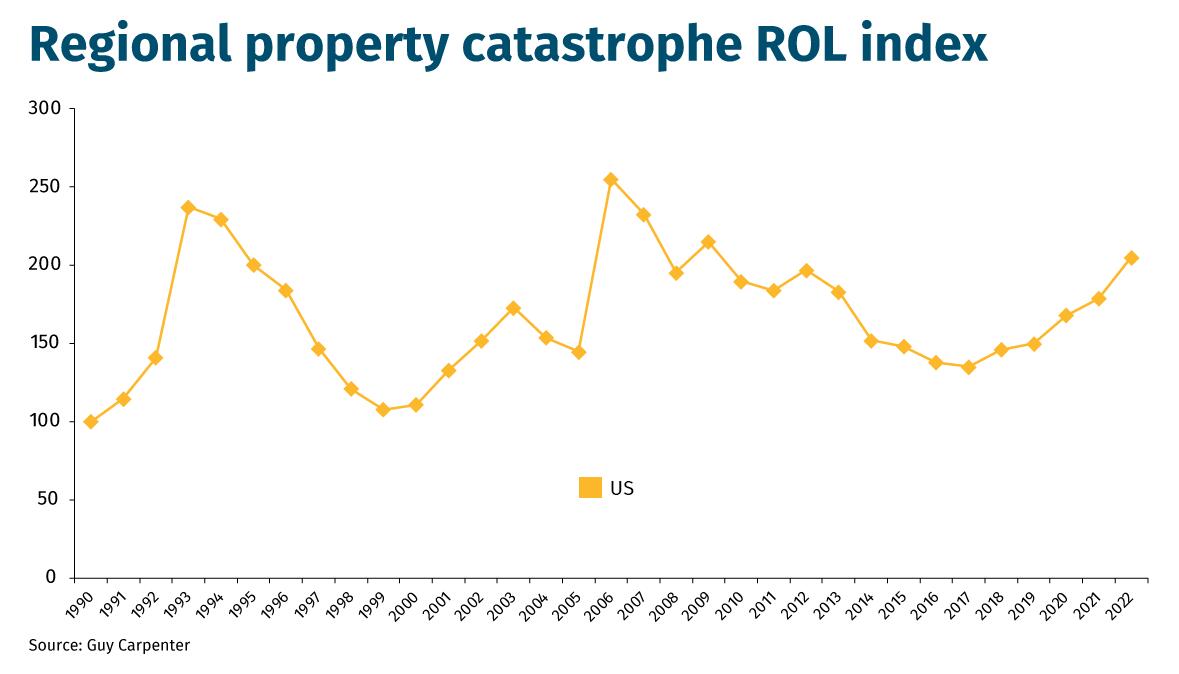 But Léger said rates – and terms – will continue to firm into 2023.
"I think that the market will go from hard to even harder," he asserted.
"There were many bad years and we have really protected the volatility of our clients. And then Covid came – another one to digest – and now the [Ukraine] war.
"So we have, in my view, entered a phase of heightened volatility and uncertainty, more than before and of course, we have many other items coming on top of that, such as inflation, supply chain problems, and so on," he explained.
"So this is clearly an indicator of a market where demand will be up in an environment with more risk and therefore, I would expect the prices to go up further."
Léger's comments that reinsurance rates will continue their momentum into 2023 are the latest in a line of industry heavyweight predictions. Speaking to The Insurer TV on the eve of the Rendez-Vous, Leger cited "heightened volatility" as a reminder of the risk environment reinsurers are operating in.
His comments were echoed at a recent televised cat panel discussion organised by The Insurer in conjunction with Guy Carpenter with Chris Donelan, CEO of global reinsurance at Sompo International, commenting: "1.1 is going to be extremely interesting, because it could be the first time in a really long time that a majority of our products could be in hard territory."
An additional contributory factor has been the narrowing of cat appetite among a number of reinsurers, in part because of reduced retro aggregate protections. In a report last month, S&P calculated that half of the top 21 global reinsurers grew their cat exposures in 2022 with the other half taking a "more cautious" and "defensive" stance by reducing aggregates.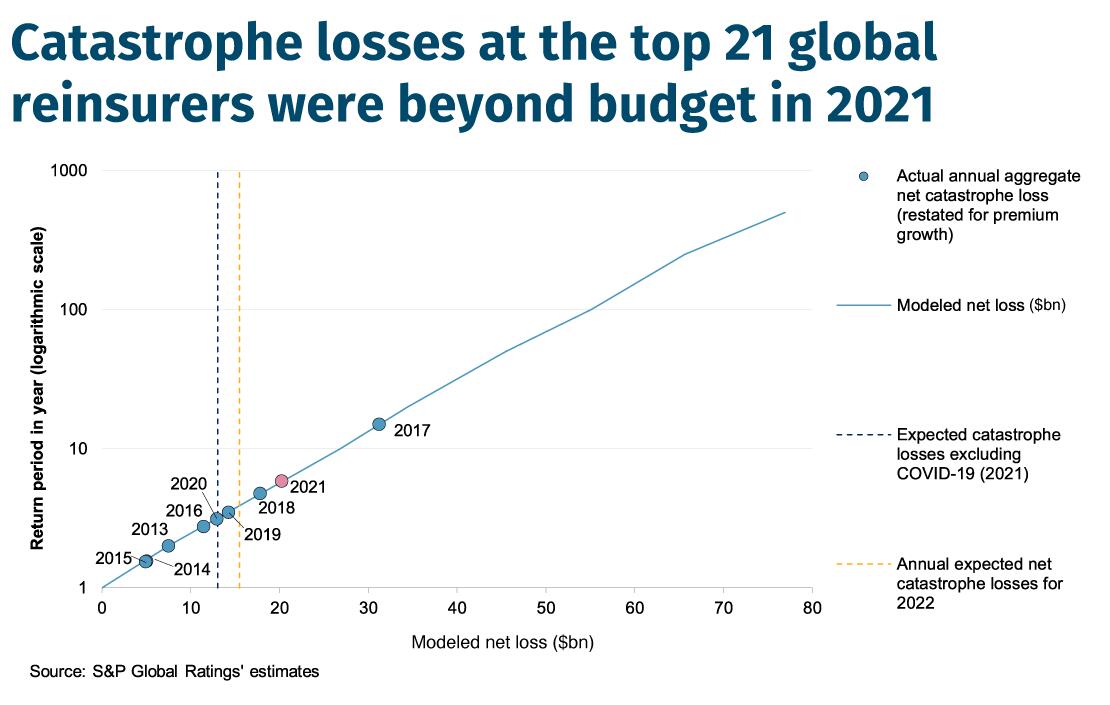 The "king's class"
But Léger said Swiss Re has no plans to reduce its market share in 2023.
"For me, nat cat is the Formula One – it's the king's class in reinsurance," he said. "We are seeing volatility, but over any period of more than five years, it has always been a very positive line of business – the experience is important."
The other aspects Léger believes are in Swiss Re's favour are its modelling capabilities and balance sheet.
"We have an incredible wealth of data – we have more than 190 proprietary models … but we also have our own very large balance sheet. That means we do not depend on, for example, retrocession, as much as maybe others do."
He concluded: "This is definitely not the time to run away from this class of business, but to the contrary, actually write even more of those risks at the price levels where they are today. So, that's our conviction and I would find it much harder to argue the other way around."
Léger was speaking after a relatively modest year thus far for nat cats, with no named storm formations in August for the first time in 25 years. Yesterday (10 September) is commonly regarded as the peak date for Atlantic hurricanes.
While this is a significant improvement on this time last year – when reinsurers were still coming to terms with a $12bn+ loss bill emerging from the 2021 European floods – many H1 cat budgets were nonetheless still exhausted with loss experience from events such as the droughts in southern Brazil. Swiss Re recently estimated H1 industry-wide natural cat losses at $35bn for the first half of 2022, still higher than the $29bn H1 average over the past decade.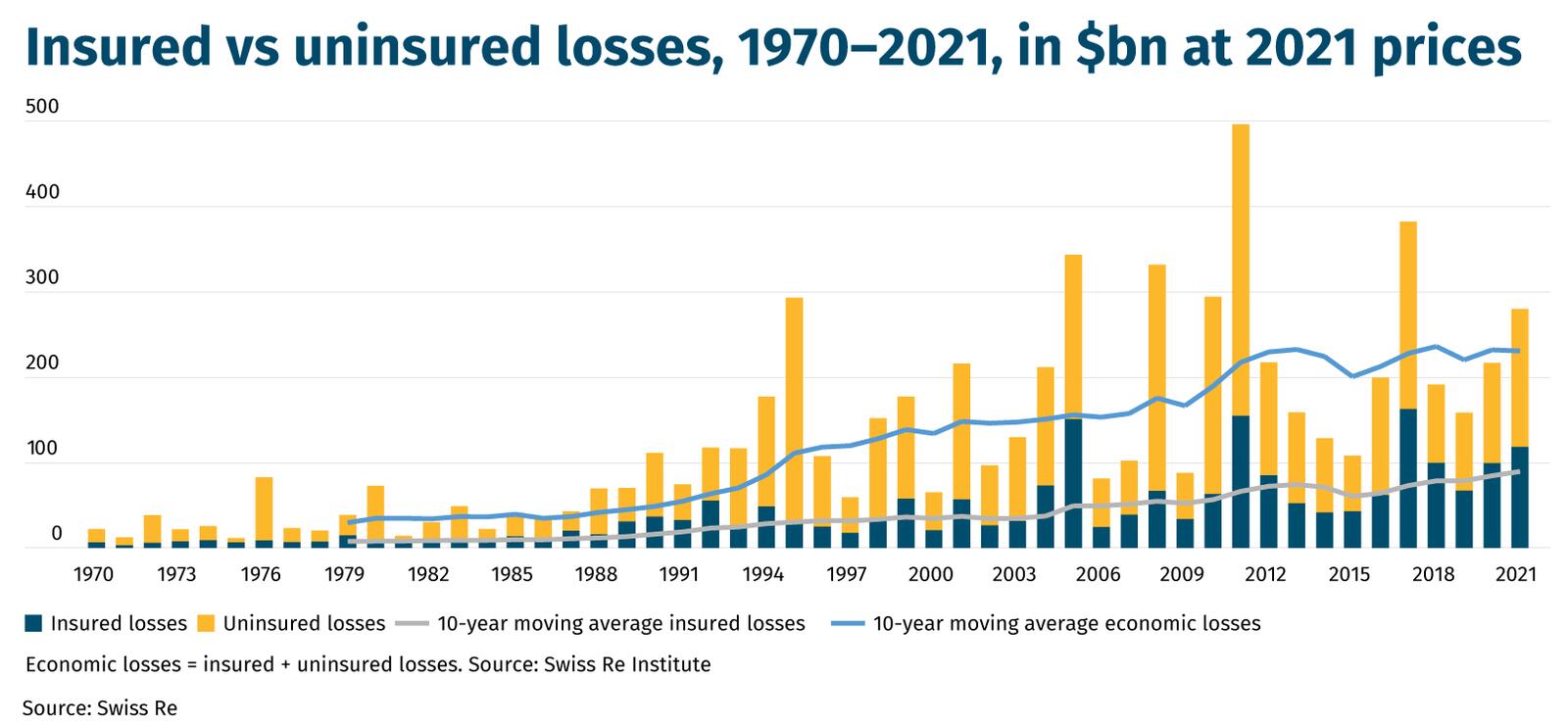 The Insurer comment
The Rendez-Vous has long been characterised by 1.1 shadow boxing between reinsurers and brokers adopting contrasting positions on rate directions.
This year feels different with even brokers acknowledging that inflation is a game-changer for 1.1. Expect similar assertive messaging from Swiss Re rivals over the next few days…