Scor XoL retro renewal out to market as eyes similar structure to 2021
Global reinsurer Scor's excess of loss (XoL) renewal has gone out to market in what will be once again closely watched as a bellwether for the state of the wider retro markets ahead of 1 January, The Insurer can reveal.
Bellwether XoL program to test appetite after ~$20bn Ida loss
Focus on availability of agg capacity
QS retro capacity scarce
Scor looks to maintain program after 2021 restructure
According to sources the Scor renewal officially went out to market last month and underwriters are now modelling pricing, with feedback expected in the coming days ahead of firm order terms.
The global reinsurer – traditionally the first major cat XoL renewal of the 1 January retro market – is understood to be seeking a structure similar to that secured last year, which saw the biggest overhaul to its program in a number of years.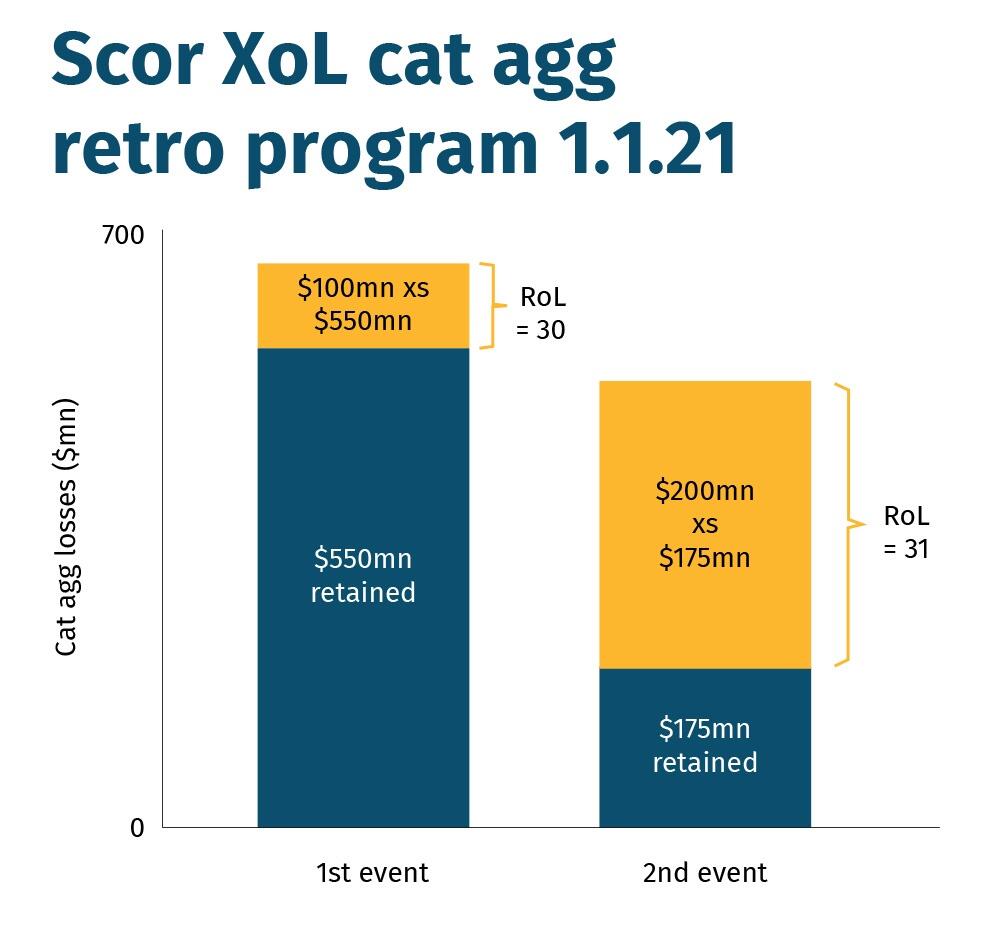 As this publication revealed last year, changes included the introduction of a new reinsurance tower for its expanding specialty/direct and facultative business that sits alongside its existing retro XoL cat cover.
Scor also split its XoL per event coverage between peak and non-peak regions, with its 2021 placement understood to feature a $150mn excess of $150mn non-peak occurrence layer as well as a $300mn excess of $300mn peak occurrence layer. 
Rates on line (RoLs) varied, coming in at 28 percent for the non-peak cover and 31 percent for the peak layer.
The carrier also scaled back its aggregate cover, with the overall limit reduced to ~$300mn. At the 2021 renewal Scor purchased a smaller $100mn layer with a higher excess of $550mn. It also took out a separate second event layer of $200mn xs $175mn with a 31 percent RoL, according to market sources.
Scor is once again believed to be seeking to balance earnings protection and severity protection with its outward retro program.
As well as the fact that it is traditionally the first major 1 January retro account to renew, Scor's account is widely regarded as a bellwether for the retro market due to its size as well as its long-standing relationships with lead markets – including RenaissanceRe and Aeolus – which have retained prominent positions on the placement for several years.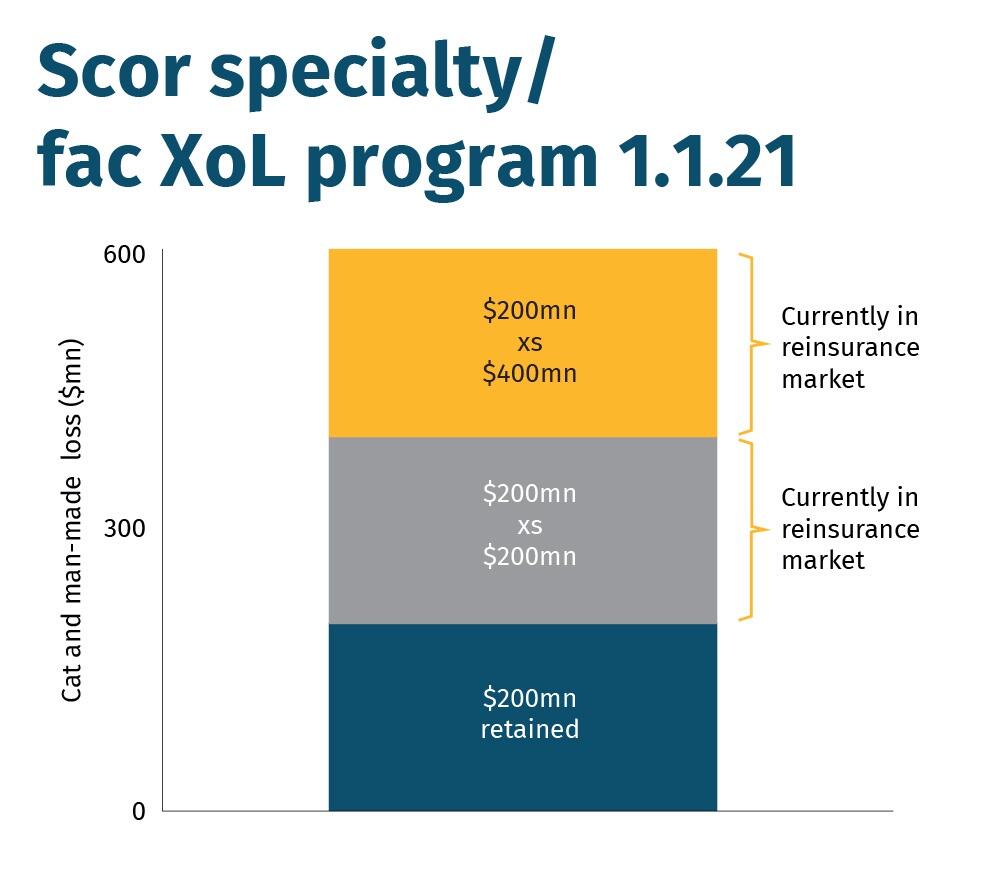 ILS funds have also traditionally participated on the placement, however their involvement was believed to have scaled back at last year's renewal following the contraction in ILS capacity across the market. 
In 2019, Scor undertook a broker request for proposal for its program, with all four incumbent intermediaries – Aon, Guy Carpenter, Willis Re and TigerRisk – retained, albeit with different participations. 
Scor declined to comment on this article.
Market dynamics
In a separate interview with The Insurer TV, Jean-Paul Conoscente, CEO of Scor Global P&C, said early indications point to dynamics in the retro market largely mirroring those witnessed at last year's renewal.
"Overall I think we'll see a continuation of the market that we saw in 2021, which will be difficult but we still have sufficient capacity," Conoscente said. 
The 2021 retro renewals were characterised by a shortage of quota share capacity, while XoL and aggregate cover was available, albeit at steeper prices than the previous year.
Broker consensus is largely that last year's retro renewal saw rate rises in the low double-digit percentage range, with capacity constraints envisaged earlier in the year not materialising to the extent originally forecast.
"We believe that traditional and non-traditional retro market capacities remain solid for excess of loss structures, especially for long-term retro buyers such as Scor," Conoscente told The Insurer. 
"We don't expect the supply of quota share to be as plentiful as most markets would prefer to be on an excess of loss basis, so there may be some pressure there. In addition, securing aggregate capacity at adequate pricing will also remain a challenge, as it was last year."
However, Conoscente was confident that Scor's retro program would renew without any challenges as a result of its long-term relationships with the markets that participate on the placement.
"For ourselves, we don't really foresee any issues in placing our retro program, as most of the partners that we have on our program have been trading with us for a number of years, and value the long-term commitment we have requested buying this cover," he explained.
"I would say we see a hardening market and on the retro side, but probably similar to 2021," Conoscente concluded.  
The Insurer comment
Much can slip between cup and lip, of course, but if Scor's XoL retro renewal is agreed in an orderly fashion this month then the read-across of a stable 1.1 retro market will be welcomed by many…