Orchid and Homesite team up on Florida homeowners reciprocal exchange
US property cat-focused MGA Orchid and American Family subsidiary Homesite are working on a joint venture to launch a reciprocal exchange insurer that will initially write Florida homeowners business on an admitted basis, The Insurer can reveal.
TowerBrook-backed Orchid has filed an application to get Trusted Resource Underwriters Exchange (TRUE) approved by the Florida Office of Insurance Regulation (FLOIR).
Rate and rule filings have also been submitted for both an HO3 and an HO5 policy form that the new venture is hoping to get approved to be effective for new business on 22 July 2020.
According to the FLOIR rate filing, TRUE will provide coverage for homes valued in the $400,000 to $2mn range.
The top end of that range is thought to be the entry level for high net worth (HNW) carriers including Vault, which also deploys the reciprocal exchange model.
The attorney-in-fact for TRUE is called Trusted Resource Underwriters, with Steven Carlsen named as president in the filing. Carlsen is a current director on the Orchid board and is also chairman of US specialty insurer ProSight.
Details of the capitalisation of the new vehicle are not known, but typically reciprocal exchanges are launched with start-up funding from sponsors in the form of surplus notes. The capital base is then built up over time from the premiums paid by members.
Sources suggested that TowerBrook could invest start-up capital into TRUE via Orchid, with Homesite also contributing.
On a recent panel discussion with other PE investors put on by M&A advisory firm Houlihan Lokey, TowerBrook's managing director David Winokur revealed that Orchid was working on a joint venture with an unnamed "very large insurance company" to form a reciprocal exchange to write admitted business.
"Orchid has been entirely focused on the E&S market. We think [a reciprocal exchange] is a great structure at a very interesting time to deploy that source of capital," he said.
The move comes at a time of meaningful hardening of Florida homeowners rates, as carriers file for significant increases in the face of sharply rising insurance costs and several years of underwriting losses.
In its filling TRUE based its initial request rates on a recent filing by United P&C's Family Security. It added a factor to its own filing for higher reinsurance costs to reflect coastal risk in the peak North America hurricane zone as well as reinsurers views of TRUE as a start-up as opposed to an established cedant.
The MGA's management team has experience working in the reciprocal exchange model.
Orchid hired Kathy Cody as executive vice president and COO from Farmers Insurance Group last year, where she had been COO for personal lines. Farmers deploys a reciprocal exchange structure.
Boston, Massachusetts-based Homesite – which describes itself as one of the fastest-growing insurance companies in the industry – has developed phone and online-based distribution models for its core home, condo, auto and renters products.
Last year it also launched Homesite Underwriting Managers as a new programs division, with former Allied World executive Grace Meek as its president and CEO in a move first revealed by this publication.
Homesite is owned by Madison, Wisconsin-based US mutual American Family, which bought the homeowners-focused carrier from investors including Metalmark Capital and Alleghany for $616mn in a deal that closed in early 2014.
Orchid already underwrites in Florida on an excess and surplus lines basis.
The Vero Beach, Florida-based MGA has been expanding beyond its core personal lines business to add commercial lines offerings.
Most recently the firm teamed up with former AmRisc CUO Scott Hanson to launch CrossCover Insurance Services to write middle-market commercial properties for wholesale broker clients.
And earlier this week the MGA hired Ross Bowie from Bankers Insurance Group to head up its growing personal lines operation.
It also has a high net worth division that writes a number of personal lines products on behalf of insurers including Vault, Chubb and AIG.
Ranks of reciprocal exchanges
A successful launch for TRUE would add to the ranks of reciprocal exchanges operating in the US personal lines and HNW space.
They include Vault, launched in late 2017 with $100mn of capital and sponsored by Allied World, which also invested in the start-up alongside Michael Millette's Hudson Structured Capital Management.
Its model is similar to that of PURE, which grew rapidly in the HNW market before being sold to Tokio Marine in a $3.1bn deal that closed in February this year, buying out investors including Stone Point Capital, KKR and Axa XL for 33x 2020E earnings.
The reciprocal exchange model sees a management company – or attorney-in-fact – run the insurance operations of the vehicle in return for a fee that at PURE is thought to have been in the range of 20 percent of gross written premium.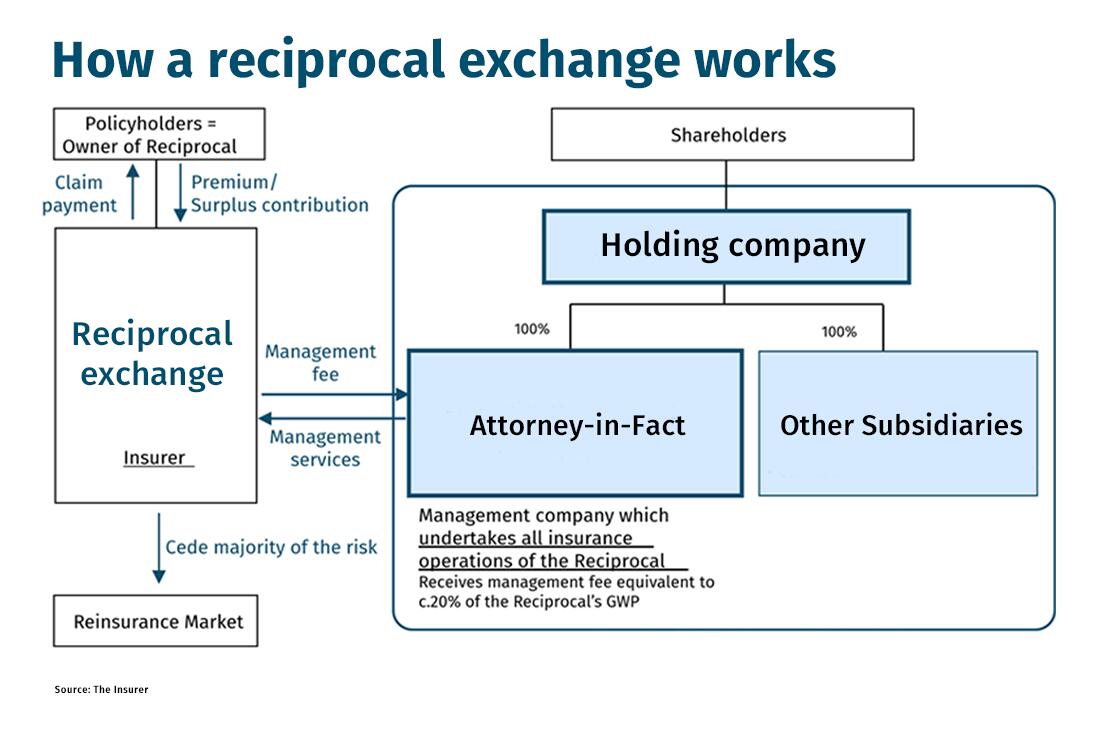 The structure is likely to see outside investors, or sponsors – in the case of TRUE that could be TowerBrook/Orchid and Homesite/American Family – back the holding company which owns the attorney-in-fact and other operating subsidiaries.
In the case of PURE and Vault there are capitalised E&S subsidiaries that are owned by the holding company.
The reciprocal exchange itself is initially funded by start-up contributions from sponsors, but its surplus is then built up by contributions from its members – which are also its insureds – which are set as a percentage of the premiums they pay for their policies.
Orchid declined to comment on this article. Homesite could not be reached for comment at the time of publication.