Munich Re looks to grow new specialty platform to $3bn by 2025
Munich Re Specialty Insurance (MRSI) aims to become a leading North American commercial insurer with premium of $3bn by 2025 as it builds out its platform with a strong wholesale distribution focus, The Insurer can reveal.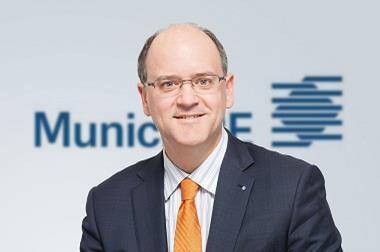 Aspires to be a $3bn writer of North American insurance risk by 2025
Already up-and-running in primary casualty and actively hiring
E&S property and professional lines entry by end of year
Will also write some excess casualty; other lines to roll-out in 2020
Focus on wholesale distribution channel
The German (re)insurance giant already has a book of North American commercial insurance business of around $1.3bn including that written by its established programs, binders and public entities business.
The move to set up MRSI, led by former Zurich and Everest executive Mike Kerner, sees the build out of a specialty platform that will offer significantly broader capabilities to the broker market, particularly in the fast-growing excess and surplus lines (E&S) sector.
The carrier is already up-and-running in primary casualty with a team of underwriters on board and others to be added this year.
It will also look to broaden its product suite, including offering some excess casualty capabilities.
As previously reported, MRSI hired former Swiss Re Corporate Solutions executive Diane Link as head of E&S casualty in April this year.
The carrier expects to be in a position to start quoting on professional lines and property E&S business by the end of the year and is currently in the market looking to hire talent to staff out the operations. Market sources have said there is an active search underway to identify a head of E&S property.
Further lines of business and capabilities will be added in 2020 as the platform gains traction.
The E&S operation of MRSI is led by Jill Biggs, who was appointed president of the unit earlier this year in a move first reported by this publication.
Wholesale welcome
In an interview with The Insurer at the WSIA Annual Marketplace in San Diego this week, Kerner said the carrier would be methodical in rolling out its new capabilities to the broker market.
But he said there had already been a positive reaction from wholesale distributors, echoing the views of several senior broker sources canvassed by this publication at the event.
"It's pretty exciting and we're getting a great reception at WSIA. Distributors are very excited about getting access to [the platform]," he commented.
The build out at MRSI comes at a time of significant growth in the E&S market as submissions have reached record levels and rate increases have gathered pace month by month through 2019.
"The wholesale channel has proven to be a very efficient way to provide capacity to clients and get to customers"
Mike Kerner, MRSI
With tight capacity and a shift in appetite at many underwriters in the sector, the presence of an expansive new player with the strength of the Munich Re balance sheet behind it is likely to be seen by wholesale brokers as a welcome development.
The traction in the market through the year-to-date also means that MRSI is now beginning to execute its strategy in markedly better market conditions than were even being seen in December 2018, when Kerner joined from Everest.
"We clearly have a market tailwind for us here, which I think is fortuitous but wasn't planned," said Kerner.
"A lot of people asked us back in December why we are starting this now. Essentially there's never a bad time to develop capabilities in an organization like Munich Re. So we'll build those capabilities and deploy them when the market allows us to get the right terms and conditions we need.
"It just so happens that nine months it is the right time," the executive continued.
Accelerated business plan
The shift in market conditions means that the carrier has actually accelerated areas of its business plan to take advantage of the current market opportunity.
Kerner revealed that MRSI had initially planned to enter property E&S business in the third or fourth year of its build-out.
"We've accelerated that into year one because we think the market opportunity is there," he explained.
He added that in conversations with distributors it was clear that there are many areas where there is a need for additional capacity.
The executive said that MRSI would tap innovation at parent Munich Re as it unveils products for the E&S marketplace.
"We invest a lot as an organization in innovation, understanding new risks and developing new products in areas like the sharing economy and autonomous vehicles. Bringing those to market in a way that is more effective is something we need to do," he said.
The strong focus will be on the wholesale distribution channel, largely written on surplus lines, or non-admitted paper.
MRSI has access to multiple balance sheets and capabilities, however, including Lloyd's through its Syndicate, European paper, Canadian paper, and US admitted and non-admitted, providing flexibility depending on the product and class of business.
E&S flexibility
Kerner explained that the initial focus would be on the wholesale channel and surplus lines because it gives the carrier flexibility to enter the marketplace relatively easily.
"The wholesale channel has proven to be a very efficient way to provide capacity to clients and get to customers," said the executive.
It also comes at a time of strong growth in the E&S market and the wholesale channel that feeds it.
As previously reported by this publication, submission flow into the sector is at record levels, with wholesale brokers reporting double digit new business growth that has been accelerating through the first nine months of the year.
"The distributors are growing quite rapidly and they all have plans that are equally as ambitious as ours in terms of growth going forward and it'll be exciting working with them and figuring out how we can be mutually successful," Kerner said.
The Insurer revealed earlier this week that MRSI has hired former Aspen executive Bob Rheel – who was also a colleague of Kerner's at Zurich.
Although his title hasn't been confirmed, the executive is expected to work in the area of broker relationship management.
Kerner suggested the function – which Munich did not previously have in place – is key to being successful in the market, implying a commitment to the distribution relationships on both sides.
Geographical footprint
As part of its strategy, MRSI will look to build out the infrastructure and geographical footprint of Munich Re's existing North American insurance operations.
MRSI is headquartered in New York but will also have a large presence in Philadelphia with its programs and public entity platforms. It has capabilities in Chicago, as well as a presence in Atlanta and San Francisco, and the back office from its parent in Princeton, New Jersey.
It also has a Toronto office that handles Canadian business, and does North American binder business out of London with its Bell and Clements team.
Kerner said the carrier is open to where it puts down other offices as it builds out its geographical footprint as he highlighted the importance of underwriters "as close to the brokers as you can get them".
Not a hard market
Despite the size of the balance sheet behind it and the potential to offer big capacity on deals, MRSI will not look to step into the market as a large limit player to fill the void created by the retrenchment of carriers led by AIG and its E&S platform Lexington from the space.
"I think that putting out big limits at inadequate prices is not a way to be successful in the insurance business," said Kerner.
The executive said he characterized the current marketplace as "not risk averse, but risk aware".
"[It's about] keeping risk management top of mind and keeping underwriting principles top of mind," he added.
But the current environment is not a hard market, he stated. Instead it is a "technical firming" of the market.
"Those of us who were in the business in 2001 and 2002 – that was a hard market – you couldn't get things done at any price. You had big companies that were capacity constrained to the point that they were having to get off business whether it was well priced or not," he commented.
In contrast, the current market is one where supply is only limited if prices and terms and conditions are inadequate.
"I like this market because it's where a technician can be successful. A technician understands that underwriting is risk selection, terms and conditions, and price, in that order.
"We'll underwrite to fundamentals and principles first and foremost so that implies we're not going to go in and do what others have done that was not successful," Kerner explained.
As primarily a gross line underwriter MRSI will not typically buy a lot of reinsurance, which Kerner said would be to its benefit as it will be able to determine its own risk appetite and not have it driven by others.