Joyn to launch excess liability next after GL roll-out with RenRe-led panel
SME-focused US insurtech Joyn Insurance has officially begun underwriting its E&S general liability (GL) offering on SiriusPoint paper with a panel of reinsurers led by RenaissanceRe and is aiming to add excess liability coverage from 1 December, The Insurer understands.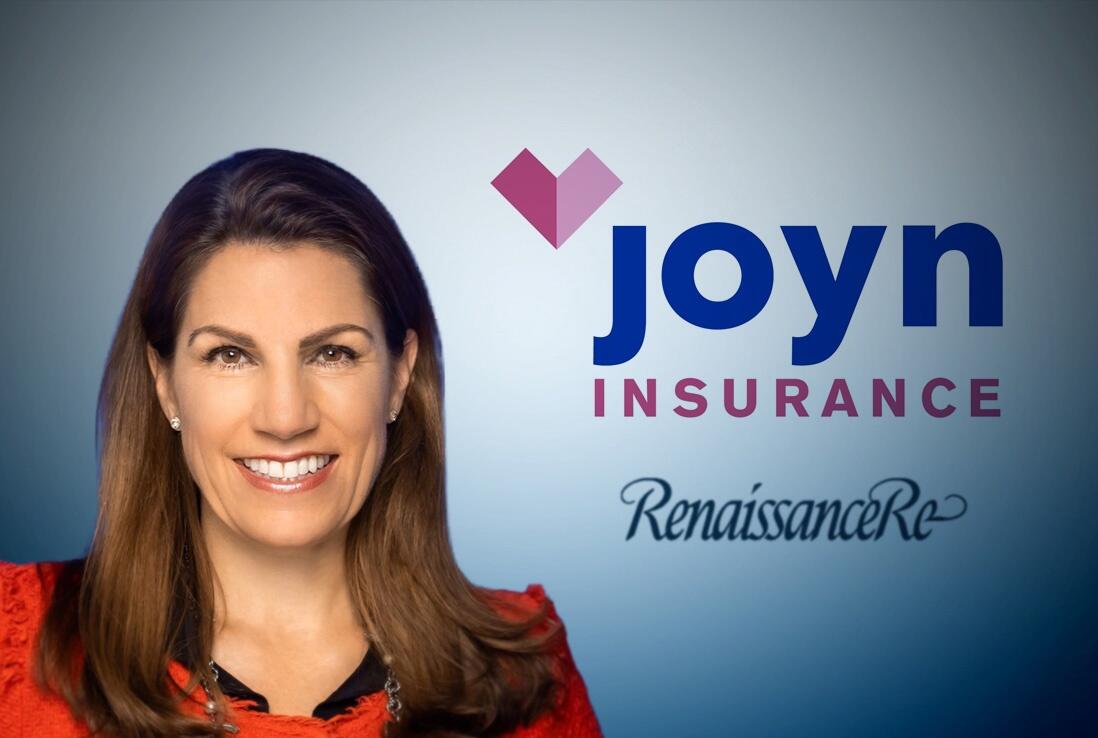 As previously reported, the Seraina Macia-led start-up began underwriting E&S property, also on SiriusPoint paper, at 1 July.
The MGA has entered a strategic insurance partnership with the Bermudian carrier, which has also invested in Joyn.
SiriusPoint retains a portion of the risk and then cedes the rest to reinsurers, with property and casualty quota shares placed in the reinsurance market. It also buys excess-of-loss protection for its retention on the property book.
According to sources, Peak Re also participates on the casualty quota share.
RenRe and Vantage are understood to participate on both the property and casualty quota shares, with other players including Berkley Re, Odyssey Re, Berkshire Hathaway and Scor on the property panel.
Joyn's GL offering provides $2mn of limit, or $1mn for contractors' GL, and targets customers with up to $50mn in revenue. For contractors, the target size is up to $10mn of payroll.
The excess liability product will offer up to $5mn of limit written over its own GL product.
The property offering targets the E&S market for SMEs with up to $10mn of total insured value (TIV) per location, and up to $25mn of schedule TIV.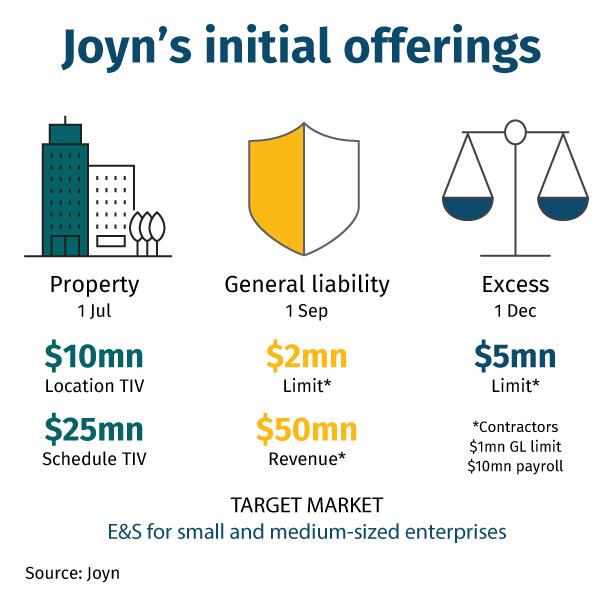 The insurtech is looking to focus on six industry verticals: real estate, manufacturing, wholesale, retail, services and contractors.
In a recent interview with this publication, Macia wouldn't comment on specific details of reinsurance agreements, but she did highlight the quality of the panels put together by broker TigerRisk.
"We have a wonderful and reputable panel of reinsurers we collaborate with and hope they will grow with us in terms of risk appetite," she commented.
The executive said that Joyn is initially targeting companies in its six industry verticals with revenue between $10mn and $50mn, but that it would look to increase its risk appetite as it builds its portfolio.
"You don't want to have outsized limits there when you're a small player and you need to build up a book of business to get a good portfolio before you start increasing risk appetite. But over time we see ourselves going to the $100mn revenue band, or even $200mn," Macia added.
Joyn is targeting what Macia describes as "smiddle" business, or account sizes that fall between the small and middle market segment that tend to be too small for the main commercial insurance divisions of giants like Chubb, The Hartford and Travelers, but too big to fit in their SME units.
She said the insurtech has launched in a $100bn market that is "fraught with manual and expensive processes, legacy technology, lack of insight and a lot of pain points".
"What I think is different for us is we're in a space where you don't see a lot of other companies doing what we're doing. And that's because it's hard," the executive added.
The MGA uses a machine-augmented underwriting process to speed up responses to brokers.
It is looking to push to a "10x model", where it leverages technology and data to make "faster and smarter" underwriting decisions.
Where a typical middle market underwriter might write $5mn of premium volume, Joyn aims for its underwriters to write $50mn of business on the platform without jeopardising underwriting standards.
"We're all about faster and smarter underwriting decisions and ease of doing business for the broker," said Macia.
She added that Joyn would look to automate more of its underwriting over time as it leverages its data ecosystem, but that it would not completely detach a physical underwriter from the process.
"The coloration between technology, data science and underwriting – they really work hand in glove and that's a key differentiator for us," Macia explained.
Platform build-out
The GL launch this month initially covered 21 states, with the expectation that additional states will be added by the end of the year resulting in a national footprint in Q1 2022.
The MGA is initially writing on an E&S basis but will work towards creating admitted products. That will prepare it for what is expected to be a cyclical shift of business that has recently come into the E&S segment during the hard market back to the admitted segment.
Its current distribution partners are retail brokers, despite its initial offerings being written on E&S paper.
Joyn has so far built up a team that is made up largely of former Blackboard staff.
The most recent addition was the hiring of Uwe Schoberth from Lloyd's as chief distribution officer. The executive was previously head of distribution at Blackboard, the former AIG subsidiary led by Macia that was shuttered last year.
Co-founders of Joyn alongside CEO Macia include Callie Thomas, who serves as chief administrative officer, and Stephan Braig, chief innovation officer.
Both Thomas and Braig held similar positions at Blackboard.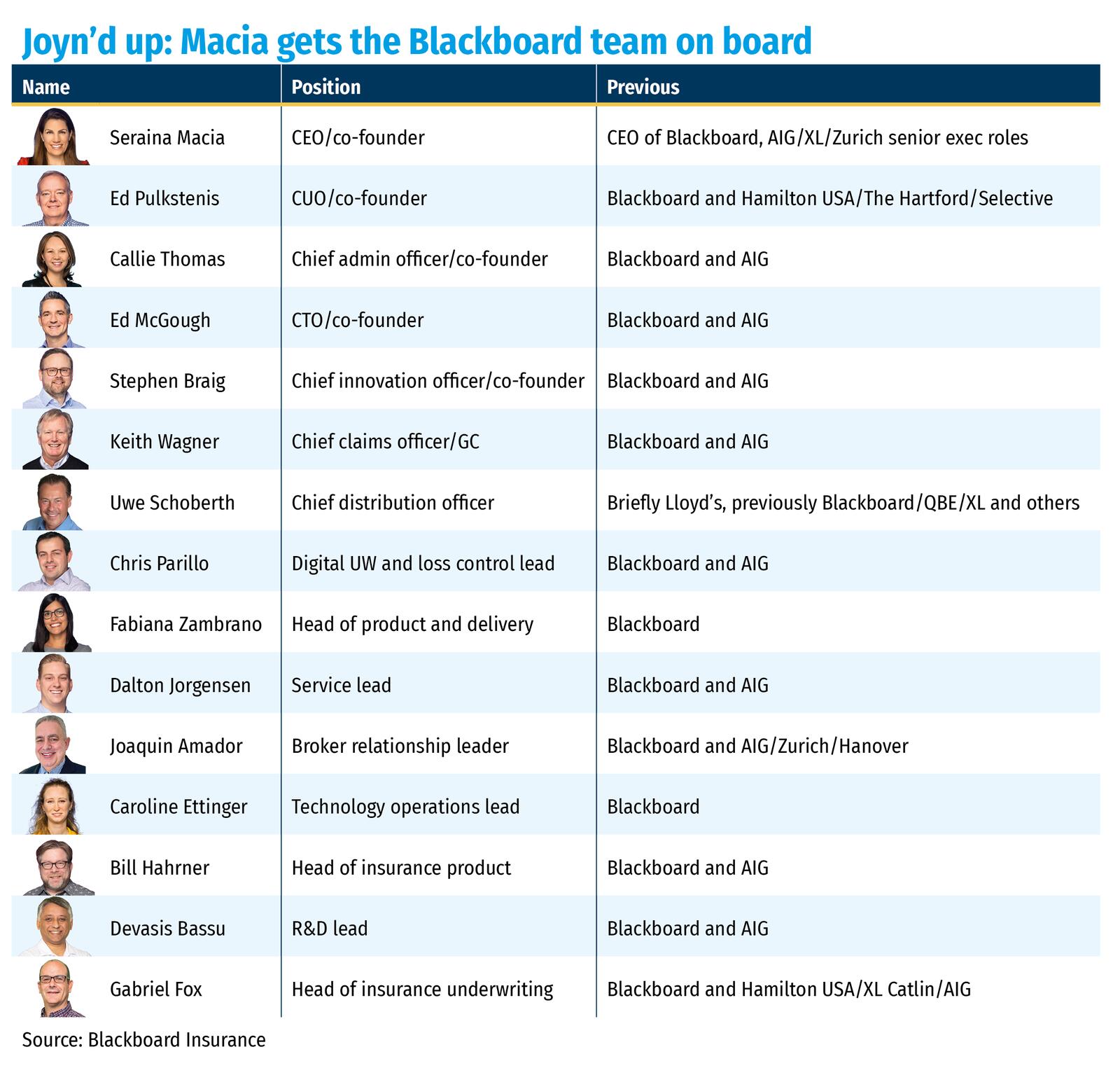 Other talent added by the insurtech ahead of its official launch this summer included fellow co-founder Ed McGough as Joyn's chief technology officer, while Keith Wagner was appointed general counsel and chief claims officer.
Eduard Pulkstenis took the role of chief underwriting officer, with Gabriel Fox serving as head of insurance underwriting. Devasis Bassu was appointed research and development lead, and Peter Delaney joined as broker relationship leader.
Pete Flanagan was hired as an underwriter, with Daniel Roman named underwriting insurance product lead. Senior product manager Susan Lee also joined the start-up.