GC Symposium: European cat capacity situation "markedly different" from US but restructures inevitable
European cedants are not facing the same capacity constraints at the upcoming 1 January renewals as their US counterparts but buyers should expect significant restructuring of their property cat treaties, industry leaders warned at the Guy Carpenter Baden-Baden Reinsurance Symposium.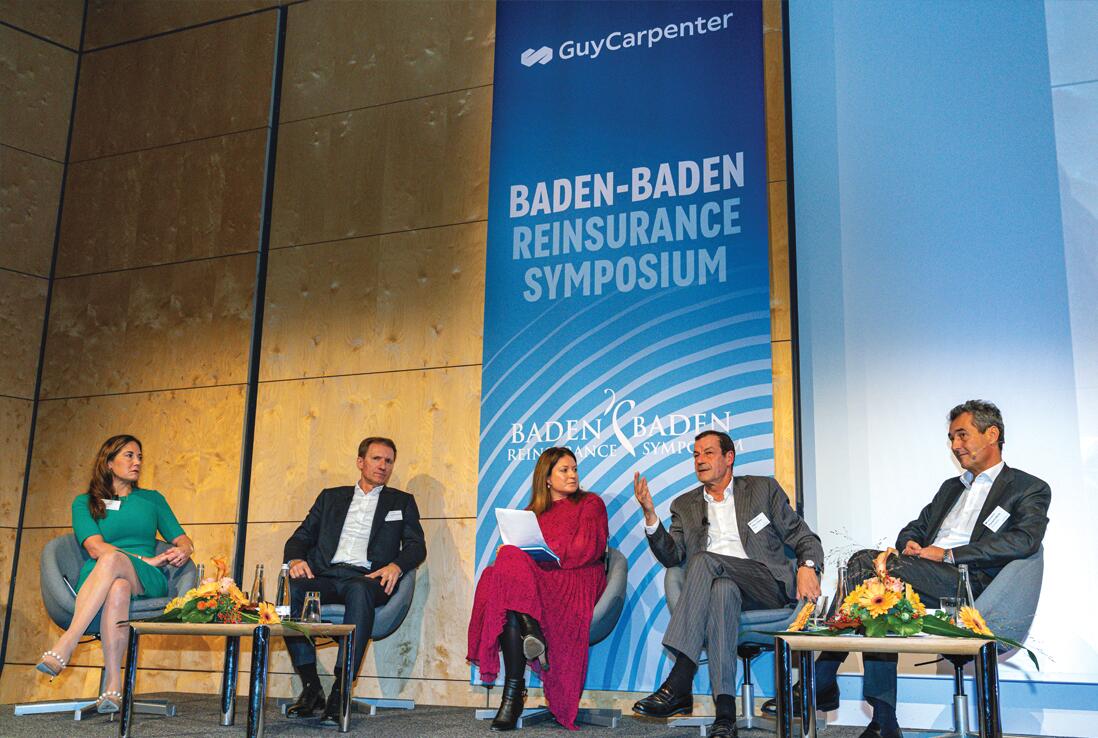 Addressing a near-full auditorium at the Kongresshaus in Baden-Baden today, Guy Carpenter's Europe CEO Massimo Reina said the situation in Europe was "markedly different" than North American renewals.
"There isn't the problem of capacity as such," Reina said.
"Yes cedants are going to buy more coverage, but we do not believe that there is going to be a shortage of supply – certainly not at the top end of programs," he added.
Panellists addressing the 600+ industry executives at the event, hosted in partnership with The Insurer, would not be drawn on how much additional capacity was needed in the European market to counter the impact of inflation, but were in agreement that this would be significant.
Also speaking on the panel, Axis Re CEO Ann Haugh said that while there was confidence that cedants would obtain the desired levels of limit at their renewals, there had to be an acknowledgement that programs would be restructured, with retention levels increasing.
"For cedants the question has to be how do we optimise spend to maximise coverage," Haugh said.

Haugh also said that she expected renewals to run later than at 1 January 2022 as reinsurers strive for rate adequacy.
"So I think it'll be a unique renewal with a hardening market across all lines of business – not just property," she said.
"And similarly to last year, renewals will run late with some business leveraged to achieve optimal outcomes," Haugh added.
Axis Re announced its exit from cat reinsurance earlier this year, one of a number of strategic decisions by carriers that is compounding the 2023 supply-demand imbalance.
Jean-Jacques Henchoz, CEO of Hannover Re, said he expected 2023 demand to be "very strong".
He called on carriers to work with cedants to ensure the best outcome at the renewals.

"This is not a contest between primary insurers and their reinsurers," Henchoz said.
"We have a duty to make sure that the terms and conditions of work for both sides – it's a two-way street and we're talking about decades' worth of relationships," he continued.
Thierry Derez, chairman of the board of PartnerRe and Covéa CEO, said that despite the current turmoil the reinsurance industry is well positioned to deal with the challenges presented, saying "it is our job" to find solutions.
Derez said it was the responsibility of the industry "to stop complaining" and take the lead in creating solutions, warning that it was in (re)insurers' interests to do so as solutions will emerge "with or without us".
"From a financial viewpoint, the rising interest rates create buffers in the long run," Derez said.
"From a technical viewpoint, the material to be insured is growing and from a social viewpoint, there is appetite for protection," he continued.
The Insurer comment
European cedants are being warned to expect a rethink on treaty structures which will see reinsurers push for higher attachment points, more risk sharing and possibly exclusions…