Faraday underwriter takes top spot in 2022 Gracechurch ranking
Faraday's Nick West has ended Richard Trubshaw's six-year run at the top of the Gracechurch London's Leading Underwriter Ranking.
West, a senior property underwriter, led this year's ranking – which saw more than 1,300 underwriters nominated across 109 different organisations.
West's reputation in the market is long-established during more than two decades at various Lloyd's syndicates. Prior to joining Faraday in 2016, West worked for several companies including Markel International, Liberty Specialty Markets and Chaucer.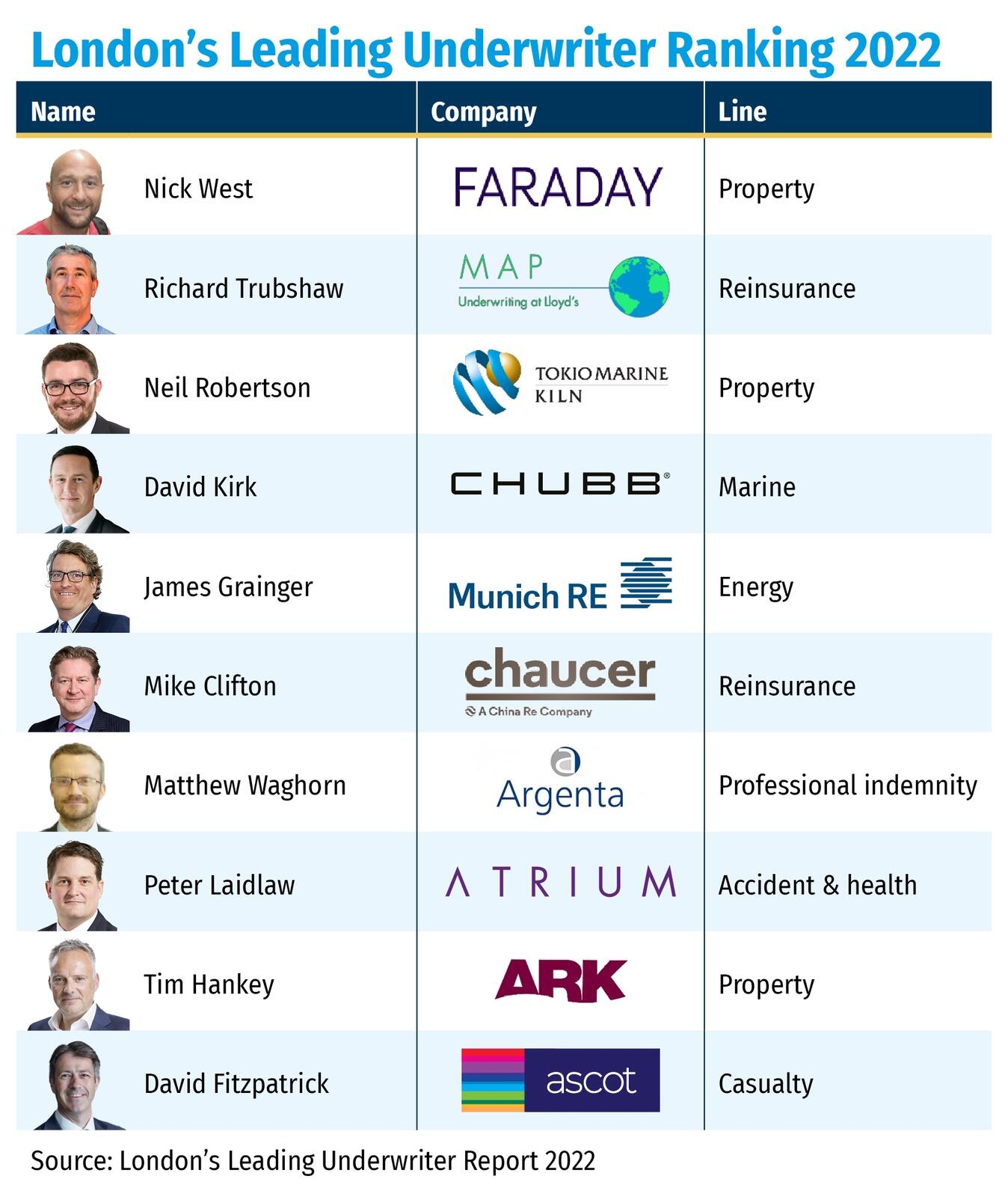 Trubshaw finished second in this year's ranking, further recognition of the respect in which the MAP active underwriter is held across the market.
Although he announced plans to step down as Syndicate 2791's active underwriter in 2023, Trubshaw is set to continue in an underwriting role with the syndicate.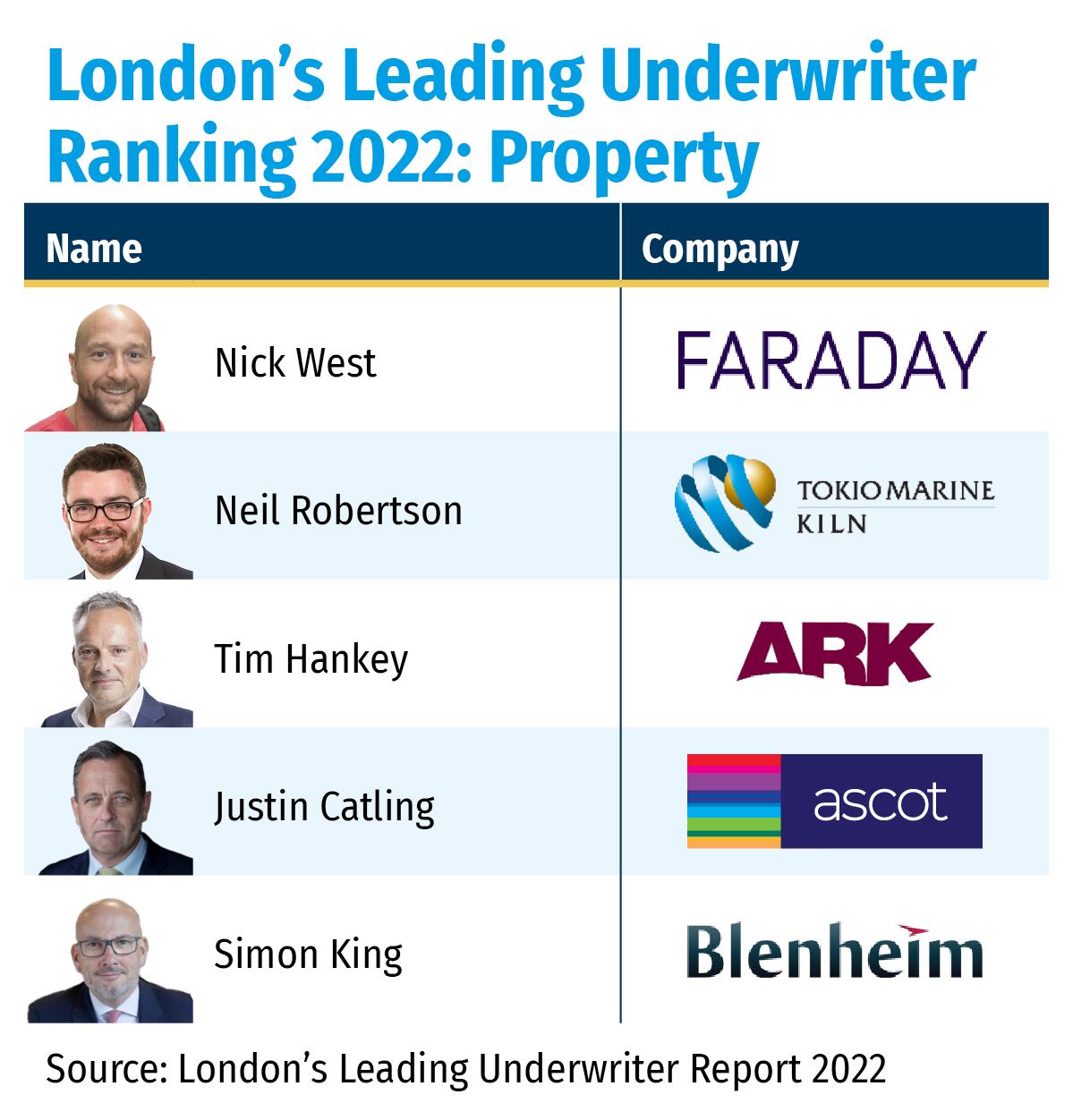 Trubshaw was one of three underwriters from 2021's top 10 to again feature this year, alongside Chubb's David Kirk and Munich Re's James Grainger, who placed fourth and fifth respectively, with Tokio Marine Kiln (TMK)'s Neil Robertson in third. 
West also topped the ranking for the property class, which saw a substantial increase in nominations compared with 2021. 
He rose from third position in last year's property rankings to finish above TMK's Robertson in second and Ark's Tim Hankey in third.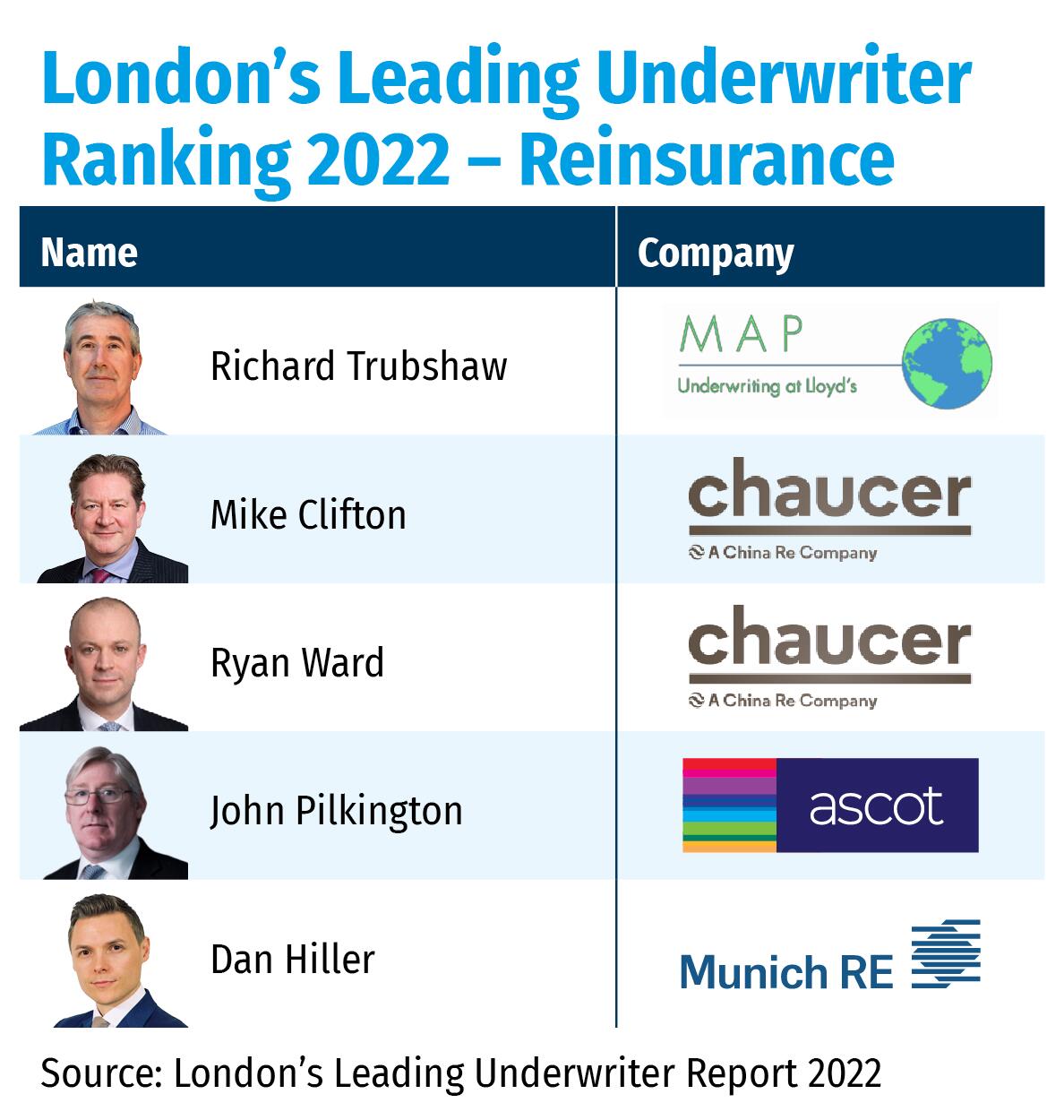 Trubshaw retained his position at the top of the reinsurance class rankings for a fourth consecutive year. 
He held off the challenge of Chaucer duo Mike Clifton and Ryan Ward, with the latter finishing in the top three for the third year in a row.
Over the coming days The Insurer will reveal the leading rankings across the various classes of business covered by the survey, as well as "insurer bench strength" across the different classes based on the overall number of nominations each carrier receives.
London's Leading Underwriters 2022: how the results are calculated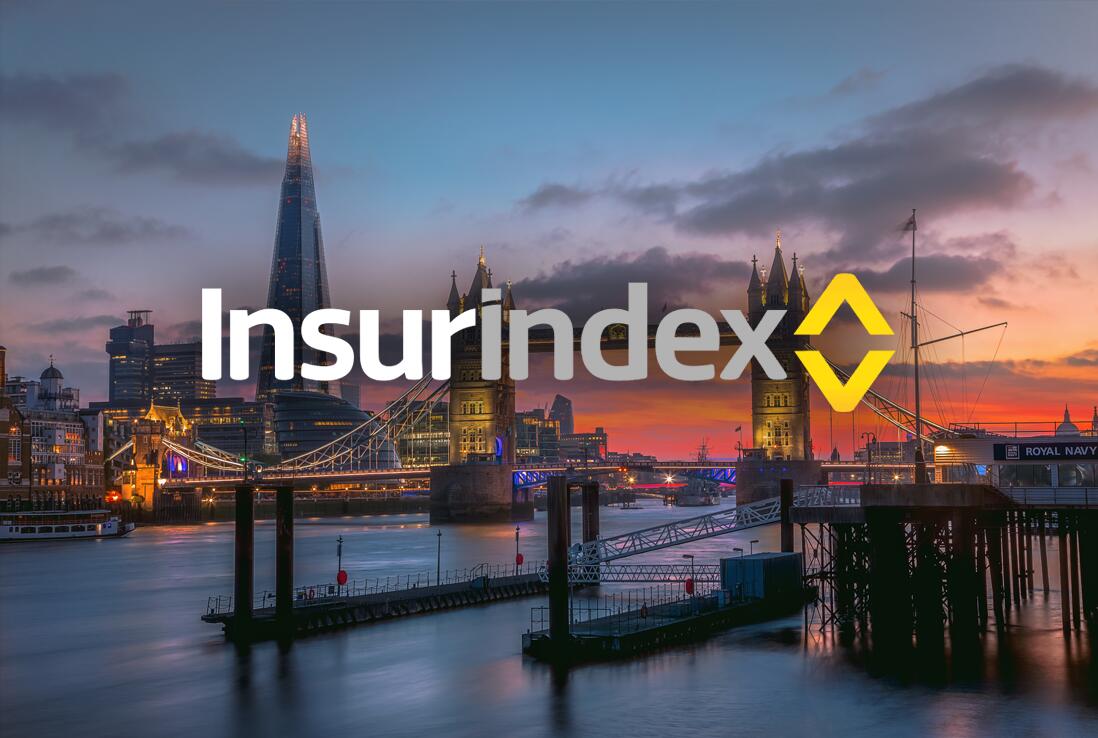 The London's Leading Underwriters ranking is based on nominations gathered by Gracechurch's surveys of London market brokers and underwriters.
The surveys are conducted according to Market Research Society professional guidelines through confidential online and telephone interviews.
This year's ranking is based on data collected between January 2021 and February 2022 which generated more than 1,300 underwriter nominations.
Underwriters are ranked according to the number of mentions within a particular business class, based on the extent to which they are respected for being market leaders.
Nominators are asked to select any underwriter, regardless of seniority. Underwriter names are not prompted so that respondents can freely name any underwriters from any London market insurer, other than their own.
The longlist of underwriters who have been nominated and the lines of business in which they operate is then validated by their employers. For the 2022 ranking, more than 70 percent of underwriters nominated were validated by their business leaders. 
The initial findings were presented at a London event held last week by Gracechurch sister company Insurindex, in partnership with The Insurer. 
Details on how to receive the full report are available on the Insurindex website here.