Everest execs bullish on further property and casualty re improvements at 1.1
Everest is adamant that US property reinsurance rates will maintain their upwards trajectory as the sector continues to contend with rising loss costs along with a supply and demand imbalance – but growing concern over casualty trends means further ceding commission cuts are required.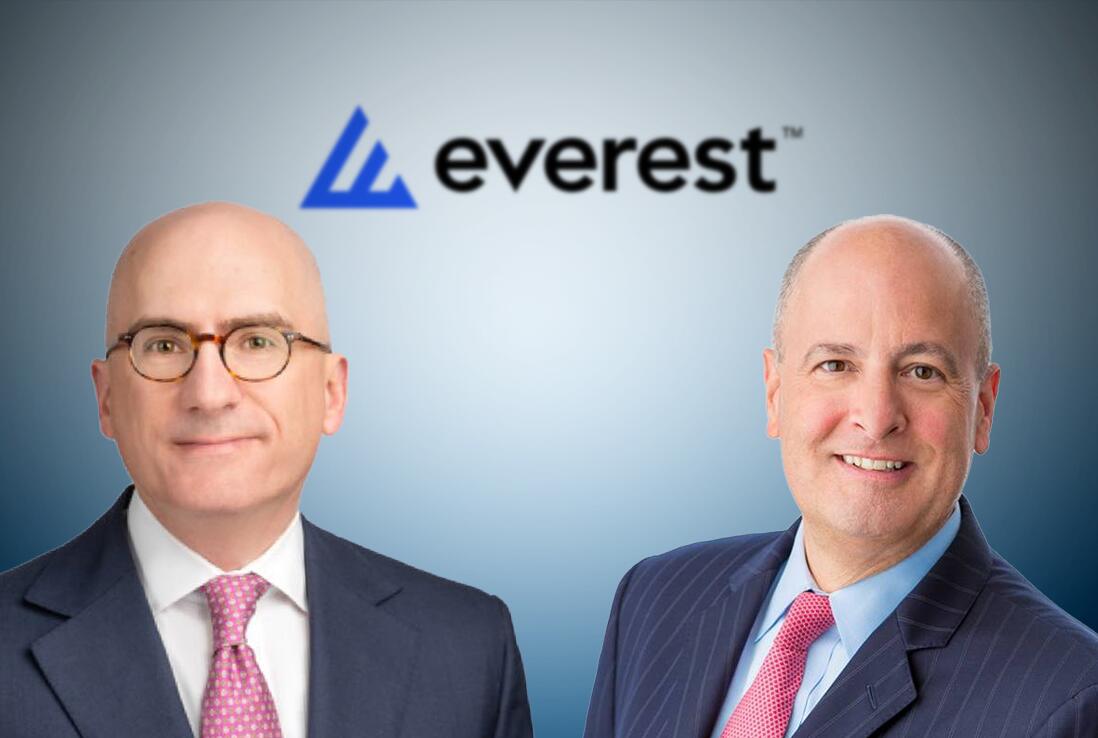 The Bermuda-based carrier ended the 1 January 2023 renewals with property catastrophe excess of loss risk-adjusted reinsurance rates up approximately 50 percent, as it also imposed higher attachment points and reduced exposure to named and secondary perils.
The soaring rates reflected a drastic reset in the market, with reinsurers pulling back capacity – especially at the lower ends of programs – in response to repeated heavy losses and concerns over how cedants were managing inflation in their property portfolios.
As the market moves towards the next round of 1.1 renewals, Everest CEO Juan Andrade said on the company's recent Q3 2023 earnings call that demand among property cat reinsurance buyers has remained strong, as evidenced by his firm's recent underwriting of certain business through private placements.
With the caveat that a few weeks remain of this year's North Atlantic storm season, no major hurricane has yet made landfall, and so the industry has avoided being hit by losses anywhere near the magnitude of last year's Hurricane Ian.
At the same time, market conditions for reinsurers have become far more attractive given that property cat rates have substantially increased, retentions have moved up, and terms and conditions are considerably tighter.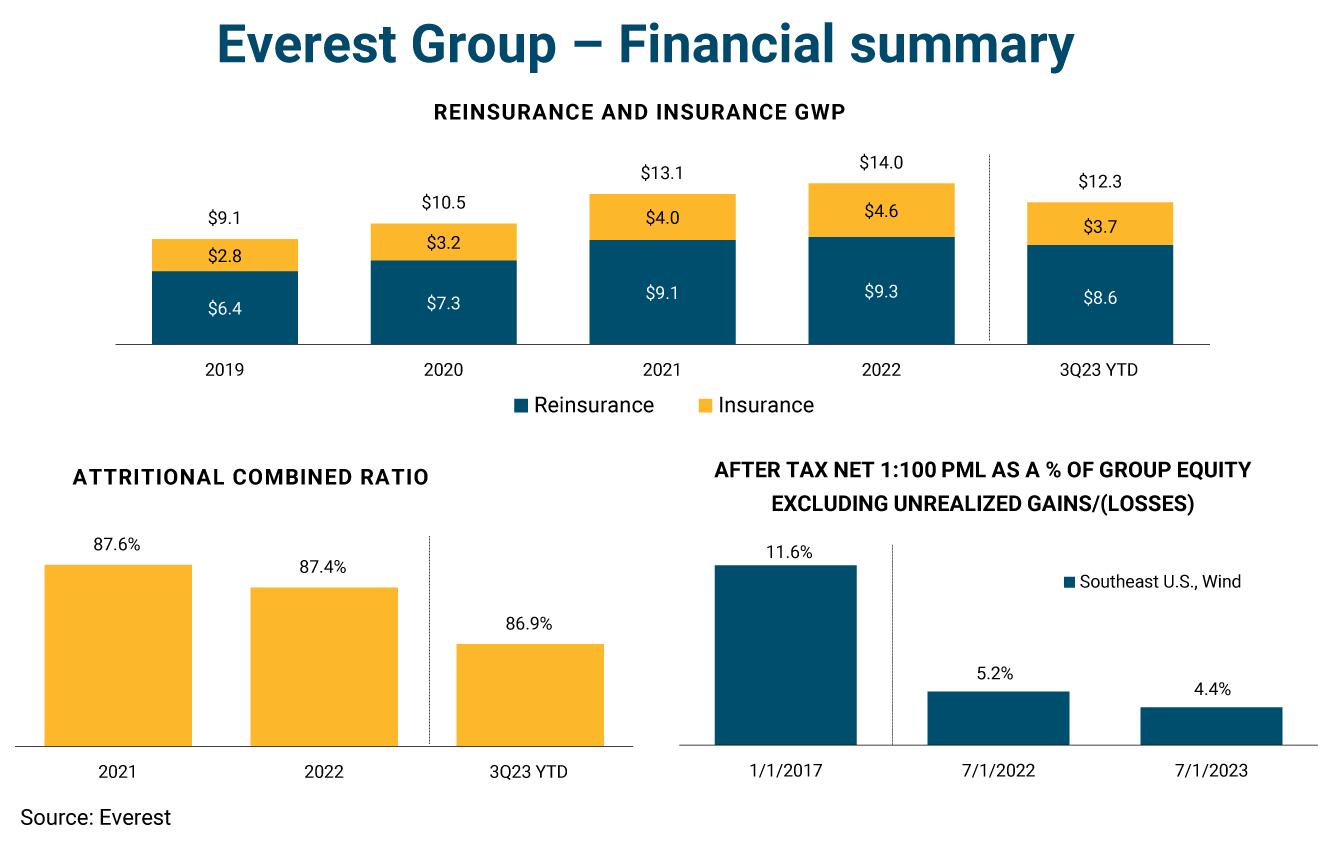 Supply and demand imbalance remains
Despite those shifts in market dynamics, Andrade said the imbalance between the supply and demand of property cat capacity remains, given that there have been no major entrants into the space.
And the executive forecast that situation will remain in play as the market moves towards the 1 January renewals.
"It's a pretty big gap between supply and demand," Andrade said.
"And there has not been a particularly large or moderate influx of capital into the industry to close that gap. So there's definitely that imbalance that continues to exist on the supply side," the CEO stated.
Whether the gap is $100bn or $40bn "doesn't really matter", said Andrade, "because it's a pretty big gap between supply and demand".
According to Andrade, those clients who were unable to fulfill their demands at 1 January 2023 are "now back in the market and seeking capacity".
Consequently, Andrade said Everest is not "seeing anything in the environment right now that really fundamentally changes the pricing trajectory or the trajectory of this business going into 1.1".
Discipline remains
There is also no sign that discipline in the property market is dissipating, the executive said.
Everest's outlook for the 1 January 2024 renewal "remains strong", Andrade declared.
"We fully expect the robust pricing and favorable conditions to continue. And as a lead market, we stand to benefit."
The run-up to 1.1.2023 was marked by uncertainty over the price and availability of capacity. This year, in contrast, there is a greater understanding between client demands and reinsurer expectations.
"Expectations for pricing and terms and conditions in the global property market are now well understood, which should make future renewals more orderly," Andrade said.
Property cat rates to continue rising
Everest executive vice president, group chief operating officer and head of reinsurance Jim Williamson said the company's expectation "is that [property cat] risk-adjusted rates will increase at the 1.1 renewal".
When it comes to retentions, Andrade said the moves to raise those during 2023 "were necessary and appropriate".
He said it is clear that "too much" industry loss activity which would ideally be retained by primary carriers has been flowing through to the reinsurance sector.
"Now does that mean that every single carrier landed in the right spot? Probably not. And I'm sure there'll be some adjustments around the edges, but fundamentally, I don't see any change in terms of going backwards on retentions," Andrade declared.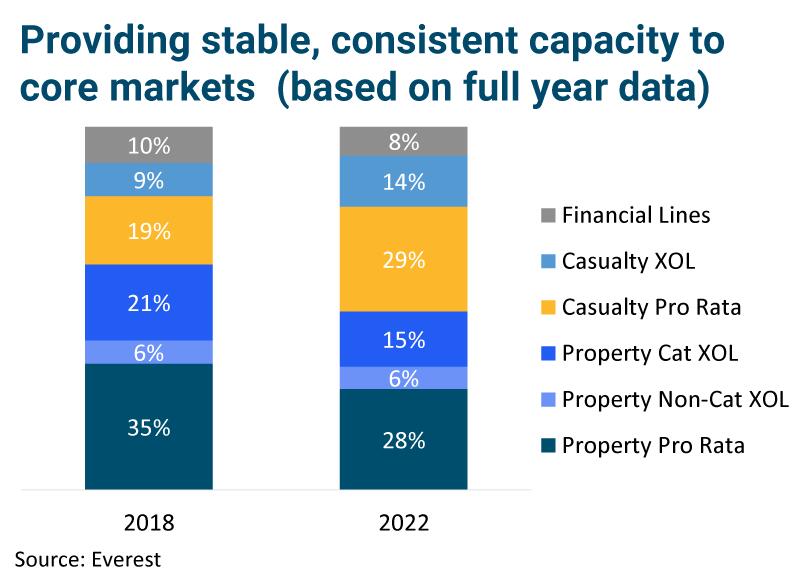 Casualty "on the minds of the market"
While much of the focus in recent years has been on the property reinsurance market, recent talk at industry gatherings both in Europe and the US has centered on the casualty segment, and in particular price adequacy in the primary business, whether reserves for prior years are adequate, and the pressure on quota share ceding commissions to come down.
Williamson said those issues are "clearly on the minds of the market".
From Everest's perspective, Williamson said the business has been "incredibly deliberate and focused on managing the market cycle", with the company growing alongside what he called "best-in-class cedants around the world".
"We timed it correctly," Williamson stated.
"We grew after the market began to harden. In 2019, we grew with best-in-class underwriters. We did not write the entire market, and I think some market participants did do that, and their results and their market commentary reflect that error," he detailed.
While some reinsurers may have been slow to respond to social inflation and other trends, Williamson said "that is absolutely not the case with Everest".
"We've been very decisive on the reserve front," Williamson said.
"We've been prudent in our loss picks, which we've maintained, by the way, even though pricing over the last couple of years has exceeded our expectations. We've been updating our trend factors on a frequent basis, so we're staying very close to these trends and staying on top of them."
Williamson said Everest has "a very strong book" of casualty reinsurance business, and it continues to partner "with the best underwriters in the market".
"Those underwriters are not sitting by idly, waiting for bad things to happen," he stated.
Social inflation is "a real trend that needs to be managed", Williamson said, and so Everest's approach "is to assess each deal on its merits".
"If the deal passes muster and is delivering returns we want, we'll write it. If it doesn't, we're more than happy to move away from it," he declared.
Ceding commissions to fall
Regarding downward pressure on ceding commissions, Williamson said given the current trends at play within the casualty reinsurance market, Everest's expectation is they "will continue to improve".
As Williamson detailed, ceding commissions on casualty pro-rata business have moved "by about 1 point" this year.
"We expect [that movement] to strengthen considerably as we move into 2024," he said.
"Our view is that will accelerate and needs to accelerate … That bodes well for us in 2024 being able to accelerate from that one point to a larger number. I'm not going to predict what that ends up being, but the trend line around getting a better outcome is certainly there."