Aon's Reinsurance Solutions reveals new claims and contracts team structure
Aon's Reinsurance Solutions has unveiled a new structure within its claims and contracts team, with Marnie Hunt, Ann Field, Steve Clark and David Griffiths taking on expanded roles.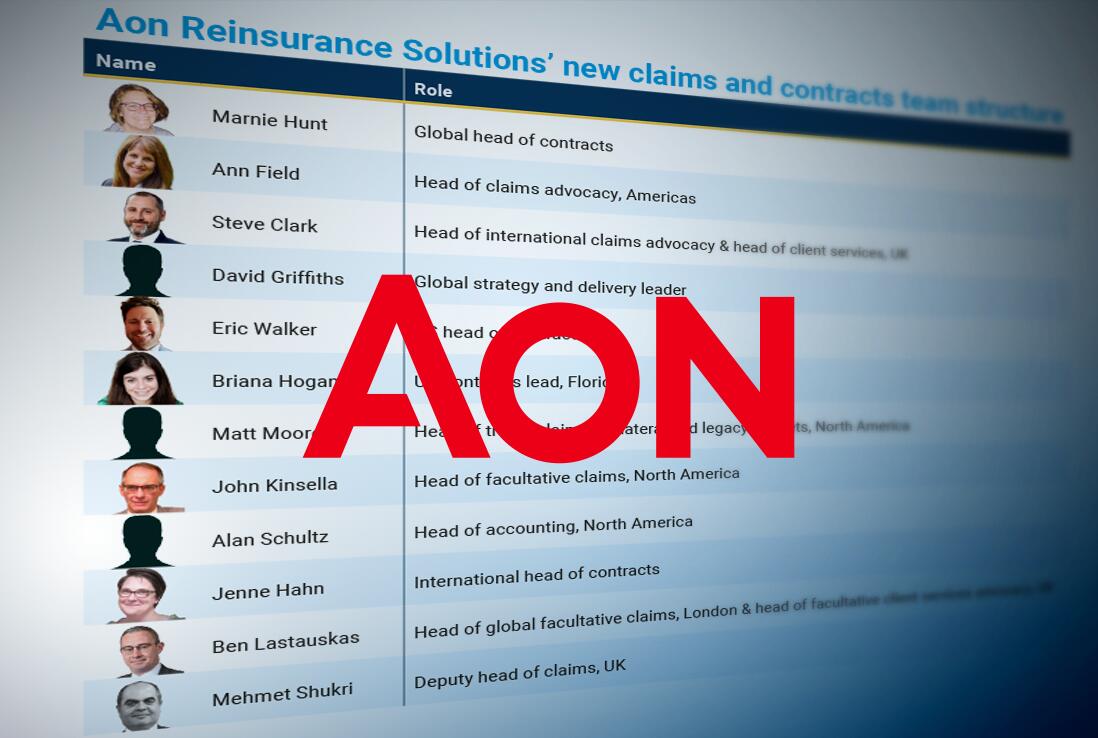 The claims and contracts team provides Aon's clients and trading partners with claims advocacy and contract wordings capabilities, as well as advanced data analysis and operational insights.
According to Aon, the new structure is designed to drive additional value for clients and trading partners through the strategic navigation of complex claims, contract wording and operational improvements at a global level.
Under the structural changes, global head of contracts Hunt has taken an expanded role to oversee the development of Reinsurance Solutions' global wordings proposition.
Also at a global level, Griffiths has been promoted to global strategy and delivery leader, where he will work to promote and leverage the firm's capabilities for the benefit of clients and trading partners.
Regionally, Field – currently head of client services for North America – has been appointed head of claims advocacy for Americas, while UK head of client services Clark has assumed the additional role of head of international claims advocacy.
The four colleagues will report to Leonora Siccardi, Reinsurance Solutions' global chief operating officer.
Other new roles across North America include Eric Walker as US head of contracts, responsible for coordinating all US-placed treaty business, and Briana Hogan as US contracts lead for Florida-related business and lead for legal documents to which Aon is a party.
In addition, Matt Moore will continue as head of treaty claims, collateral and legacy markets for North America, while John Kinsella and Alan Schultz retain their roles as head of facultative claims and head of accounting respectively for North America.
Elsewhere, Jenne Hahn assumes the role of international head of contracts, coordinating all non US-placed treaty business.
In the UK, Ben Lastauskas has been named head of global facultative claims for London placements while remaining head of facultative client services advocacy, UK, and Mehmet Shukri will become deputy head of claims, UK.
Commenting on the reshuffle, Siccardi said: "Our new global structure is designed to enhance Reinsurance Solutions' advocacy proposition.
"The aim is to drive further value for our clients and trading partners in a challenging economic environment by helping them navigate volatility and build resilience by utilising our global capabilities and expertise.
"The new structure will also allow us to evolve our proposition to clients and continue to differentiate Reinsurance Solutions in a competitive marketplace."