Aon surpasses Guy Carpenter in London reinsurance broker bench strength
Aon's Reinsurance Solutions unit has overtaken Guy Carpenter in the bench strength ratings for reinsurance brokers for the first time in Insurindex's latest London's Leading Brokers Report.
The nomination-based survey was conducted by Insurindex, a joint venture between insurance research consultancy Gracechurch and Brandex.
Gallagher Re placed third in the reinsurance bench strength ranking, widening its lead on Lockton Re, which placed fourth as in the previous year.
Aon's Simon Rowland secured the leading individual reinsurance broker ranking, followed by Howden Tiger's Genna Biddell in second place.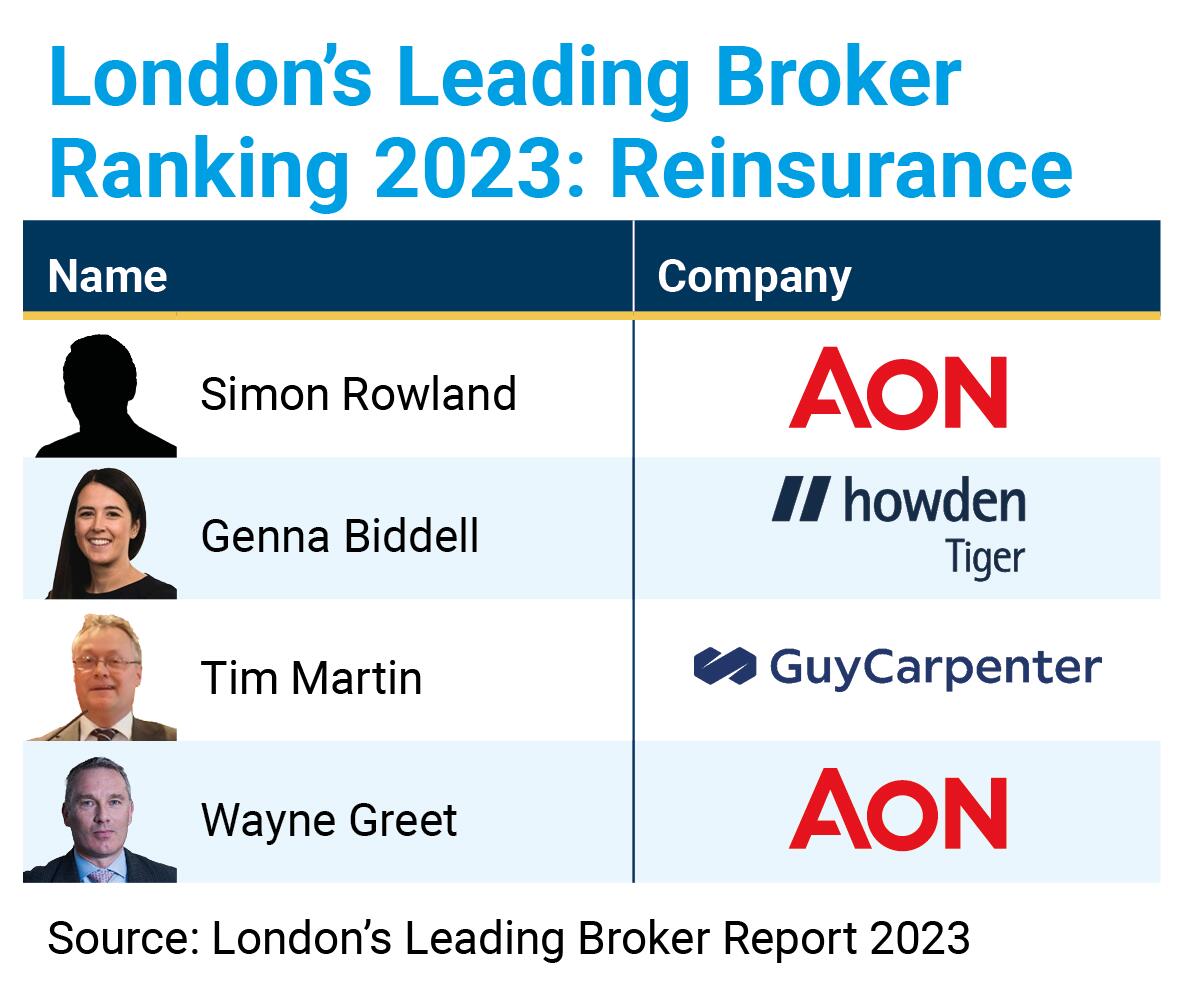 Biddell had joined TigerRisk in November 2020 prior to the $1.6bn acquisition by Howden, completed in January of this year.
Guy Carpenter managing director Tim Martin debuted on the individual London reinsurance broker ranking in third position. Last year, Guy Carpenter boasted three of the top five, including the leading individual reinsurance broker.
The shortlist was completed by Aon's Wayne Greet – the only individual broker that also appeared in the 2022 individual reinsurance broker rankings.
Meanwhile, in the property rankings, Tysers cinched the leading spot in the bench strength ratings for the first time.
Last year's property market leader Marsh placed joint second with Aon and BMS. This marked a one-point increase for Aon and a three-point improvement for BMS from last year.
However, none of the trio saw a property broker place in the individual rankings. Unusually, all shortlisted brokers were an entirely new cohort to the 2022 shortlist.
This year, the property class was led by Oliver Pidgeon, who serves as managing director at Bowood, Howden's specialist delegated binding authority division.
Pidgeon also placed joint second in the overall London broker rankings, as revealed by this publication yesterday.
Also appearing on both the overall individual ranking and in the property class was Tysers' David Soper. As the bench strength leader, Soper was accompanied in the property shortlist by colleague Richard Hodge.
Elliot Warden rounded off the top three London property brokers.
Although Warden joined Amwins Global Risks last month, he appears in the rankings under Alesco, having received the recommendations and nominations while serving at the latter company as director within the North American binding authority division.
Completing the shortlist is Jamie Beckett, head of broking at Bishopsgate, and Mike Barrett, senior vice president, North America at Lockton.
To request a copy of the full report when it is released in the coming days, click here.