AM Best: "New names" coming into large Latin American reinsurance programs
The trend for global reinsurers to exit or limit Latin American business has opened up opportunities for domestic reinsurers and those outside the region to participate in lower layers, AM Best has highlighted in a new report.
The rating agency highlighted that Latin American reinsurers have incurred no major losses in the past three years because few large severity events have occurred.
Latin America contains several markets that are vulnerable to cat events in both magnitude and frequency, including Mexico, Guatemala, Costa Rica, Ecuador, Chile and Peru.
"However, in the past three years, large severity events have been few and have not resulted in major insured losses, questioning the need for the market hardening that took place at the onset of the pandemic," the report said.
It added: "Reinsurers have adjusted their product offerings by raising deductibles, narrowing coverages, and pressing for exclusions (with different degrees of success), as they try to expand net profits by retaining more risks."
"As market hardening diminishes, some global reinsurers have followed the mandate of their parents to exit or limit their business in Latin America, pressured by a more conservative risk appetite that is less focused on cat-prone areas, or to target their capital in regions that justify price increases"
In addition, AM Best said most of the region's large insurers have ample amounts of available capital as a result of "exceptional results" in 2021 and redundant reserves. This has given them the ability to expand their risk appetites.
"As market hardening diminishes, some global reinsurers have followed the mandate of their parents to exit or limit their business in Latin America, pressured by a more conservative risk appetite that is less focused on cat-prone areas, or to target their capital in regions that justify price increases," the report said.
"These conditions have opened opportunities for domestic reinsurers and reinsurers outside Latin America to participate in lower layers of programs. We are thus seeing new names coming into large reinsurance programs," it continued.
AM Best said the strategies of domestic and global participants in the region differ. It also warned that the slowdown in hardening conditions should be viewed with some caution, especially by domestic players looking to fill gaps left by global reinsurers.
"These program gaps are being filled by either a diverse group of reinsurers or other global reinsurers, but communications with brokers and further detailed analyses of PMLs (probable maximum losses) remain key to further developing efficient and profitable reinsurance solutions in a market that could quickly incur insured losses as a result of earthquakes, hurricanes, or other events," the report said.
A shift to non-cat lines
Regional reinsurers with expertise outside Latin America have shifted to a wide array of non-cat lines both in and outside the region, AM Best said. This consists of mostly fidelity and some other low-exposure liabilities.
"Some are cutting back on their cat exposures in the region, while others are limiting their exposures by either using retro structures or demanding stricter terms and conditions," the report said.
AM Best highlighted that "direct business (opportunities found by reinsurers, which are then underwritten by primary insurers), captive solutions and automated faculties for external underwriters such as MGAs are gaining traction as ways not only to diversify revenue sources but also to address market dynamics".
The report gave the example of segregated cell companies domiciled in non-tax haven territories fronting for German reinsurers that are discouraged by their domestic regulations from conducting business in other Latin American countries viewed as tax havens.
AM Best said that reserve development has been positive in the region and claims activity has been favourable for reinsurers.
Brazilian reinsurers trim property cat exposure
The report commented specifically on Brazil, where domestic reinsurers with international catastrophe exposure are trimming their property catastrophe exposures in line with global trends. "However, their actions have yet to translate into meaningful underwriting profits or capacity growth," it said.
Domestic reinsurers have been focusing on specialty lines such as surety, oil and gas, marine and agricultural.
"The profitability of Brazil's primary insurance industry is still higher than that of the reinsurance industry," the report said.
However, the largest player in the country, IRB Brasil Re, which accounted for 50 percent of domestic gross written premium in 2021, is dedicated exclusively to reinsurance. Almost all of the remaining domestic reinsurance companies have a presence in the primary insurance market.
Local Brazilian reinsurers' net premiums grew by 16 percent in 2021. Premium retention rose to 48 percent, following a decline to 44 percent in 2020.
However, a 42 percent jump in investment income over 2020 was not enough to offset the underwriting losses that have been incurred the past two years.
Net premium retention and the increase in underwriting losses resulted in a 12 percent decline in surplus in the domestic industry in 2021 in Brazilian reais, and 18 percent when converted to US dollars.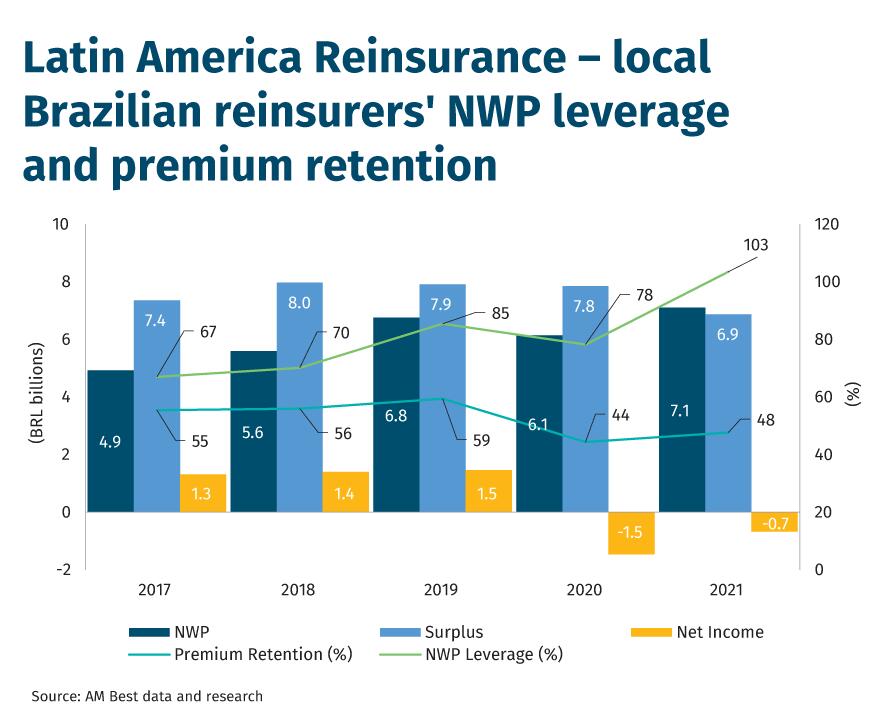 "For the domestic Brazilian reinsurance industry, surplus growth and the retention of profitable business remain key," the report said. "Pricing remains favourable, with the help of the hard global reinsurance market and inflation, and despite the Central Bank of Brazil's hawkish interest rate hikes, these have not been enough to generate profitable results for the industry."
AM Best suggested that reinsurers will find it hard to attract capital in a year of presidential elections aggravated by global instability.
The most significant lines of business contributing to annual growth in 2021 were property, automobile and agricultural reinsurance. AM Best said new technologies may help improve the operating performance of the agricultural line, which continues to incur underwriting losses.
The report did not go into more recent developments, but, as The Insurer has reported, uncertainty remains over the impact of the devastating drought in Brazil since the end of last year. This has presented heavy losses to reinsurers, with IRB, Mapfre Re and Scor having all disclosed significant exposure to the event.
This publication's reporting suggests that the mid-year hardening of Latin America property catastrophe business is expected to continue into 2023 as major players pull back from the region.
Brazil's occasional reinsurers growing fast
A recent regulatory change in Brazil made occasional reinsurers' status practically equal to that of admitted reinsurers. Both of these are domiciled abroad but admitted reinsurers must file local financial statements and have representative offices in the country.
As a result, occasional reinsurers have posted significantly higher growth in the past two years, with a 94 percent CAGR, compared with 58 percent for the admitted reinsurers and 17 percent for the domestics.
AM Best said that insurers' and domestic reinsurers' gross premium cession limits to occasional reinsurers "skyrocketed" at the end of 2019, to 95 percent from 10 percent.
"Occasional and admitted reinsurers have had another tailwind in their favour: The Brazilian real was devalued further, strengthening their USD capacity versus the BRL," the report said.
"The country's regulatory framework continues to evolve towards a more open and less restrictive reinsurance market, allowing occasional and admitted global participants to access the market with greater efficiency, while maintaining strict regulatory metrics to protect policyholders," the report added.