Risk Strategies CEO: Higher interest rates will not have significant impact on consolidation
Although rising interest rates will have some "cooling effect" on consolidation in the red-hot distribution space, the impact won't be significant because of the amount of capital looking to be deployed, according to Risk Strategies CEO John Mina.
The recent move by the Federal Reserve to tackle inflation with a 0.75 percentage point hike in interest rates has led to some suggestions that there could be a meaningful slowdown in M&A activity and a dent in the record valuations that brokers and MGAs have been attracting recently.
But speaking to The Insurer TV in the latest episode of Leading Voices, Mina played down the extent of any impact.
"Obviously the cost of borrowing money is going up and it'll probably put some downward pressure on valuations and perhaps the number of transactions that are done during the course of 2022, but there is so much capital that is looking to be deployed, I don't think it'd be a major impact," he said.
Instead, Mina said it is important to look at some of the macro factors that are driving consolidation in the industry.
"One is that many of these firms were created by baby boomers and they're looking towards retirement and monetising their lives' work. Many of them do not have a second generation of sons and daughters who want to go into the industry – unfortunately they're being lured away to technology firms – so we have that as another driver issue that's taking place," he said.
Specialty-focused retail broker Risk Strategies – which is backed by private equity firm Kelso – has been an active acquirer as it has grown to become a business placing more than $8bn in annual premium, generating close to $1bn in revenue last year.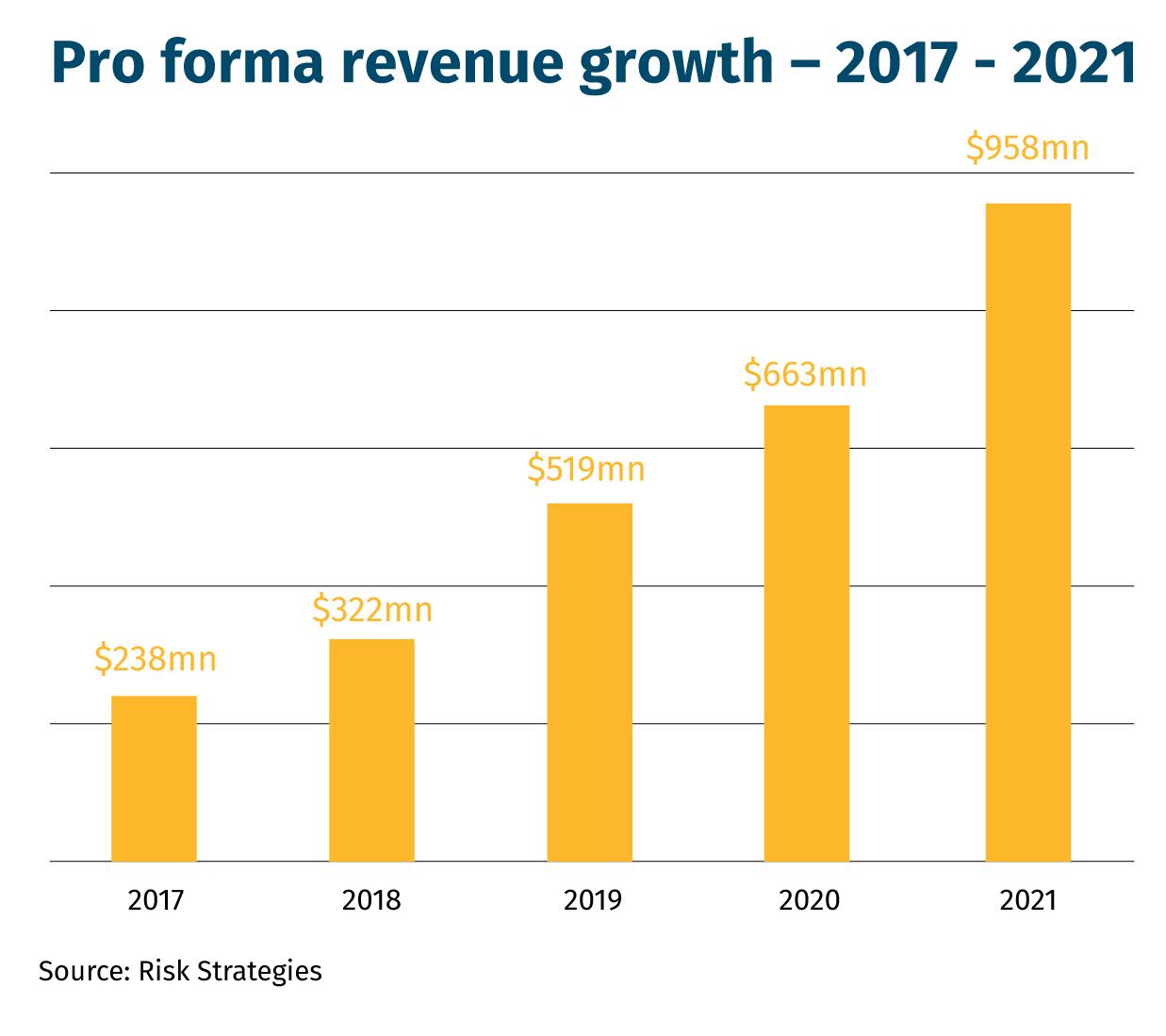 Product evolution key to remaining relevant
In the interview, Mina also discussed the importance of the insurance industry evolving its products to remain relevant and meet the changing needs of clients.
He pointed to Florida windstorm and California wildfires as major examples where the (re)insurance industry must continue to innovate or risk becoming irrelevant.
"We have to start self-monitoring our progress or we face the threat of becoming irrelevant in some cases," he said.
"Florida is a good example, with what's going on with windstorm. We're one hurricane away from that entire marketplace collapsing, it feels. When we look at the various products and risks and how they're evolving over time … we have to, as an industry, continue to develop products and solutions that meet our clients' needs," Mina said.
If this does not happen, customers will simply opt out of insurance or self-insure their risks, he added.
In contrast, Mina said the Covid-19 pandemic provided a demonstration of how the industry could remain relevant amid current global challenges. For Mina, the recipe for Risk Strategies in staying relevant to clients was a business model centred on collaboration and support.
"The pandemic stress-tested every business, both from a business continuity perspective and from a value proposition perspective. In that regard, I think we came out quite well … Our model was tested and came through with flying colours," he added.
Tech investment
Mina suggested the industry must continue to invest heavily in technology to ensure it meets its clients' demands – "whether it's in analytics, or just-in-time services as it relates to IT".
And he feels Risk Strategies is "very well positioned" to grow in this environment.
The consultancy firm turned broker has recently completed a $950mn debt raise at "very competitive terms" aiming at expanding the business through further acquisitions.
Mina said the business is focused on growth through lines of business rather than through geographical expansion, adding there is wide market amplitude in the North American market to capitalise on opportunities.
Risk Strategies has almost doubled its top line in the last three years from $519mn of revenue in 2019 to $958mn last year.
During this video interview, Mina also discusses:
What the future looks like for Risk Strategies
The key takeaways from its State of the Market 2022 report
Further challenges for the market
Opportunities for the business brought by the Covid-19 pandemic
Risk Strategies' expansion through industry specialty niche lines of business