PERse eyes capacity to support growth amid increasingly competitive renewables market
Ryan Specialty's renewable energy-focused MGU PERse is diversifying its book of business and eyeing opportunities in emerging technologies, while also targeting new capacity providers to support its growing platform at a time when interest and competition in the specialist sector has never been higher.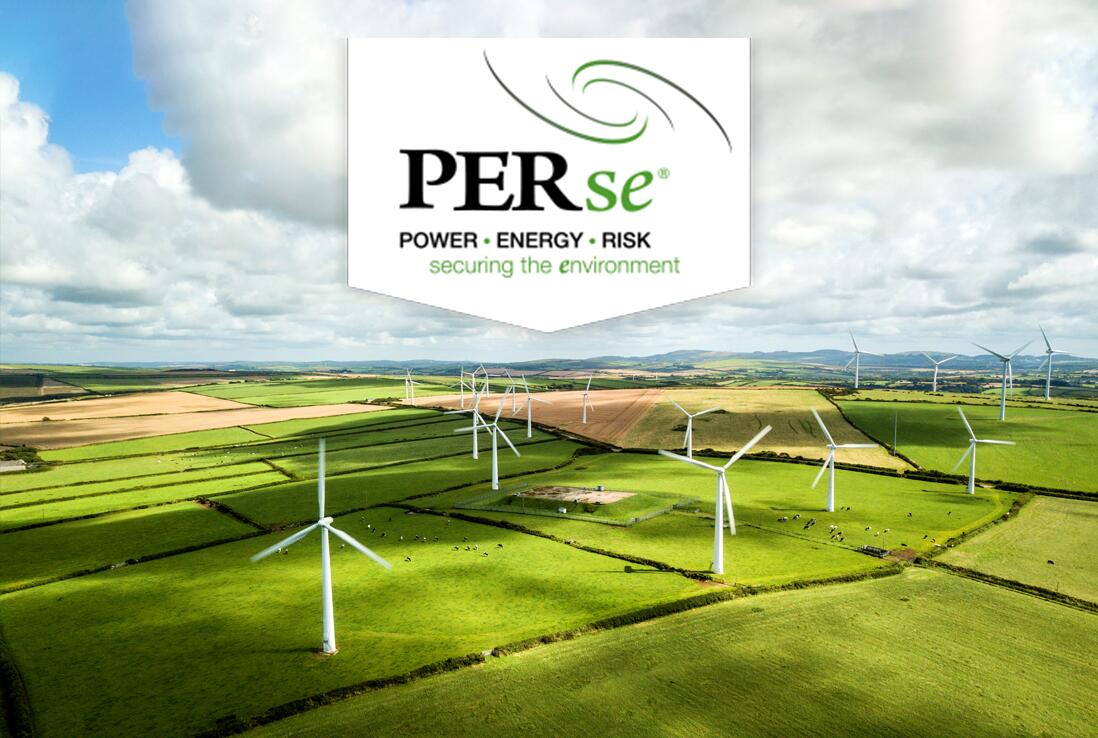 PERse, which first opened for business back in 2011, writes a broad book of renewable energy-related classes of business as well as power production, with a focus on wind, solar and battery storage risks.
This year, the platform, which is headquartered in Newport Beach, California and also has offices in New York City, Miami, Calgary and London, has built out its roster with hires including Brian Tyluki, Stuart Burchell, Adam Hearn and Joshua Cantwell, who joined from fellow renewable energy-focused platform GCube.
Talking to Program Manager, PERse's CEO Michael Bernay said further additions are in the offing heading into 2023.
"We want to diversify our book a little bit more," Bernay said, with the MGU looking to grow its portfolio of liability business in particular.
"We see opportunity in hydro and biofuels, and we see opportunity in other products like BESS, and we're investing in those segments that may not have been as prominent for us in the past," the executive added.
PERse is also targeting international growth, with the platform looking to build its book of non-US business in the lines of coverage it already specialises in.
The specialist MGU currently has a North American facility and a Generali Global Corporate & Commercial UK-led international offering that launched in late 2020.
"We want to grow internationally where we see opportunity [and] we're poised right now to do more in other jurisdictions on wind," Bernay noted.
Given the forecast growth in the US offshore wind market, Bernay said PERse is also eyeing potential opportunities in that segment.
New capacity conversations
PERse's leader said the MGU is looking to bring in additional capacity and capital providers to support its expansion, and that the platform has already had "positive" meetings with interested parties.
Rather than just direct carriers, PERse has had productive meetings with reinsurers who Bernay said view renewables as a beneficial diversifier.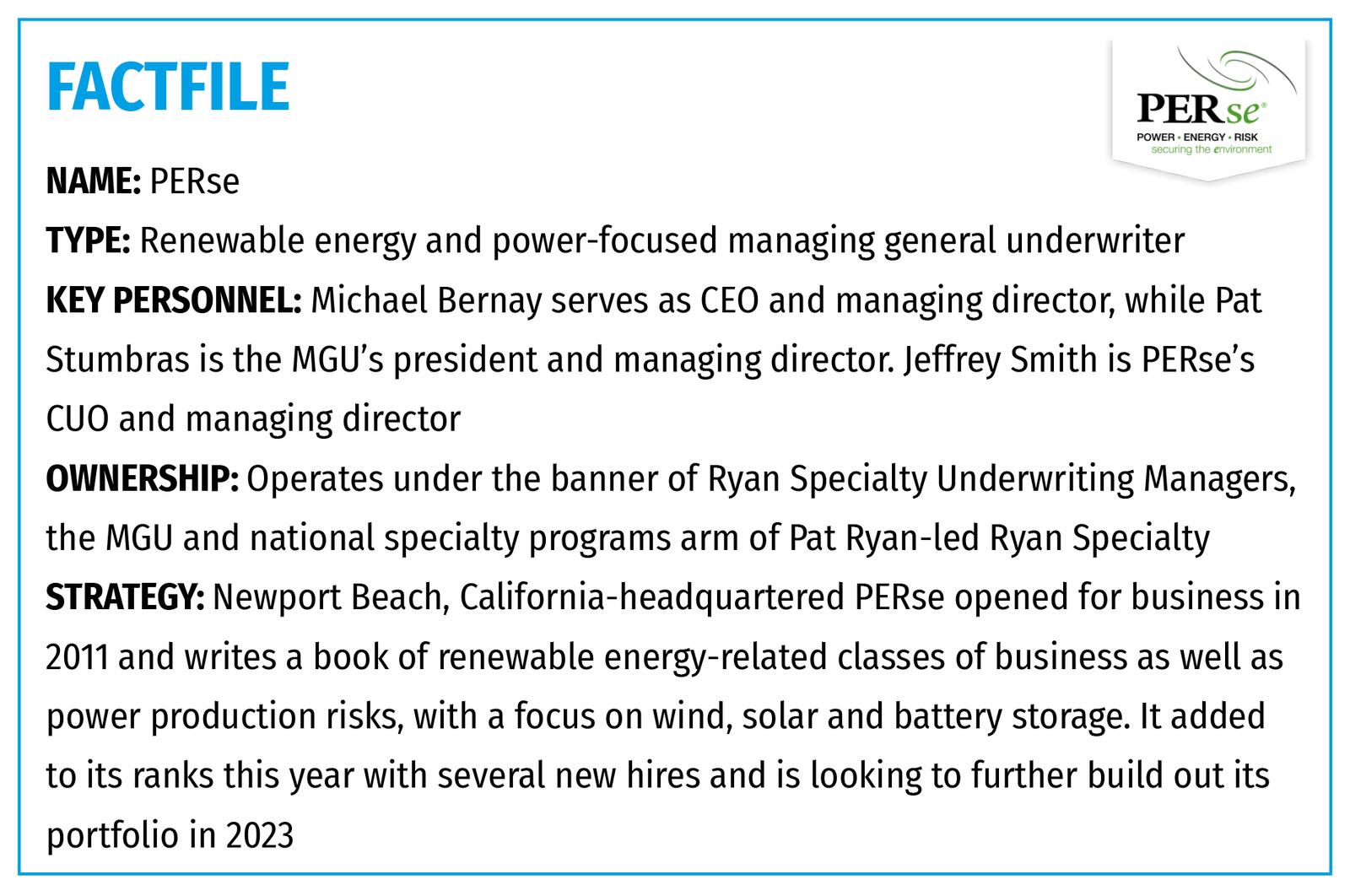 Bernay, along with PERse president Pat Stumbras, have both long been involved with the renewables market. In Bernay's case, he wrote his first wind energy insurance coverage in the 1980s.
In the early days of their renewables insurance careers, little attention was paid to the specialist energy market, with interest instead focused on oil and gas, and other more traditional forms of power generation.
Fast-forward to the present day, and renewables is front and centre for most energy industry companies, and has sparked significant interest from the insurance industry too, in part because making a play in the space also supports brokers' and carriers' ESG commitments.
However, a limited supply of knowledgeable talent in the space has to an extent restricted its growth, while some carriers have sought to establish a foothold in the sector without having the underwriting experience to do so, with traditional oil and gas underwriters tasked with building out a portfolio without truly understanding the exposures. That has led some markets to enter and subsequently exit.
Coverage gap concerns
"We're seeing more people jump into the renewables construction space than we've ever seen before," said Stumbras.
"But if they're not writing the operational, there can be a lot of coverage gaps pre-handover to operators," he explained. "People are trying to make a buck where they can, but the client and the broker need to make sure they're tying up all the loose ends."
The executive commented that renewables has always been a prototypical space because of its growth and the pace of technology change.
"You need an engineering staff with their finger on the pulse … otherwise you're just going to get left behind, and you'll learn the hard way," Stumbras added.
Bernay said some energy insurance teams are making moves into renewables owing to pressure from above.
"The message from boardrooms has been, 'You've got to get into ESG and you need to get into the renewable markets'. And [the underwriters] have no clue … They get into it and find out it's not what they were expecting.
"I've always told the markets that support us – the capital providers – that if you're going to get into renewables, expect losses. Oftentimes, the way you handle those losses and the way you mitigate those losses is going to be your success in the long term," Bernay stated.
"That's partially how we've made our name because we understand that and we're prepared for it – it doesn't surprise us. But I think that's more the case now than it's ever been," he said.
"There's no doubt that everybody wants to get into [renewables] in some form or some fashion, and one of the things that we bring to the table is experience and history, and being able to tell clients what happened before. It is valuable, and we think it gives us an advantage when we start evaluating and underwriting," Bernay added.
Pricing pressure
The increased interest in renewables is hampering the market's ability to return profit to capital providers, however.
After a series of significant losses, carriers pulled back from writing renewables and pricing began ticking up in 2020. Those elevated rates continued through 2021 and the first quarter of 2022.
But the improved pricing dynamics, along with the promise from governments, energy and power companies to invest in the sector to support the transition to net zero, means that more capacity has entered the specialist market, once again squeezing rates.
"The marketplace has come back," said Bernay.
"If you're new to the game, the easiest thing to do is put down a cheap price and we've seen a lot of that in 2022. The last six months we've seen terms and conditions that have no place to be in the market," Bernay stated.
Despite the renewable energy insurance sector suffering several hundred millions of dollars of losses from hail storms this year, as well as a significant claim from a large battery storage project site, the pressure on pricing remains.
"[The market has] got plenty of losses out there that need to be paid," said Bernay.
The terms and conditions being offered by new entrants are irresponsible "to a certain degree", he suggested.
"We've been very disciplined in 2022 and held tight to where our terms and conditions need to be, and I think that's going to only make us stronger going forward and we are, along with our capital providers, going to benefit from that."
QS conundrum
Given the mounting size and scale of renewable projects, insurance coverages are increasingly being written on a quota share basis, but that too can cause problems when filling out programs, especially when leads are being placed in a competitive market like London.
"We've got some markets that are putting up a 10 percent quota share with very aggressive terms and conditions, and then all of a sudden, the broker says, 'Here's our lead, you need to follow that'.
"But they're only putting up 10 percent. If you want our capacity to fill 50 percent of the program, we're not going to put it up at the same terms and conditions as a 10 percent line," said Bernay.
"You don't pick your lead by the best terms. You pick it based on the capacity that can be put up and what they bring to the table with claims and other value-added offerings.
"But too often in our space, the lead is a miniscule line that's put down with terms that no one else wants to follow, and it just doesn't make sense," he added.