Airline insurers positioned for rate rises after oversubscribed Q4: WTW
The fourth quarter airline renewals saw insurers "jostle for position" as they vied to maintain and, in some cases, increase line sizes on slips in preparation for when possible rate rises feed through to the primary market, WTW's John Rooley told this publication.
In an interview with The Insurer, the broker's CEO of global aerospace explained that insurers approached the Q4 2022 hull and liability airline renewals as an opportunity to increase or hold on to market share amid plentiful capacity.
Rooley said the positioning during the fourth quarter – when roughly two thirds of global airlines renew their insurance – came as insurers were handed increased reinsurance costs for their aviation portfolios.
In addition, he noted many airline insurers face the prospect of multi-billion-dollar losses from aircraft lessors for claims stemming from seized aircraft in Russia, with the market closely monitoring a number of cases as they make their way through the courts in various jurisdictions.
"The hull and liability market was soft in Q4 and we saw rate reductions for certain clients with good loss records and a good story to tell," he said.
"That was really because the insurers were positioning themselves to have the line sizes on the preferred accounts that they wanted, for if and when the rate change occurs," Rooley explained.
"It's almost like a game of musical chairs, there's not enough business to go around to satisfy everyone's demand. In order to anticipate the fact that there will be rate change, people were trying to secure their chairs early, so people were willing to do deals early to secure their line size," he continued.
But Rooley said it was unlikely the renewal experience would be repeated for buyers, with increased reinsurance costs for primary insurers expected to be passed on to airlines.
"Going into this year, by late spring/summer we've almost done a full cycle of the reinsurance renewals. Nearly everybody has taken increases and higher retentions on their renewals, they're already starting to feel that pain, and we are seeing some underwriters reacting to it," he said.
"We've seen that the reinsurance market is passing on larger retentions to direct insurers, and we're also seeing more scrutiny, particularly on coverage for risks with aggregation issues," Rooley continued.
Rooley added that for insurers with relatively modest sized aviation books higher retention levels may become a prohibitive element underwriting airline risks going forward.
"If you're a small Lloyd's syndicate or company and you're writing only a book of $30mn to $50mn in premium, your reinsurance costs are a significant share of your outgoing costs," he explained.
"If you're suddenly being asked to retain your share of the first $350mn of any one loss, that makes you question whether you can actually continue doing business," Rooley said.
Rooley said increased reinsurance costs threatened to create a divergence in the market between smaller airline insurers, where the impact was "very significant", and large insurers, where retention levels on programs are typically already higher.
"For the larger insurers, this will be a change they can absorb more easily. For them, this might be a positive development, because they can look at the pressure that's going to be applied to small companies – which might lead to them exiting – which means prices will rise," he explained.
While he noted the impact of these reinsurance changes "hasn't yet really been seen" with the exception of hull war, Rooley said if there are any withdrawals from the market, it probably will be amongst smaller companies that write relatively modest books of business.
"For some, reinsurance costs will become a prohibitive element of their cost of doing business, which could mean it's not worth continuing," he said.
As this publication tracked, airline capacity was bolstered last year through the entrance of
Everest Re, with the insurer building out its aviation team to underwrite a portfolio of airline, general aviation and aerospace risks.
Lancashire also strengthened its position in the airline insurance market last year after hiring experienced Chubb aviation underwriter Angus Roberts. Elsewhere, Tokio Marine Kiln has been building out its aviation unit.
Rooley noted there was also a lot of "dormant capacity" where insurers were not writing their maximum line size. He added that if rate change occurs in the hull and liability segment, it is "inevitable" that more capacity will be attracted to the airline sector.
"You've got companies such as Berkshire Hathaway who are notorious for being attracted to markets with massive rate change," he said.
Russia losses
Rooley said that 2023 should bring some clarity to the legal cases launched by aircraft leasing firms against insurers since the commencement of the Russia-Ukraine crisis. This involves claims over the loss of hundreds of planes stuck in Russia since Moscow's invasion of Ukraine.
With the number of claims continuing to mount this year – which analysis by The Insurer earlier this month pegged at close to $7bn – Rooley said where/if these losses fall within the aviation insurance market would have a "significant impact" on the market.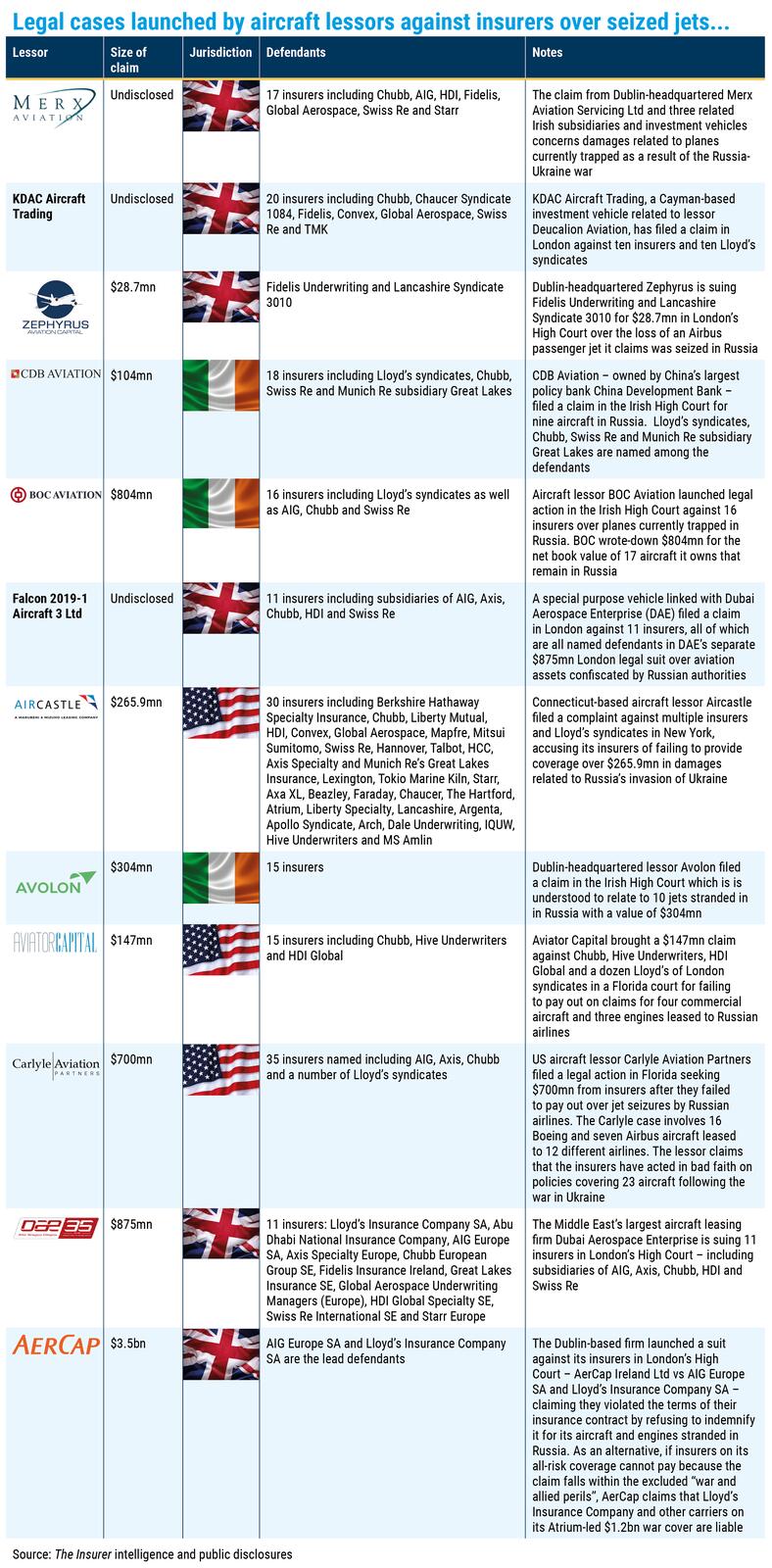 "If they fall in the war market, which most people anticipate they will, we'll continue to see significant rate change in hull war," he said.
"If something falls upon the hull and liability market, we'll probably see a pronounced rate change in the airline market, possibly as high as say 30 percent," he continued.
"If things continue for a while with no reserves being posted, and it continues to be litigated, we expect the market to remain favourable for customers. Some small rate change might occur on some airlines, but it's not clear yet what the pattern will be as it's quite early into the year."
Rooley said that while airline renewal activity was fairly muted in the first quarter of the year, the market would be tested at 1 April when some meaningfully sized accounts come to the market.
WTW aerospace build-out
Rooley expressed optimism that WTW had "bounced back" following some of the troubles the business experienced in the wake of its failed combination with Aon in 2021.
"There definitely seems to be a bit of a mojo around business at the moment. We're enjoying this moment, it's attracting clients and staff and helping to retain people," Rooley told The Insurer.
Earlier this month, this publication revealed that WTW had replaced Marsh as the lead broker on the Bombardier aerospace account following an RFP.
The Insurer also revealed that WTW had won the aerospace manufacturing account Embraer from Ardonagh's Piiq following a competitive tender process.
WTW is also understood to have won the Aircastle lessor account from Aon.
Meanwhile, WTW has been building out its staff roster with the hires of Piiq duo Dario Mulas Debois and Anne-Laure Rosenwald, three months after appointing former Piiq partner and Marsh aerospace practice leader Oyin Heath as managing director within the global aerospace unit.
Around this time, Michael Holt was re-hired as associate director, client relationship management after a short stint at McGill and Partners, while Epic aviation practice leader Terry Rolfe joined as director of client relationship management within the aerospace business.
"Last year, across the group we had a net positive contribution in terms of staff. In aerospace in particular, we've been accelerating that," Rooley said.
"Two years ago, we committed to building a diverse client-facing global team that would be able to help us deliver on that growth. Over the last couple of years, we've hired over 50 new staff."