State Farm and Allstate's California retreat down to both climate and regulation
The underlying causes of the California homeowners insurance market crisis – which has seen both State Farm and Allstate pause writing new business in the state – are not the California Department of Insurance (CDI)'s fault, but the regulator is making it worse and needs to take action on rates if more carriers are not to flee the Golden State.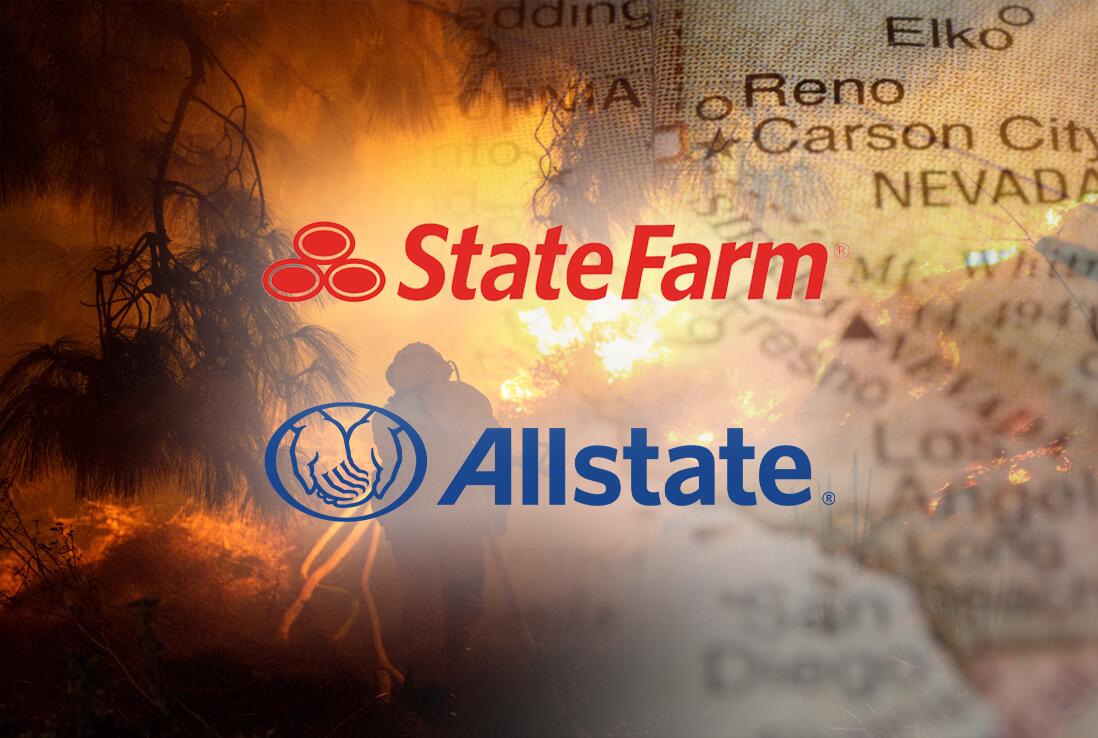 The fallout from State Farm's announcement near the end of May that it has suspended writing new commercial and personal lines business in California other than personal auto continues to reverberate, with fingers being pointed in various directions about who is to blame for the problems in the market.
Clearly, State Farm's decision is a symptom and not the cause of the crisis.
It has been widely reported since then that Allstate also quietly stopped offering new policies in California last year. These come on the back of AIG and Chubb also reducing their appetite for writing California homeowners insurance recently, at least on an admitted basis.
Insurers of the size of these two companies do not take decisions like this lightly, and do not give up market share unless they think they have to.
According to Fitch, State Farm was the top California homeowners insurer last year with $2.56bn in direct written premium and a 20.6 percent market, while Allstate was fifth with $792mn and a 6.4 percent share.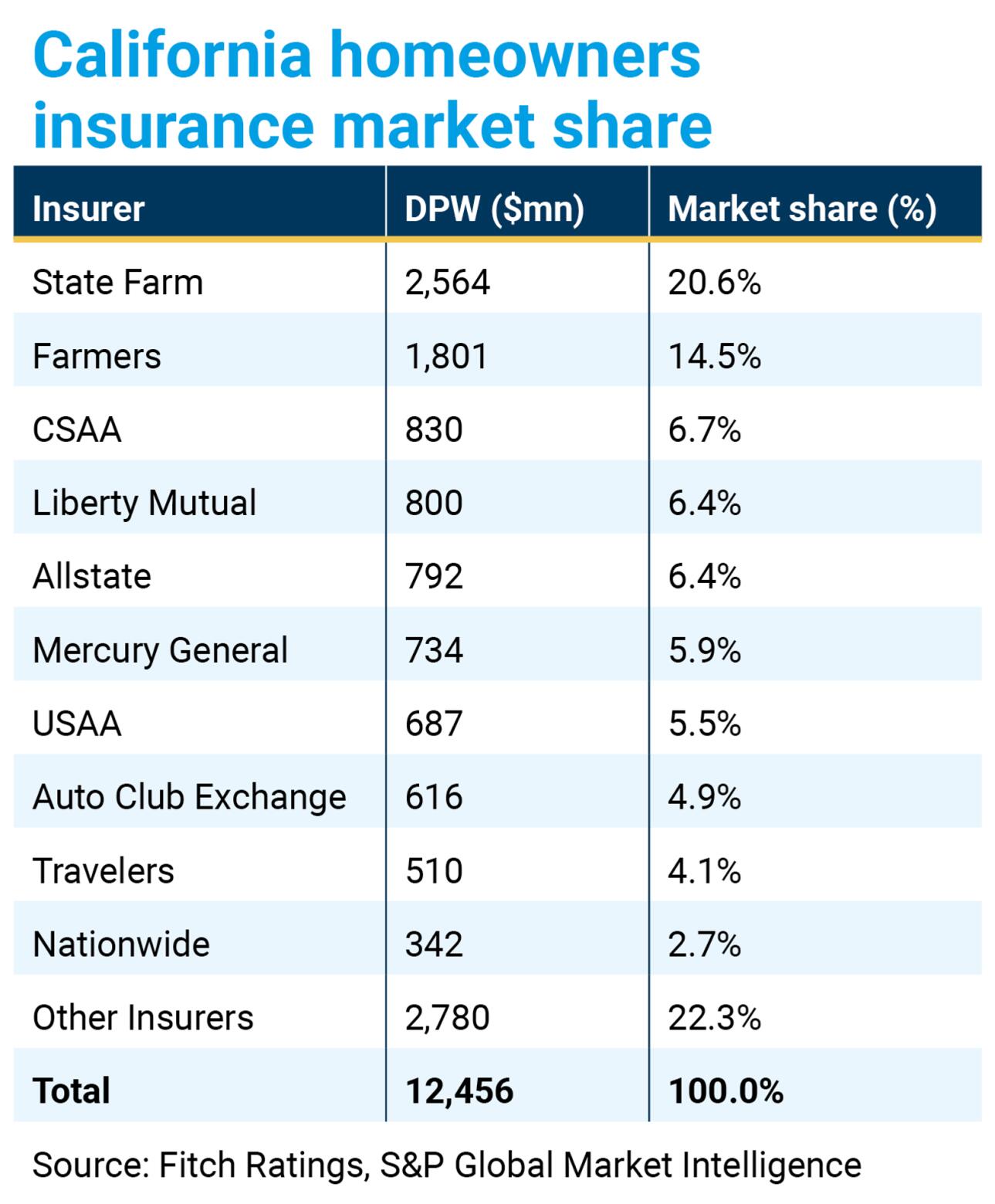 State Farm said its decision was made due "to historic increases in construction costs outpacing inflation, rapidly growing catastrophe exposure and a challenging reinsurance market".
The insurer said it recognised the CDI's wildfire loss mitigation efforts, and pledged to "work constructively" with the regulator and policymakers to help build market capacity in California.
For its part, the CDI in a consumer alert issued last week stated: "The factors driving State Farm's decision are beyond our control – climate change challenges, higher reinsurance costs affecting the entire insurance industry and global inflation."
This may be true but those factors are also beyond insurers' control and regulatory restraints mean they cannot adjust pricing to reflect the new reality.
This issue has been highlighted by the insurers that have felt compelled to take action.
An Allstate statement to the New York Times last week said: "We paused new homeowners, condo and commercial insurance policies in California last year so we can continue to protect current customers. The cost to insure new home customers in California is far higher than the price they would pay for policies due to wildfires, higher costs for repairing homes and higher reinsurance premiums."
Allstate also cited state regulations and inflation as factors in the decision.
More rate increases desperately needed
What is in the CDI's control is to allow rates to come closer to where they need to be. The impact this would have on insurance buyers would be significant, however.
The Los Angeles Times reported that State Farm had been seeking a 28 percent hike on homeowners insurance in California while Allstate had filed for a 39.6 percent increase.
The American Property Casualty Insurance Association (APCIA) responded to State Farm's announcement by highlighting California's outdated regulations.
Mark Sektnan, APCIA vice president for state government relations, noted that California insurers operate under an outdated 1988 statute and regulatory structure that does not allow them to adapt to today's increased risks driven by climate change.
Sektnan added insurers "need greater stability and regulatory flexibility to navigate the current difficult market conditions and manage rapidly evolving risk, including potential solvency-related threats".
The first step is making sure insurers can charge rates that reflect the increasing risk of loss, Sektnan said, noting that the CDI is working on this.
"Next, we need to allow admitted insurers to include the cost of reinsurance in their rates and use forward-looking probabilistic models to accurately assess future risk. Finally, we all have one common goal: mitigate properties and reduce the risk," he said.
The CDI in its consumer alert looked to suggest that State Farm is an outlier.
The regulator highlighted that there are around 115 insurance companies continuing to write residential policies throughout the state, depending on the particular features of the home, the home's wildfire risk score and the community in which it resides.
But more carriers are surely likely to retreat from the market if the situation stays the same.
As our sister publication E&S Insurer noted in a comment last week, the situation creates an opportunity for E&S carriers. This may help but it will not solve the issue.
The CDI also noted that the FAIR Plan is also available to offer insurance of last resort, offering up to $3mn coverage for homeowners and, later this year, will offer up to $20mn in commercial insurance coverage for businesses, homeowners associations, condominium complexes and others.
This is true also, but the plan is already overburdened and the coverage available is not an adequate replacement for a healthy, functioning insurance market.
"The California Department of Insurance is focused on what we can control – the safety of our homes and communities," the CDI alert said. "We have been here before after major wildfires. What's different is the actions that we're taking – the first-ever insurance discount program for wildfire safety and unprecedented wildfire mitigation investments from the state legislature and governor."
The CDI highlighted a series of actions it has taken, including mandating carriers to recognise and reward wildfire safety and litigation efforts made by homeowners and businesses, and reforms to the FAIR Plan.
But without letting insurers charge adequate rates, dysfunction will not disappear from the market.
The homeowners market is not the only source of friction between insurers and the CDI at the moment.
The inability to increase auto rates in California because of regulatory restraints has also been a big issue in that line.
Last year Berkshire Hathaway-owned Geico shuttered its 38 agent offices in California and said it will no longer sell auto coverage over the phone in the Golden State, while Kemper CEO Joseph Lacher warned that the state's auto market could "seize up" because of continued rate filing pushbacks.