Monte Carlo 2019: Monday edition
Welcome to the second day of our coverage from the 2019 Monte Carlo Rendez-Vous! 
We are delighted to provide you with the Monday electronic copy of The Insurer's daily Monte Carlo edition. Here you will find the latest news, analysis and intelligence from our team of journalists and analysts attending the Rendez-Vous.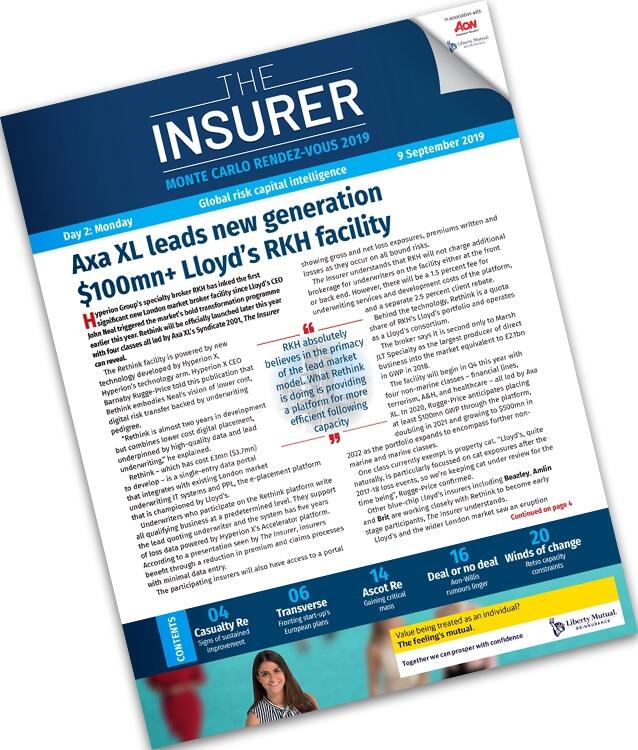 NEWS
Axa XL leads new generation $100mn+ Lloyd's RKH facility
Hyperion Group's specialty broker RKH has inked the first significant new London market broker facility
Program start-up Transverse targets European platform
Start-up Transverse Insurance Company is set to build a European platform as part of its ambitious plans to become a global hybrid fronting carrier
Dorian adds pressure to tightening property cat market
Even moderate insured losses from the Bahamas devastation and East coast grind will strengthen reinsurer resolve
Ascot Re gains critical mass in Bermuda
CPPIB-backed reinsurance platform is beginning to see traction after a slow start
ANALYSIS
Improving casualty reinsurance market shows signs of sustainability
Why casualty underwriters are becoming increasingly optimistic 
Paris' ILS ambition reignites 1,000 years of cross-channel rivalry
Efforts by Paris to establish itself as an onshore ILS hub to rival London
Brokerage is the major drag on Lloyd's declining results
Analysis by The Insurer illustrates how Lloyd's acquisition ratios are impacting the performance of the market
INTERVIEWS
Managing the winds of change in the reinsurance market
CEO of Global Specialties at Guy Carpenter James Boyce on the outlook for 1.1, the supply and demand of retro and how the integration with JLT is progressing
The ever-increasing value of reinsurance
Willis Re Global CEO James Kent on why the value of quality reinsurance has never been higher 
Talal Al Zain: the man rebuilding Trust…
The newly appointed CEO of Trust Re shares his plans on how he intends to turnaround the Middle Eastern carrier 
Capsicum Re sets course for US expansion in 2020
Chief exec Rupert Swallow confirms the reinsurance broker is in talks with Gallagher
Scor Global P&C chief executive Jean-Paul Conoscente outlines how reinsurers are responding to the evolving risk universe
Xceedance enables growth for insurance organisations
Travis MacMillian on the role the company plays as a strategic partner to the industry
COMMENT AND OPINION
Investor appetite will shape 1.1 renewals
Mike Van Slooten, head of business intelligence at Aon on how the past few years are testing the ILS market's mettle
Paul Corver, R&Q's head of M&A shares what is in the pipeline for the legacy acquirer
John Neal's tough job in meeting the high targets he has set
Revolutionary marine insurtech has arrived
EY's Ian Meadows outlines how blockchain an AI can be harnessed in marine insurance
Securing the talent pipeline in reinsurance
Dieter Winkel, president of Liberty Mutual Re talks about the importance of attracting – and retaining – talent to the industry 
QBE Re's deputy chief underwriting officer Steve Postlewhite talks strategy and the outlook for the market
Delivering modelling data insights to all
RMS' Shaheen Razzaq highlights the potential benefits of democratization
Why understanding the flow of money can help to manage your exposure
Russell Group explains how macro-economic trends can impact the (re)insurance industry
Freddie Mac Partnering with the (re)insurance business for the long haul
Vice president of single-family credit risk transfer at Freddie Mac on what lies ahead for CRT