Distribution: Retailers and wholesalers now more strategically aligned as focus shifts to segment specialisation
Relationships between wholesale brokers and their retailer clients have evolved from being more transactional in nature to standing "shoulder to shoulder", with strategic alignment in areas like industry specialisation and increasingly segment specialisation, according to panellists at last week's E&S Insurer conference.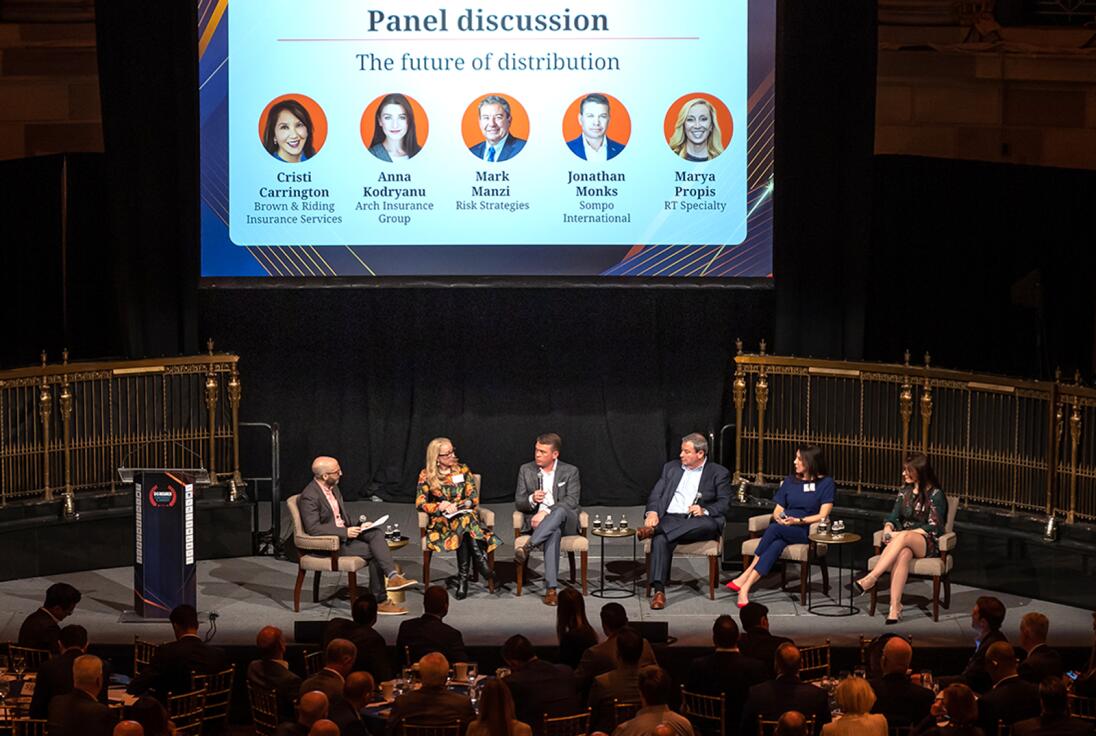 And carriers with dual distribution models have also sought more strategic dialogue with wholesalers to be more targeted in their approach to the E&S market as they manage high volumes of submissions.
Speaking on the Future of Distribution panel at Gotham Hall in Midtown Manhattan, Marya Propis, executive vice president for retail distribution at RT Specialty, said it was key for wholesalers to be aligned with their retailers' go-to-market strategy.
"I think everyone has accepted industry specialisation, that's table stakes and we're all committed to the industry specialisation model.
"But segment specialisation is where we see retailers changing their go-to-market strategy – so the micro, the small and the middle market segments domestically as well," she observed.
The executive suggested that significantly more of the business from the segments those sized clients are operating in is now coming into the E&S channel.
"It's really important there to understand how our retail clients are thinking about optimising and creating new value for the non-Fortune 1000 or non-major account clients," she added.
Wholesalers also need to be on top of retail brokers' product needs, and deliver product innovation and more solutions, acting as a wholesale partner to bring those solutions to the clients of retailers.
"That's where we've seen the explosive growth in the delegated authority space. The prevalence of programs, MGAs, MGUs … and understanding how we can bring those solutions in really smart ways to retailers, not overwhelm them with product choice but help them be more successful in their dynamic change environment is very important," she continued.
Brown & Riding's chief distribution officer Cristi Carrington said there has been dramatic change in the relationship between retailers and wholesalers over the last five years.
"There's so much change going on with our retailers, and so many more challenges that they have to face than ever before. Wholesalers really have that value-add to not just give them options, but help guide them through that process," Carrington commented.
She said it is here where wholesale brokers shine for their retail clients, including through the expertise they can provide.
And Mark Manzi, national brokerage leader at Risk Strategies, said that from a retail broker's perspective the transformation over the last five, 15 or 20 years has been "amazing to see", with the wholesaler no longer viewed solely as only a provider of transactional brokerage capabilities.
"Today wholesalers are partners shoulder to shoulder with retail brokers," he suggested.
This is particularly true in the current trading environment, where placements in many segments require a significantly larger number of carriers to complete than they did only a few years ago.
"Now you need to have your wholesale brokers and I use the word partner … it's really important to be a partner with your wholesaler. It's about the value they bring to that retail broker and the ultimate client today more than ever," said the executive.

From the carrier side of the sector, Sompo International's executive vice president for business development Jon Monks also pointed to the greater level of strategic dialogue with trading partners and the opportunities presented by the evolution of specialisation in the wholesale channel.
"From the strategic dialogue perspective, the consolidation of the channel and the investments our partners have made in data have really allowed us to unlock micro segments of a portfolio or by distribution whether on a geographic basis or by product specialties.
"That level of dialogue and our ability to get to the business that we're actually after, as opposed to sorting through submissions sent to us has really changed. We've been a big beneficiary of that and wholesale continues to be our fastest growing channel," said Monks.
And Anna Kodryanu, vice president for national distribution – wholesale at Arch Insurance Group, echoed comments about the transition from more of a transactional relationship to one where wholesalers have become more specialised in their expertise.
Kodryanu, who recently moved to Arch from Burns & Wilcox, said wholesalers have had to become a lot more specialised to understand how the market is changing, and insurance underwriters have also become a lot more sophisticated.
And she suggested there is now greater collaboration as wholesalers, retailers and underwriters grapple with hard market conditions – in many cases for the first time in their careers.
"One of the words I would like to use to describe the industry and how it has changed is transparency. When I started we were very guarded. We were extremely competitive, and we still are.
"But I think competition has become a lot healthier in the sense that we're looking to reach out to our colleagues and friends that have more experience to make sure that the deal gets done," she observed.
The buy-sell cycle
As well as having to manage a hard insurance market – especially for property cat – wholesalers have had to navigate the "buy-sell cycle", with the mass of consolidation in the retail brokerage space such that the composition and ownership of some clients has shifted significantly.
"I think for wholesalers and carriers we've really had to learn how to manage through the buy-sell cycle in the retail channel," said Propis.
"Literally every retailer we are working with today is either acquiring or they were just acquired, or they're getting ready, potentially, to be acquired.
"I mean most of the retailers we're working with today just got a new boss or a new set of priorities in the past couple of years. That can be very disruptive for our retail clients. And that's where I think wholesalers can really shine because we love disruption," said Propis.
She added that the sector thrives on turning disruption into opportunity for its retail clients.
A big part of that change has been driven by the emergence of the private equity (PE)-backed consolidators in recent years, with an estimated 41 PE-backed retailers currently seeking to execute acquisition strategies.
Propis suggested the PE-backed retailers are "a lot of fun to work with", providing opportunities for wholesalers to help them focus on organic growth versus just acquired growth.
Carrington suggested that despite the PE takeover of many retail firms and the high volume of consolidation from those platforms, new entrants keep flowing in.
She added that PE "keeps it diverse and keeps us on our toes".
Monks sought to differentiate between PE-backed integrators and aggregators among PE-backed retailers.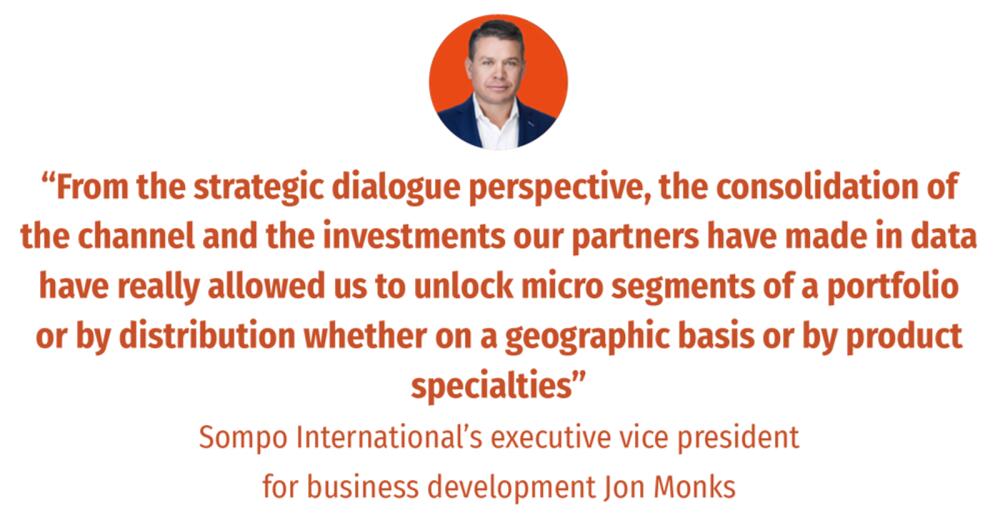 "Where you've got an integrator that's going to have a more focused placement strategy, they're going to look at wholesale consolidation, so you've got to be at the ready to respond there and really understand what whose specialties are and the channels in which that business will flow to us," he commented.
"And then from an aggregator perspective, it's really just understanding those acquisitions … in a lot of cases with some smaller acquisitions we may not know that firm at all, so is there a way for us to get a little more intel from the acquirer as to where the business is getting placed and how we should be aligning ourselves to make sure we're ready to receive it," the Sompo International executive continued.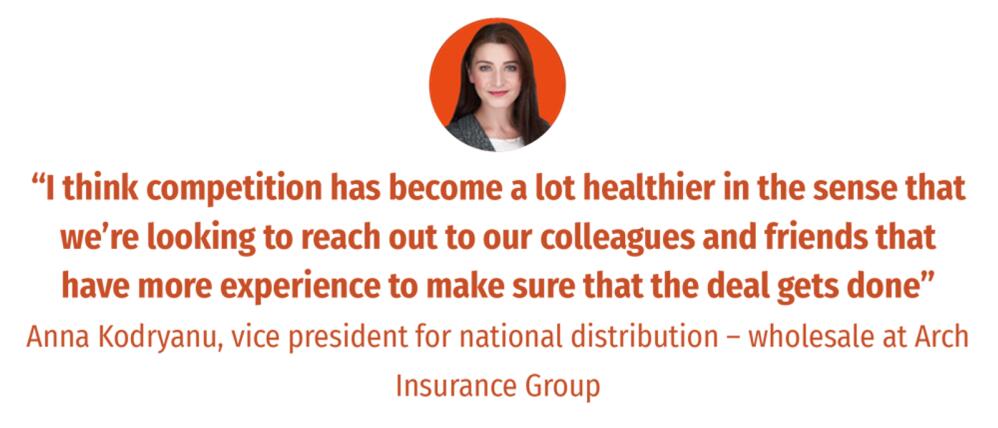 Kodryanu said that data and analytics is also becoming more prevalent, with the days of going out marketing and entertaining not as effective anymore.
"It's really got to be a lot more pointed and it's got to be a lot more strategic and product driven," she suggested.
On data and analytics she added: "It was always kind of there but you see the retail and the wholesale broker side starting to use that more and so carriers are leveraging that and using it to try to tap into the information."