APCIA 2019: Monday edition
Welcome to the second day of our coverage from the 2019 APCIA Annual Meeting!
We are delighted to provide you with the second electronic copy of The Insurer's daily American Property Casualty Insurance Association (APCIA) Annual Meeting edition. Here you will find the latest news, analysis and intelligence from our team of journalists and analysts attending the event in Boston, Massachusetts.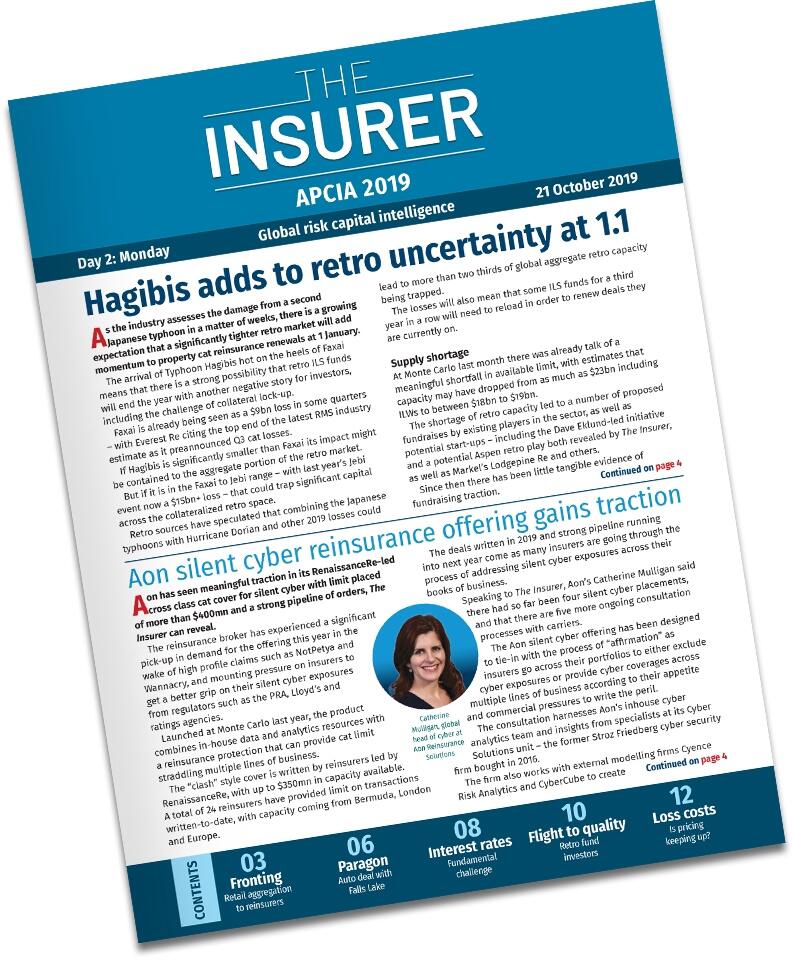 NEWS
Hagibis adds to retro uncertainty at 1.1
As the industry assesses the damage from a second Japanese typhoon in a matter of weeks, there is a growing expectation that a significantly tighter retro market will add momentum to property cat reinsurance renewals at 1 January 2020
Aon silent cyber reinsurance offering gains traction
Aon has seen meaningful traction in its RenaissanceRe-led cross class cat cover for silent cyber with limit placed of more than $400mn and a strong pipeline of orders, The Insurer can reveal
Paragon premiums head beyond $200mn with auto dealer program
EPIC and Oak Hill Capital Partners-backed MGA, Paragon Insurance Holdings, has added a meaningful book of package auto dealership program business that it is writing through fronting carrier Falls Lake with reinsurance capacity from Swiss Re, The Insurer can reveal
THE INSURER COMMENT
The retail aggregation opportunity
The program fronting model could be at the forefront of an explosion of new activity as distributors look to more efficiently bring pools of risk straight to reinsurers
INTERVIEWS
Low interest rate environment heightens need for lower combined ratios
Casualty insurers pushing for rate to catch up with loss trends must not lose sight of the long-term challenge of a low interest rate environment, according to Swiss Re's president of US P&C, Keith Wolfe
Investor flight to quality expected in tight retro market
An uncertain and increasingly tight retro market will create opportunities at 1.1 for underwriters and third-party capital managers that can demonstrate a strong track record and alignment of interest, according to RenaissanceRe's group CUO, Ross Curtis
A time of plenty in the program market
The program market is seeing strong growth but not all MGAs are created equal, according to Accredited US' Todd Campbell
OPINION
The Insurer's State of the Market APCIA Q&A October 2019
Leading executives discuss whether casualty pricing is keeping pace with loss trends and how the tightening retro market will affect 2020 property cat renewals
TigerRisk's head of North American reinsurance, Wade Gulbransen, on navigating a changing reinsurance landscape