US insurance stocks continue to lag Wall Street
The North American insurance composite compiled by investment banks Stonybrook and Weild & Co fell 2.7 percent last week, with the majority of stocks recording losses.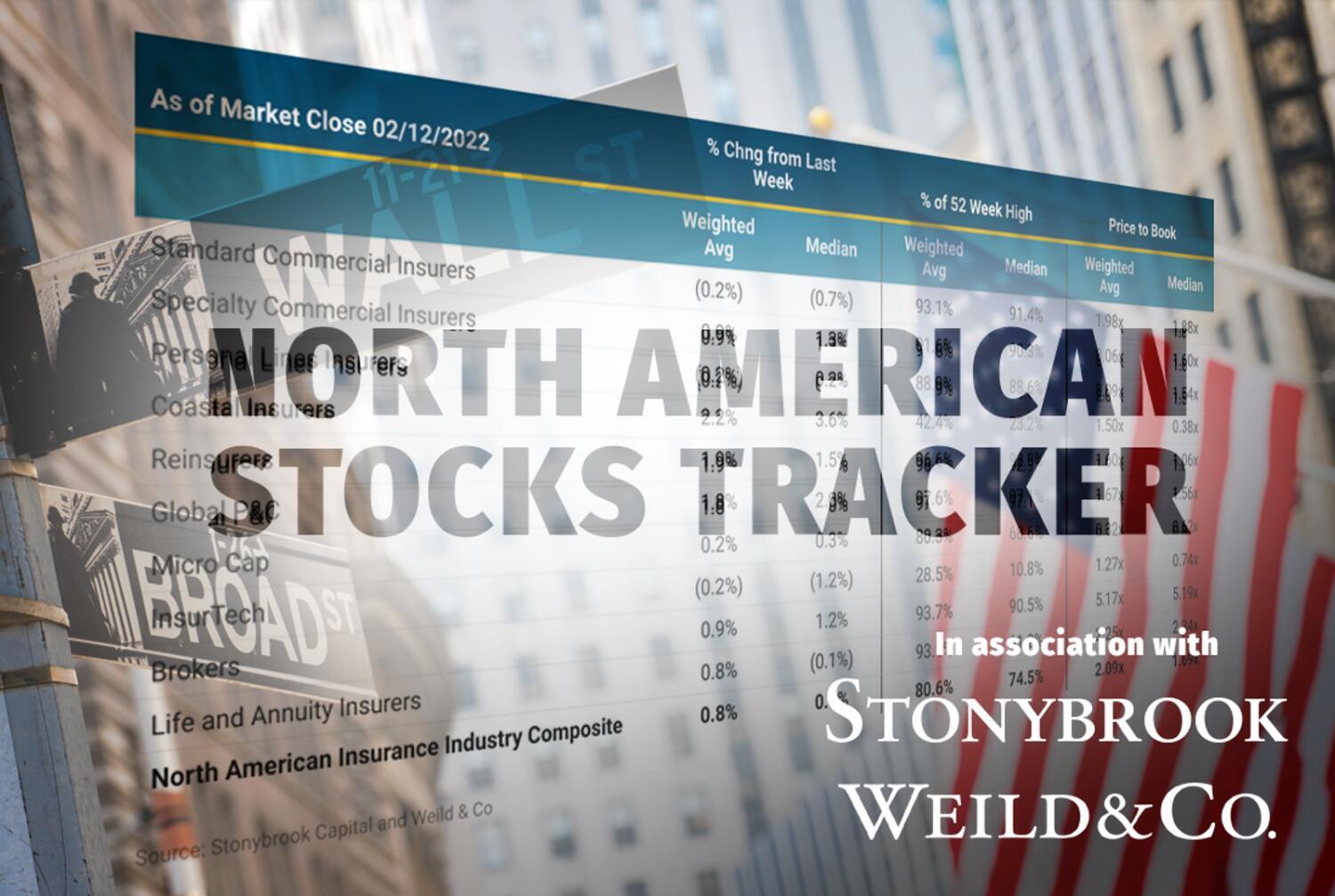 After declining throughout the week, the S&P 500 rebounded strongly on Friday to close the week down only 0.7 percent.
The Russell 2000 index fell by 1.0 percent, while the Nasdaq composite managed to end in the black, recording an increase of 0.6 percent.
Both US retail sales and industrial production data, released on Wednesday, was weaker than expected, which contributed to the market's downwards trend since the start of the week.
However, comments by Fed Governor Christopher Waller suggesting the US central bank could further slow its rate hikes supported Wall Street's rally on Friday, which was particularly beneficial for large cap companies.
Amid this background, US insurance stocks underperformed for the second week running, with only the Dow Jones Industrial trailing the Stonybrook – Weild index, with a fall of 2.8 percent.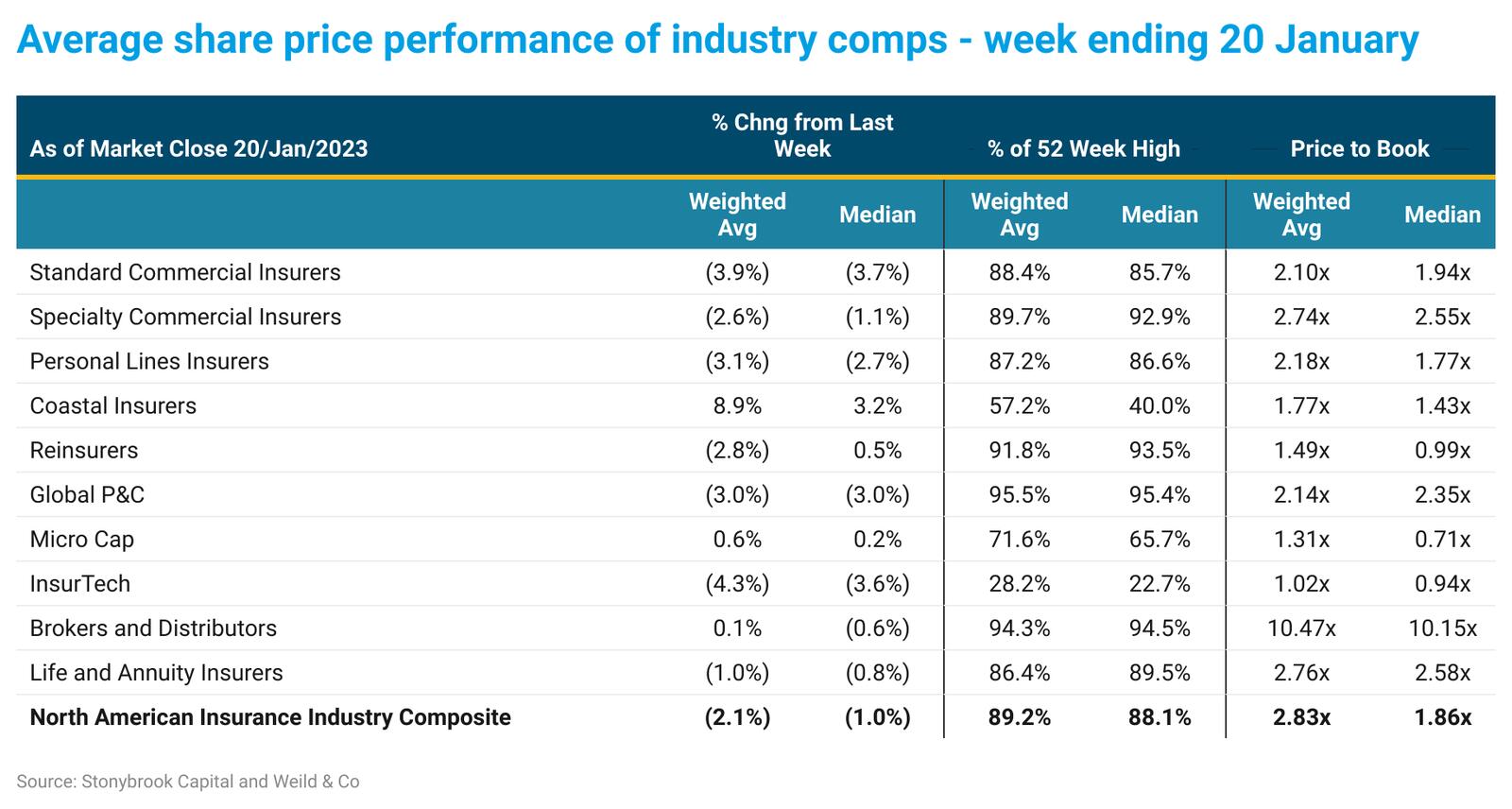 Share prices for 54 of the 87 (re)insurance companies tracked by the investment banks declined in the week.
All industry groups except for coastal insurers, micro cap segment, and brokers and distributors were down on average in the week to Friday.
Insurtech suffered the most among the industry groups, as Lemonade's 9.6 percent drop dragged the overall average to a 4.3 percent fall.
The decline was in contrast with the Nasdaq composite, which expanded 0.6 percent to settle at its highest levels since mid-December.

Standard commercial insurers were also significantly down, with a decline of 3.9 percent in the week and all eight stocks in the group recording falls.
Bellwether Travelers released preliminary results which were below consensus, setting the tone for what is expected to be a harsh earnings season for US nationals.
Shares for the Providence-based company ended the week down 4.4 percent.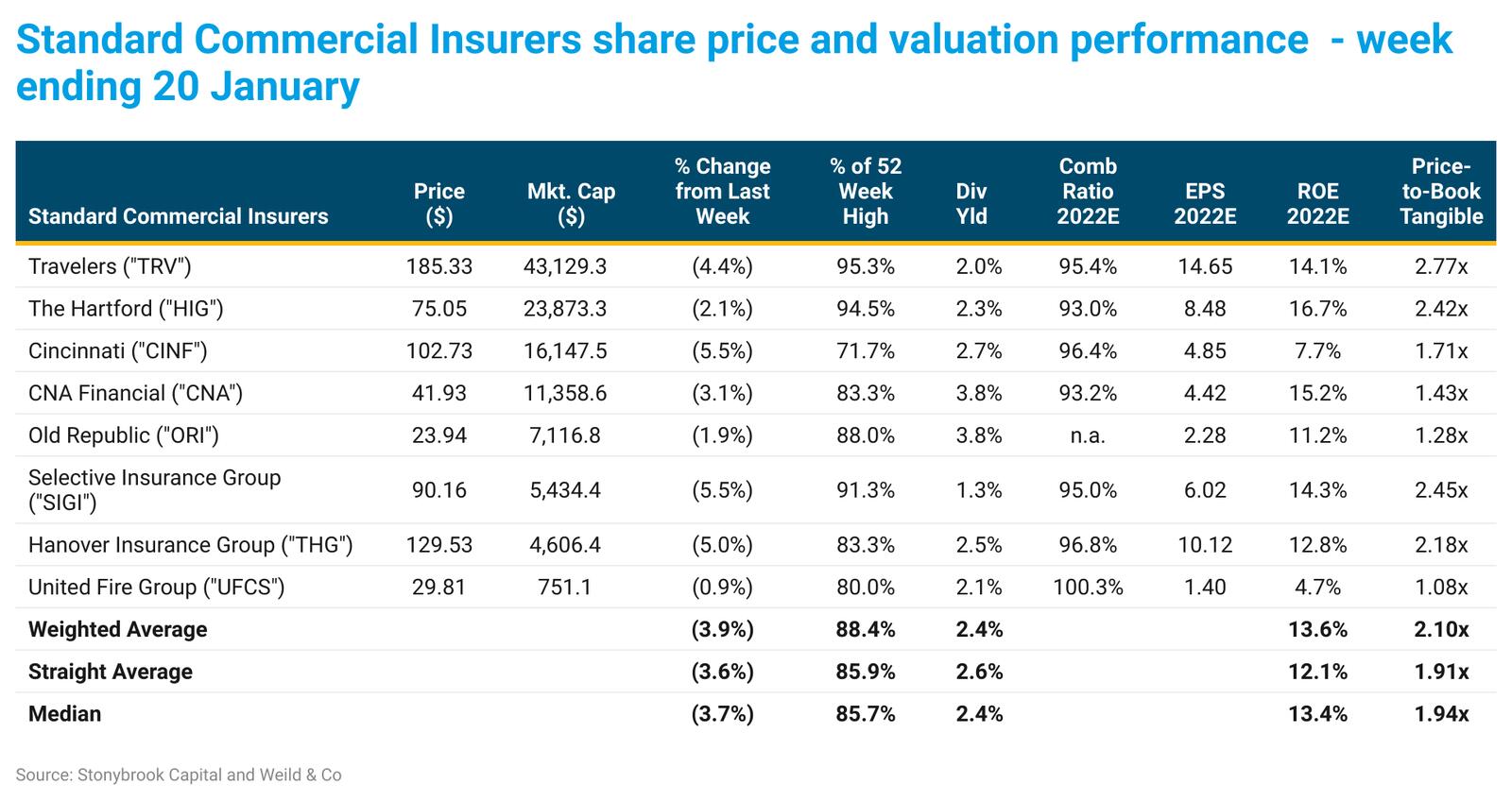 Meanwhile, specialty commercial insurers also felt the pinch, sliding 2.6 percent in the week.
Among the group, Kinsale Capital was the most affected.
Shares for the Virginia-based E&S specialist recorded a 9.1 percent fall in the week from its Friday 13 peak.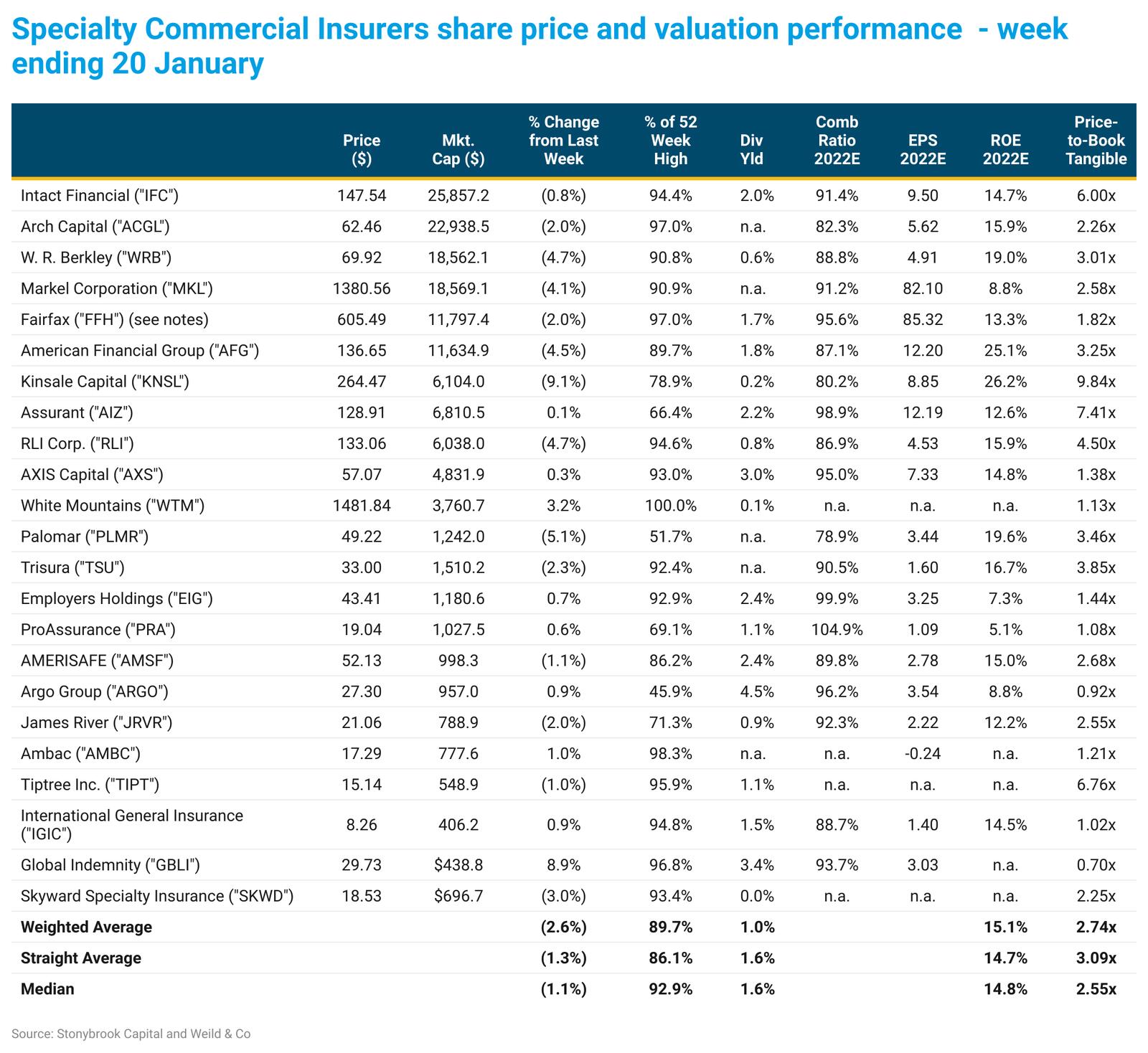 At the other end of the spectrum, the cohort of brokers managed to remain in the black in the week.
Among the group, Aon showed the most positive performance, ending the week 2.6 percent up.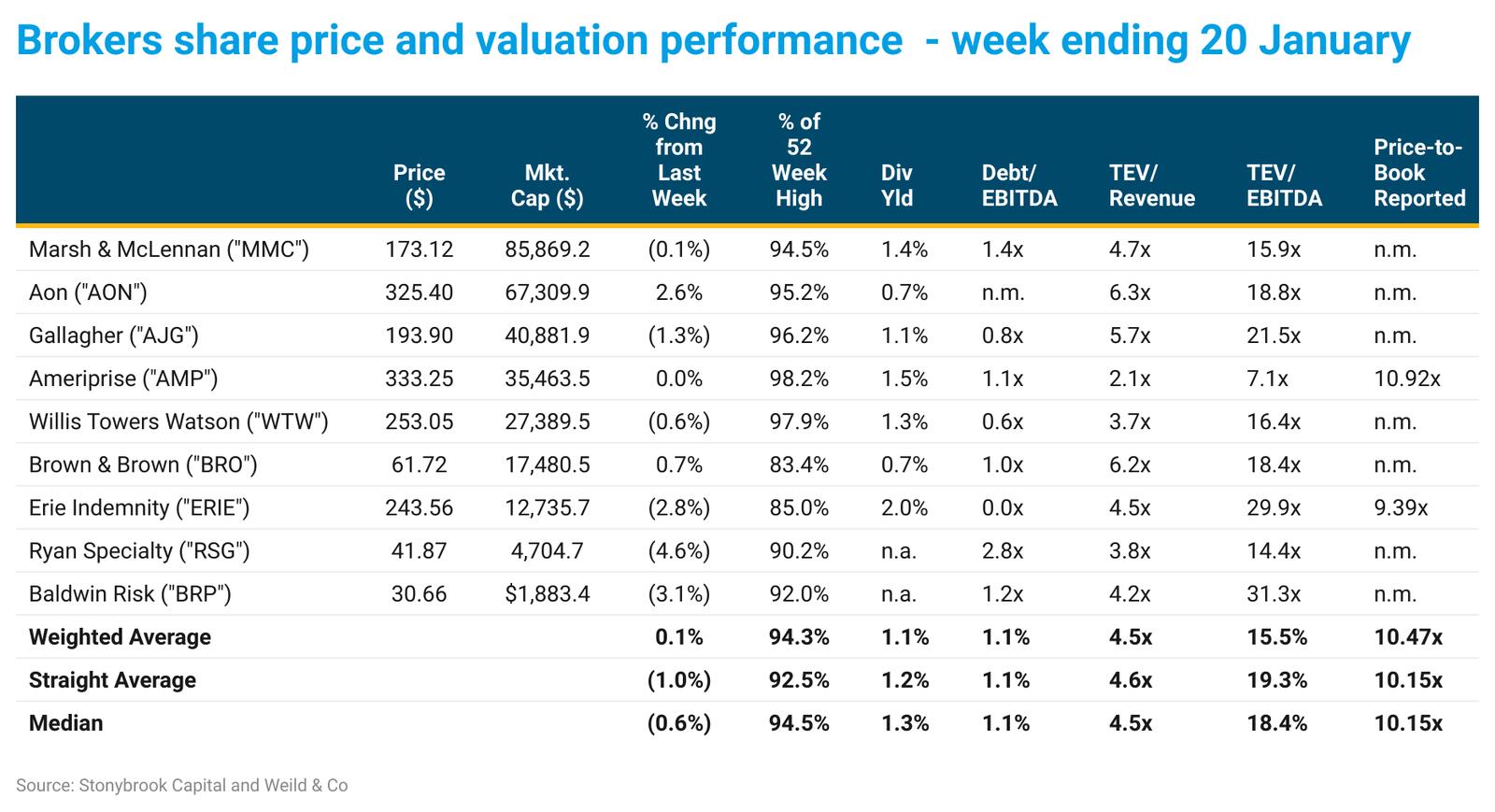 Meanwhile, Big-3 competitors Marsh McLennan and WTW slid by 0.1 percent and 0.6 percent, respectively, in the week.
Ryan Specialty, on the contrary, was least favoured in the week, falling 4.6 percent.
In this article we have included a selection of industry comp tables published in full by Stonybrook and Weild & Co in their weekly update. To view the update in full, including personal lines insurers, coastal insurers, reinsurers, micro cap segments, and life and annuity, as well as those we have featured, click here.