Top 10 reinsurance broker rankings
Reinsurance brokers are jockeying for position behind the consolidating giants of the sector…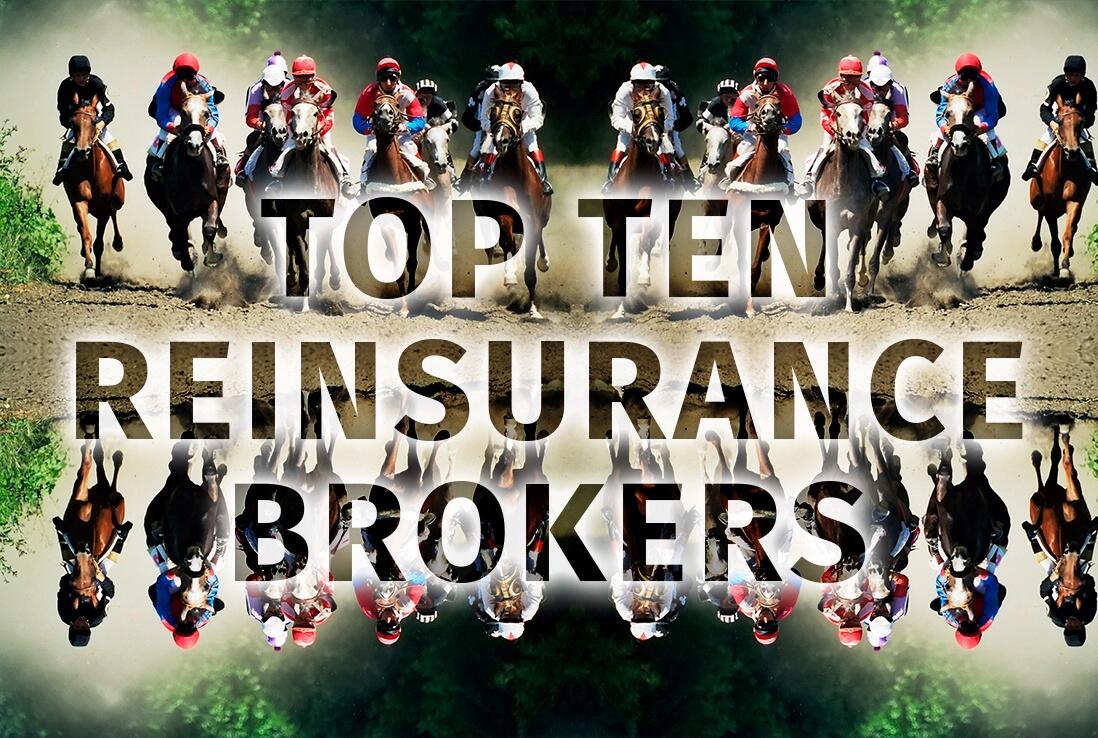 Despite the absence of the Monte Carlo Rendez-Vous this year there was a certain sense of déjà vu as The ReInsurer set about the task of putting together our latest Top 10 Reinsurance Broker Rankings.
Once again the segment is processing the implications of major M&A that will further alter the landscape and (antitrust regulators allowing) further concentrate the market share of the biggest reinsurance intermediaries.
And the second tier firms in terms of size are continuing their efforts to position themselves and capitalize on what they see as significant opportunities to grow rapidly and fill the gaps left by former number four firm JLT Re and potentially current number three Willis Re.
A cursory glance at the rankings confirms that the top seven positions are filled with the same firms, based on a comparison of 2019 to 2018 revenues.
But beneath the surface much has changed. And as with last year's survey, we look beyond the 2019 numbers to 2020 prospects as the majority of the companies that make the rankings are undergoing significant change that is expected to accelerate growth this year and beyond.
There is the impact of a rapidly changing market environment to factor in too, with hardening conditions set to provide an uplift across the board to commission-based revenues.
Meanwhile, areas of fee income such as advising on restructuring, legacy transactions and cat bonds are all set for heightened activity as insurers turn to their reinsurance brokers for solutions to address pressures on their balance sheets and free up capital to grow their own businesses.
All this is happening against the backdrop of ongoing uncertainty around Covid-19, of course.
For this year's survey, we have also undertaken an overhaul of our approach to only include revenue numbers for firms where we are confident in the breakdown of reinsurance revenues.

That means the re-entry of Holborn at number ten on our rankings list, and the addition of RKH Specialty. And there is a reclassification of Willis Re numbers to include facultative revenues which were not previously in the company's reported numbers.
We hope that this provides a more "apples-to-apples" comparison, at least among this year's big three, but we also acknowledge that the process is far from an exact science, and that what is included in some of the revenue estimates we have published may not be consistent.
No more big three?
In our rankings Guy Carpenter (and JLT Re) retains top spot based on an "as if" inclusion of JLT Re revenues for the full year 2019, recognizing that Q1 revenues estimated at $300mn at the acquired firm we have included were generated before the deal closed. We also combine the two firms' revenues in our prior-year comparison.
With the Aon-WTW transaction slated to close in the first half of 2020 and an element of uncertainty remaining over the outcome for Willis Re, we decided not to pro forma 2019 revenues as if the combination is a given.
Of course, if we had, Aon's Reinsurance Solutions merged with Willis Re would leapfrog Guy Carpenter to take the number one spot from the MMC subsidiary.
As a standalone entity, Aon reported strong organic growth in its Reinsurance Solutions business in 2019 of 10 percent, up from 7 percent in 2019.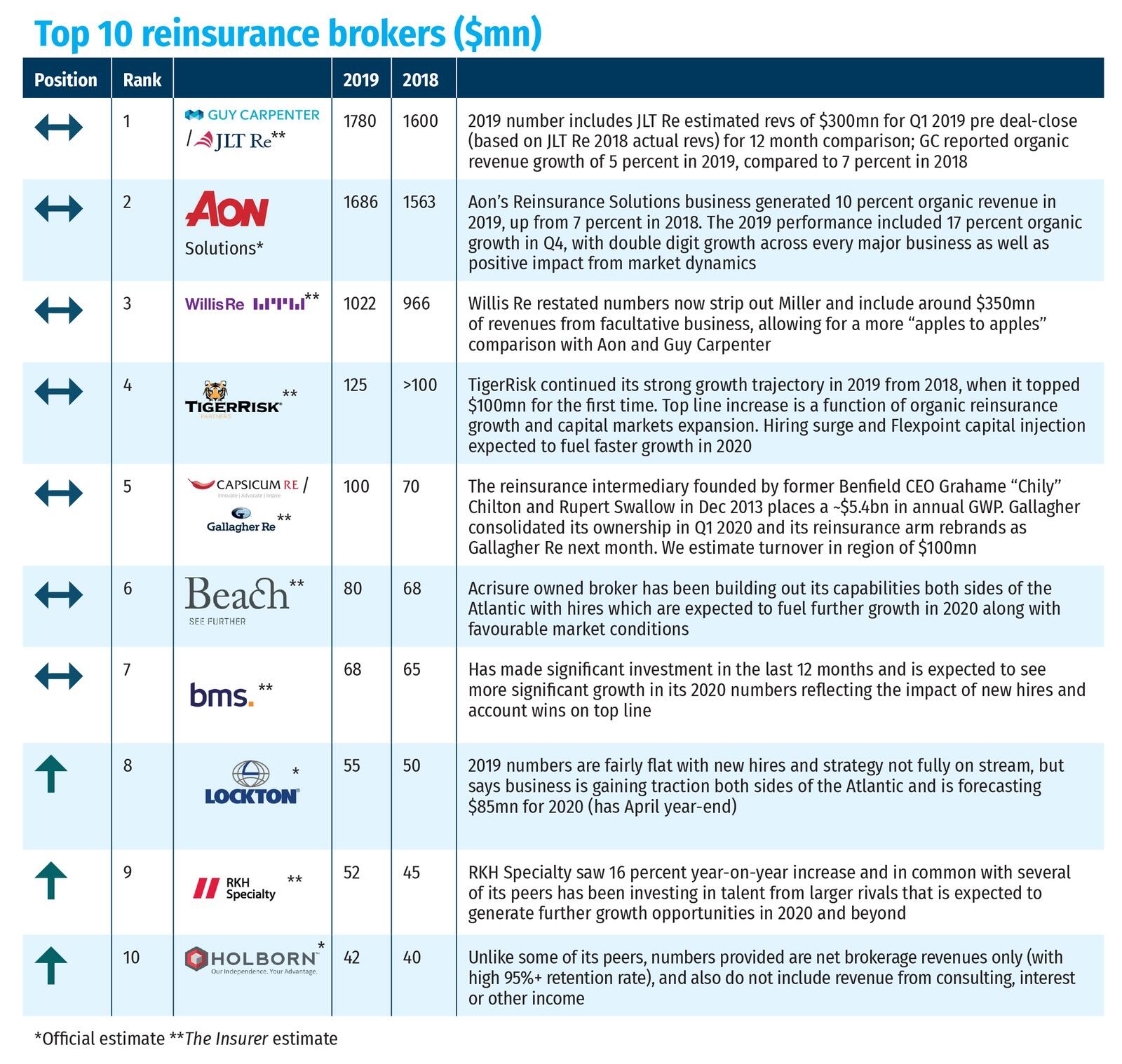 The performance included 17 percent organic growth in Q4, with double digit growth across every major business as well as a positive impact from market dynamics, said the broker in its full-year earnings.
The performance outstripped organic growth at Guy Carpenter of 5 percent last year, down from 7 percent in 2018.
Aon also looks to be on course for strong organic growth in 2020, despite the Covid-19 impact, with 9 percent underlying expansion reported at the halfway stage.
MMC said Guy Carpenter remains on course for fullyear organic growth, as it registered 7 percent and 9 percent uplift in the first and second quarters of 2020.
Our reclassified Willis Re numbers mean that all three of the biggest firms had revenues in excess of $1bn for 2019, with the inclusion of $350mn facultative revenues (with an estimated $220mn of enabling or individual risk fac, and $130mn of cedant fac as part of overall portfolio placements.
The numbers also strip out Miller revenues, which had previously been included in Willis Towers Watson's IRR segment classification.
Jockeying for position
The fate of Willis Re as part of Aon-WTW or as a divested business will have a meaningful impact on our rankings going forwards.
But arguably of greater interest is the activity taking place below the current big three as the second-tier firms jockey for position. As a record of broker revenues almost nine months after the year-end, our rankings do not reflect some of the traction seen at expansive intermediaries that have responded to opportunities in the fallout of last year's MMC-JLT deal to build out their platforms.
The fastest growers in 2019 were TigerRisk and Capsicum Re – soon to be Gallagher Re – in fourth and fifth place respectively. And both firms have had momentous years, both in the actions they have taken to build out their platforms and ownership changes that are set to fuel them both to accelerate their growth.

As previously reported, TigerRisk last month finalized its growth investment from Flexpoint Ford in a deal first revealed by The Insurer back in April.
The Rod Fox and Rob Bredahl-led intermediary had already been heavily hiring and is now expected to ramp that up as well as product and geographic expansion that is likely to drive strong growth in its 2020 and 2021 revenue numbers.
Capsicum Re is also expected to accelerate growth after AJ Gallagher finally consolidated its ownership of the broker in January.
The two firms may have delivered the most meaningful top line growth in 2019, but they are far from alone in their ambition to close the chasm between the giants and the next tier of reinsurance brokers.
Beach and BMS
The next two places in our rankings are occupied by Beach & Associates and BMS Re. Beach, bought by rapidly growing US retail aggregator Acrisure two years ago, demonstrated solid growth in 2019 and has also been selectively adding to its resources on both sides of the Atlantic.
The firm is expected to benefit from new opportunities created by being part of Acrisure too. BMS Re's top line – including reinsurance revenues from its ambitious US and London platforms – has also been fueled by new owners, after BMS Group was bought by British Columbia Investment Management Corporation and Preservation Capital Partners last October.
The firm has told this publication that consolidation of the largest reinsurance brokers is a catalyst as it accelerates the build out of its platform including a strong focus on the US under BMS Re CEO Pete Chandler in its bid to become the alternative to the soon-to-be big two.
That pitch is also being adopted by Lockton Re – which like BMS has been hiring big hitters from the largest brokers and after a relatively static 2019 in terms of top-line growth is forecasting significant uplift in 2020 (see boxout).
New entrants
The last two spots in our 2019 revenues rankings are taken by RKH Specialty and Holborn – neither of which featured in our table last year.
Hyperion-owned RKH Specialty delivered a 16 percent year-on-year increase in revenues and has also been heavily investing in talent as well as building out capabilities in areas like analytics.
Holborn is a rather different story, however.
The 100-years-old US firm has not so far jumped on the bandwagon of aggressive hiring in the fallout of ongoing major broker consolidation.
We have included the firm this year for its 100 percent reinsurance focus – the two firms left out this year, THB and UIB would not be considered typically in the group of specialist reinsurance brokers – and the fact that we suspect that on a truly transparent comparative basis it merits inclusion regardless.
The New York-based firm has a strong niche and regional focus in the US and does not operate in many of the areas some of the other firms in our rankings do.
The revenue numbers we have included are on a net brokerage basis and do not include revenues from consulting, interest or other income, in contrast with some of the other firms in our survey.
The firm is also understood to have a high retention rate of consistently over 95 percent on the reported brokerage numbers and does not include transaction-based or one-shot deals – although it does engage in them.
Lockton Re forecasts $85mn 2020 revenues
The numbers provided to this publication by Lockton Re for 2019 revenues look relatively static compared to 2018, but the firm is projecting revenues of $85mn for its 2020 financial year that would represent 55 percent annual growth.
As previously reported, the reinsurance intermediary was effectively rebooted with the high profile hire of Tim Gardner and two of his former Guy Carpenter colleagues early last year and has since been aggressively hiring big hitters on both sides of the Atlantic, including former JLT Re executives Keith Harrison and Ross Howard in London.
As with all the expansive second tier firms, there is of course a lag between bringing on senior executives and producing brokers and revenue growing, because of contractual restrictions, the renewal cycle and stickability of business, among other factors.
A spokesperson for Lockton Re told The Insurer that the 2020 financial year is when the fruits of the strategy will begin to be seen.
"So for 2020 which will end for Lockton Re in April 2021 we are seeing great momentum as new hires are becoming active and the business is gaining great traction both sides of the Atlantic.
"We are working successfully towards a projected forecast of $85m and wouldn't be surprised if we show some of the best growth in the sector," they said.
Addendum – UIB
After we had published this article we received full-year 2019 group turnover revenues for UIB of £55.0mn ($71.3mn), marginally ahead of the £54.2mn ($70.2mn) for 2018 we included in our rankings this time last year.
We have been told the figures provided are predominantly reinsurance revenues for the firm, which has a strong international regional presence in markets such as Latin America and Asia and which has experienced particular growth in India and Turkey.
We will of course consider UIB in our survey next year.